Today's most successful beauty brands usually have a blog. L'Oreal's Beauty Blog and Kevin Murphy's Freestyler Blog are some fabulous examples. But what does it really take to blog in 2023 and see success? How much will you need to invest before you see ROI? And what are the typical blog writing costs?
In the beauty industry, you might sell a killer skincare line, but you also deliver tons of free value to your audience through product reviews, beauty tips, skincare health, and more.
Google notices your hard work and rewards you with higher SERP rankings.
Your audience rewards you with engagement and sales. Win-win!
But you already know this — that's why you're revamping your blog strategy this year and getting up to speed on blog writing pricing.
So, how much does a 500-word blog cost these days?
Scratch that; how much does a 1,000-word blog cost? After all, SEO expert Ahrefs says you'll need to up that word count for more organic traffic.
It's hard to pinpoint the exact cost for blog writing because so many factors are at play, like frequency of work, niche, pricing model, relationship, and more.
Your in-house writer might need a salary bump to stick around amidst rising living costs. Similarly, that freelancer you considered last year might quote you a little less if they need the business.
It seriously depends.
But as a leader in the beauty content writing world, Lyon Content stays up to date on the latest industry costs and talent.
We'll help you dissect blog writing fees by pricing model, 2023 blog writing rates, and how location affects costs.
Let's start with the basics: pricing models.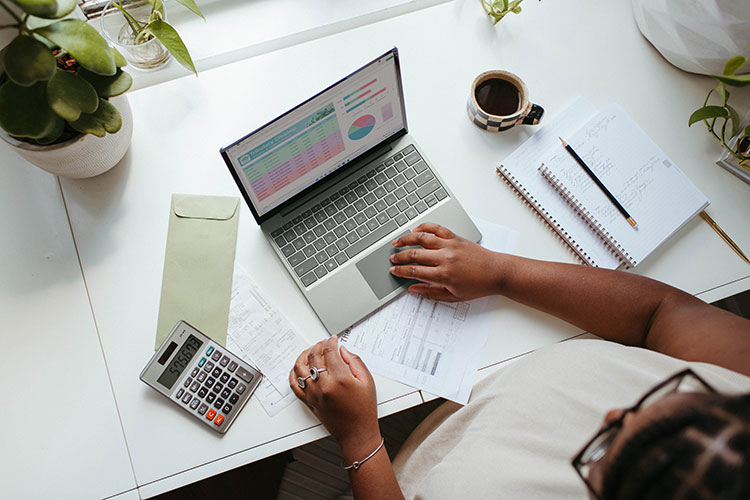 Blog Writing Pricing Models
There are a thousand ways to skin a cat — but five main ways to charge for blog writing.
Price per word
Blog writing cost per word is a model you're likely familiar with if you've worked with a freelancer or agency. Beginner to experienced writers could fetch between $0.05 – $0.15 per word, while more advanced writers and agencies charge anywhere from $0.20 to $1 per word.
For example, if you pay a writer $0.10 per word for a $1,000-word article, the total price is $100. If you ask for a revision that doesn't result in more words, that revision is usually included in the price if the edits remain within the scope of the article.
Now, how much do blog writers charge if English is their second language? Overseas content is a popular outsourcing choice for brands on a budget. These guys charge much more competitive rates, anywhere from $0.01 to $0.05 per word. Sounds ideal, right? Not so fast. The content is usually lower quality, and you might receive a side of plagiarism and AI software, both of which will tank your Google rankings.
But the American Writers and Artists Institute says per-word pricing has decreased in popularity. This is a win for beauty brands like yours. Why? Because you should pay more if the content is good, not if it's longer.
Hourly
Hourly rates vary drastically depending on the business and experience level. For example, Upwork's freelancers charge an average of $15-35 per hour.
Expert writers charge a lot more, at $85 per hour.
But you have to remember; these rates are for content-mill freelancers and usually general-purpose writers.
You might pay a pretty penny for someone capable of distilling your anti-aging cream's biotechnology, aka an expert beauty writer. For a writer or agency like that, you could be looking at $100+ per hour.
We'll be straight with you: hourly rubs us the wrong way. Sometimes, a project could take us hours upon hours of research and legwork, so charging hourly simply isn't sustainable in the long-run. Your marketing budget will quickly dwindle, and we don't want that.
The same goes for revisions. Imagine paying a writer more overall because they needed to correct factual errors or grammar issues. We're not on board with this pricing model.
The American Writers and Artists Institute agrees, declaring that project pricing tosses the clock-watching aspect of hourly rates and lets writers focus on the important part: creating unique, quality content for your brand.
A better way to budget for blog writing costs?
Project-based
Need five articles per month? A project-based pricing model would give you a flat rate per article, or a rate for all five. Think of it like a-la-carte pricing, with every content piece a delectable piece of sushi.
For example, Lyon Content offers single-article pricing at $875 per long-form 2,500-word article. Here, you pay for results, not time or words.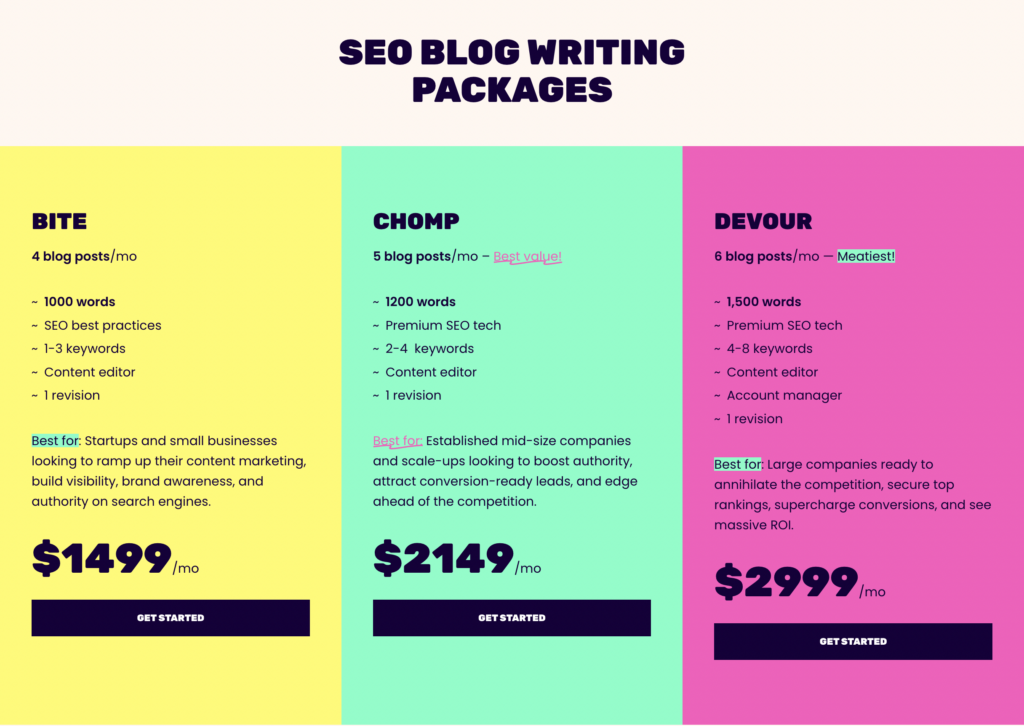 Retainer
A retainer works similarly to project-based pricing, but usually includes a few other perks in the package.
For example, Lyon Content charges $1,499 per month for four 1,000-word SEO blog posts with one revision and SEO best practices. Moving up the tiers, we also charge $2,999 per month for six 1,500-word SEO blog posts, along with a content editor, premium SEO tech, and an account manager.
In light of these tough economic times, we recently launched our brand new recession-buster monthly blog bundles, starting at $799/mo for four 700-word blog posts. Each package is under $1,000 a month, giving you exceptional content that won't break the bank.
We like the retainer model because it helps our clients better prepare their budgets. They know exactly how much they're paying every month in blog writing payments. Content is delivered to their inbox weekly, always, without fail. This makes it easy to meet your content quota for the month and know how much to budget for blog writing costs every single month.
No guesswork, no random fees, no mysterious add-ons. Simple, easy, and dependable.
Salary
Finally, you have the salary model, which only applies to in-house writers. This figure depends on the candidate's experience, niche knowledge, and time with your brand.
For example, an SEO writer's salary is around $55,000. However, a finance writer makes an average of $71,000 for their specialized knowledge. Salaries are easy to predict and plan for, but leave a serious hole in your budget. Plus, you'll have to eat the cost of vacation and sick time, as well as a job that simply takes your employee longer to complete.
Let's move onto the market's options for purveyors of potent content: in-house writers, beauty writing agencies, and freelancers.
Cost Comparison: in-house, agency, freelancer
We've covered a wide range of blog writing costs from agency monthly retainers to in-house salaries. Check out this easy chart to compare costs quickly.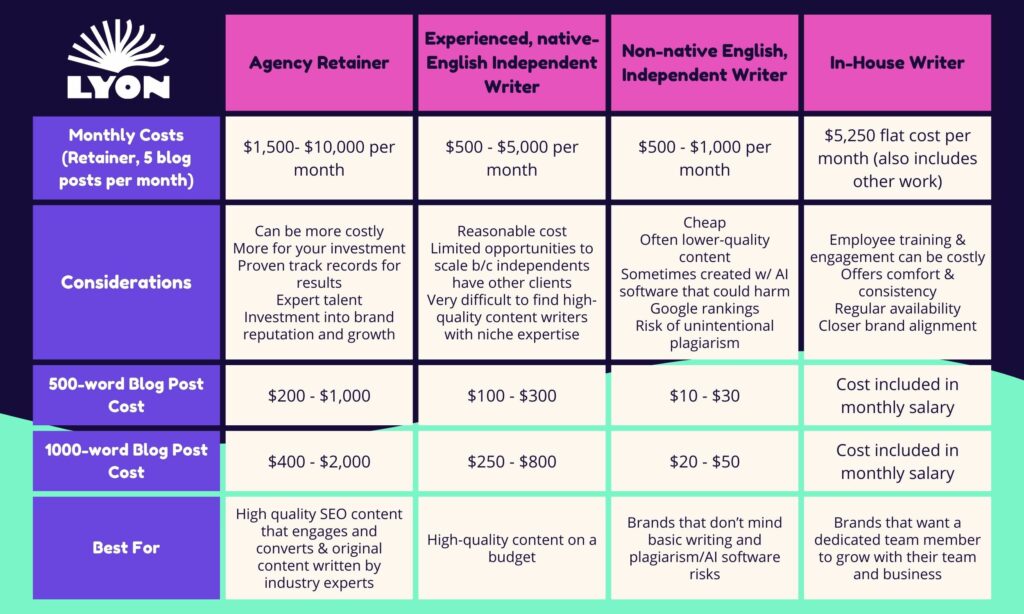 What's the best over option for blog writing costs that fit your budget AND marketing goals? Beauty writing agencies that know your niche and have strong track records of customer engagement, ROI, increased rankings and proven conversions will make your marketing dollar go the furthest.
But don't just take our word for it, check out our case studies and learn how we helped one client increase annual revenue by 42%, and another garner $12 million in annual sales from organic traffic conversions!
For a complete blog writing costs breakdown of our content writing services, check out our pricing and packages.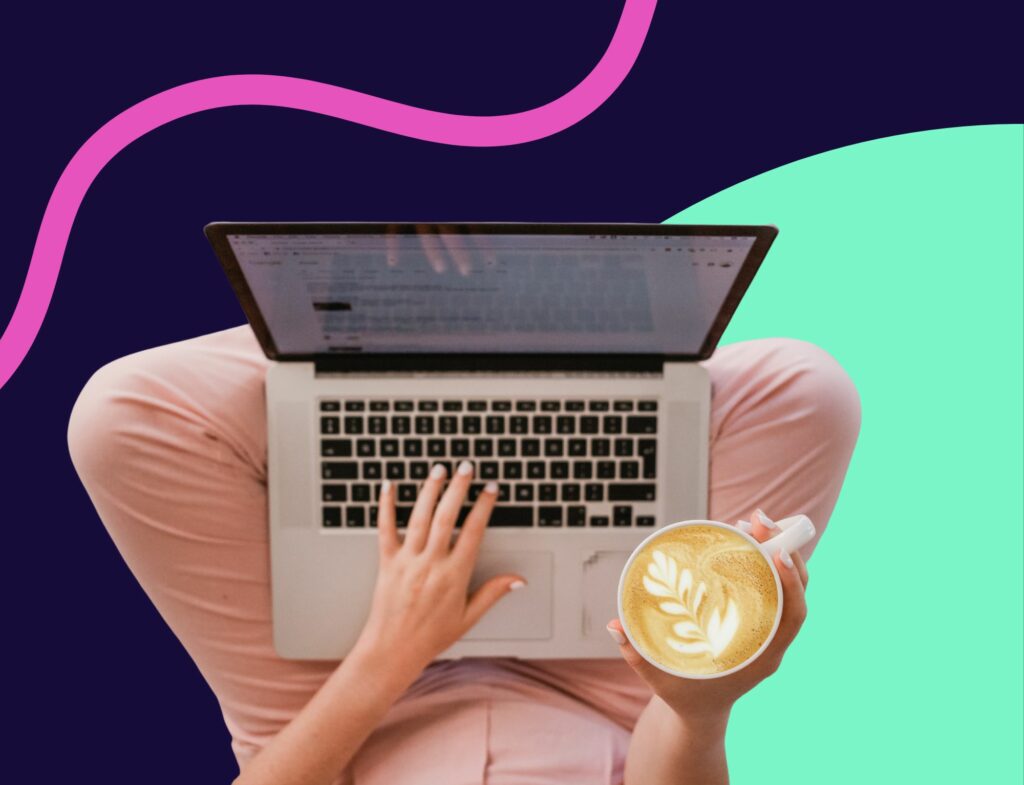 Final Word
Blog writing costs and pricing varies, but you'll pay more for high-quality content, which makes sense considering that's the level of content that'll yield the highest ROI. The beauty industry has its challenges, so it's easy to feel tempted to cut corners on certain aspects. But content writing isn't one of them.
Why? Because you risk your brand reputation and audience satisfaction, not to mention Google rankings if you post subpar blog posts to your beauty blog.
We see two ideal candidates to write your beauty blog content.
An in-house writer grows with your brand and offers great consistency and availability. However, you might not have the time or funds to train them and support them as an employee.
The only other option for content that roars?
A beauty content writing agency with a pride full of talented, vetted writers who know your industry inside out. Lyon Content is a leader in beauty content across the country and has cold, hard results to back up our work.
Ready to get your 2023 blog content in motion? We thought so. Let's chat.

03/07/2023
Chrissy is a contributing writer at Lyon Content based in Toronto. She loves writing and editing tech, marketing, and lifestyle content. But her favorite part of writing is helping businesses express themselves. When she isn't writing, she's traveling as much as possible and eating a lot of cheese.