You don't need to convince us — we know your brand is the bee's knees. But your customers keep flocking to the competition. What gives?
It's likely because your competitors follow a slammin' on-page SEO checklist that puts them higher up on Google's search engine results pages (SERPs).
Here's the thing: even if you're the master of your niche and write incredible marketing content for your site, without website SEO, all that effort goes to waste because your audience doesn't get to see it.
We chatted with Lyon Content's SEO partner, Kim Fischer, to get her expertise on onsite SEO and how to leverage it for top-ranking content. Here's what we'll cover:
What on-page SEO is and why your website needs it to rank
On-page SEO elements like meta descriptions, headers, and quality content
An actionable on-page SEO checklist for you to start using right away
How on-page SEO experts can take your content and SERP performance to the next level
Let's roll.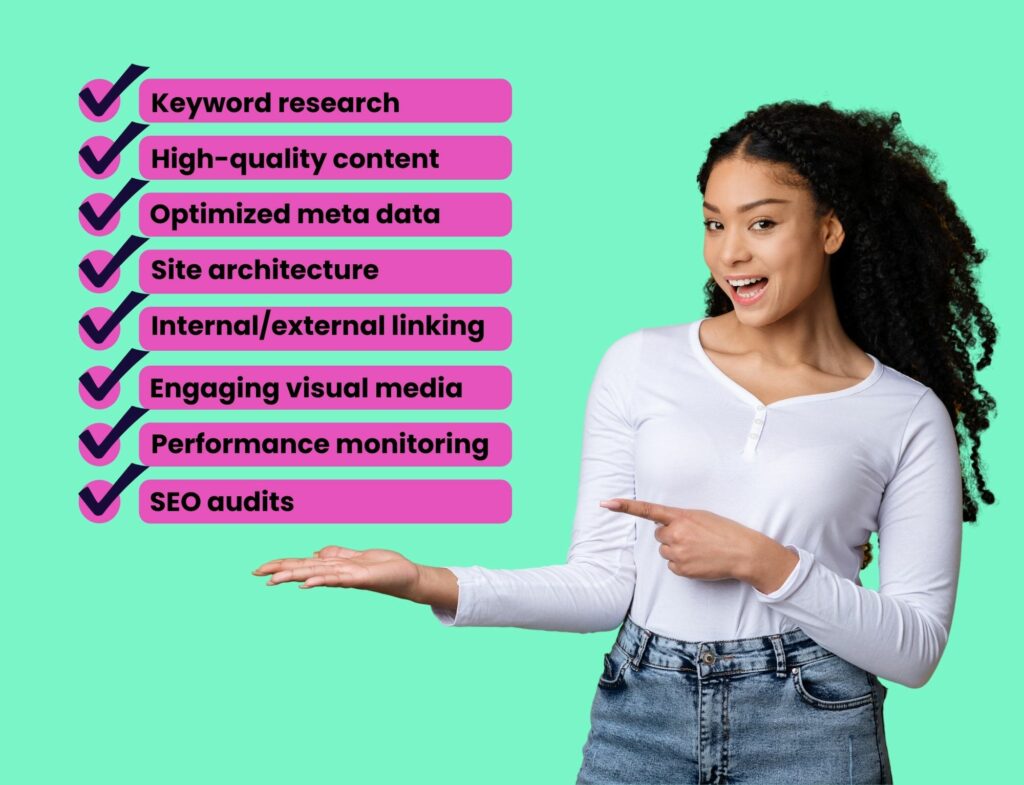 What is On-Page SEO?
On-page SEO encompasses all aspects of website copy, and optimizing web content with keywords and headings to improve ranking positions on search engines like Google and Bing. We're talking front-end elements like images, written content like blogs and meta descriptions, and site architecture like internal links and hierarchy.
On top of that, on-page SEO sometimes extends to HTML elements like meta tags and alt tags. But Fischer says anything past that takes us to technical SEO territory, which speaks more to backend elements like page speed optimization, heading tags, image optimization, and schema makeup. This keeps your site's technical aspects aligned with best practices and search engine requirements
Why is On Page SEO Important?
On-page SEO fulfills three main marketing goals: ranking, engagement, and conversion.
Ranking
Number one on this list is online visibility, or your SERP rankings, which help you reach your audience. Optimizing content for on-page SEO makes your website more appealing to Google's crawlers. In return, they'll reward you with higher placements in Google's SERPs.
Now, why are high SERP placements vital? Think of it this way: Nearly 70% of Google's searchers (your readers) only end up on the top 5 SERP results.
The remaining 30% of clicks scatter into other page-one results. And less than 1% of clicks actually make it to page 2.
On-page SEO puts your brand in front of more potential customers using Google, which is pretty much everyone.
Second on the list?
Engagement
You need on-page SEO to make your content more engaging. And by "engaging," we mean digestible, useful, and enjoyable. This caters to more of the front-end onsite SEO elements like headers, copy, and architecture to enhance the overall user experience.
Conversion
Finally, on-page SEO gives you higher-quality traffic, helping you find leads further down the customer journey and more ripe for conversion.
So, how can you achieve all this magic with on-page SEO? Every URL, header, description, and piece of content work together to drive your target audience to your site.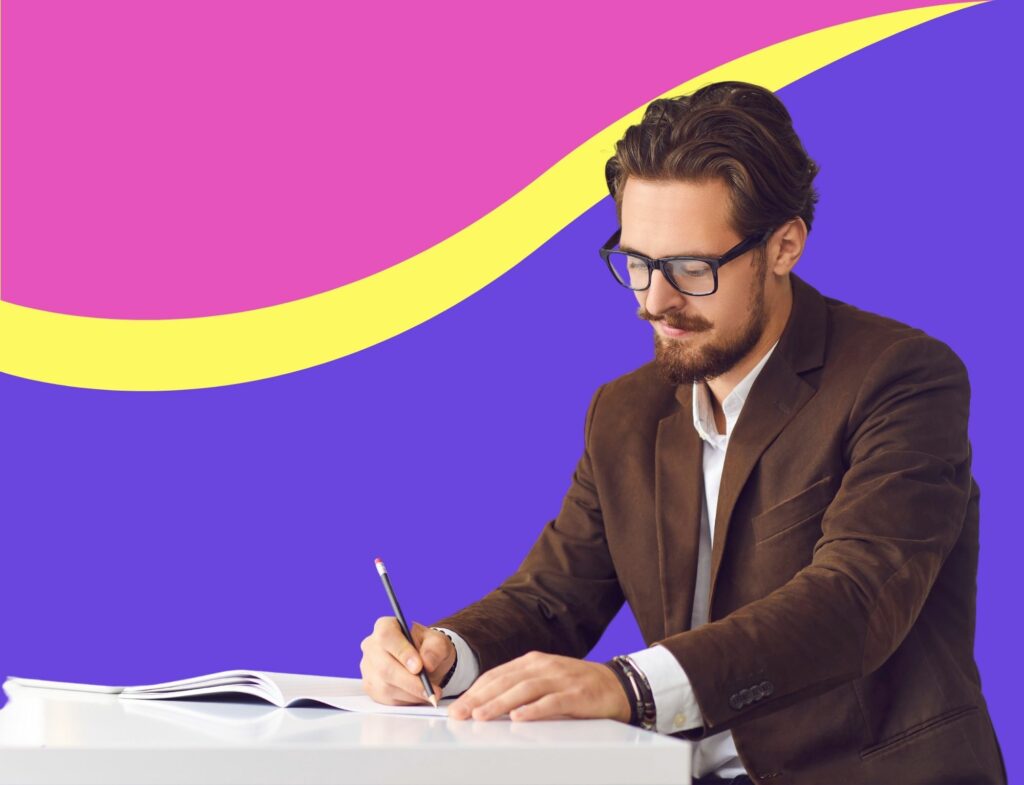 The Different Elements of On Page SEO
Many brands new to SEO assume their brand-new, expensive website is enough to conquer Google's SERPs.
If your web developer worked with an SEO expert, it could ring true in some cases.
But oftentimes, SEO is a last step that gets overlooked, leaving brands with a nice website but minimal visibility on Google. Yikes.
On-page SEO isn't a one-time deal either. It's an ongoing, dynamic combination of tasks that requires continuous attention and adaptation. It's up to you to keep your content in sync as your target audience's intent and needs evolve, and Google's algorithms shift.
In other words, it's going to take a bit more than a fancy web design alone to dance atop those SERPs.
Let's walk through everything that on-page SEO entails:
Meta tags
Imagine you're watching Netflix, and this comes up:
You may have accidentally hit the command + U keys on your laptop, which is a shortcut for a web page's source code. This is where you'll find meta tags.
Web developers use these little descriptors to communicate with search engines. In meta tags, they stealthily share page elements like keywords, character sets, and descriptions in the source code.
Though meta tags may seem hidden, they play a crucial role in boosting your site's visibility.
Just like well-structured headers and easy-to-digest bullet points make your content reader-friendly, meta tags make it crawler-friendly.
The end result? Google understands what your content is about quicker, and rewards you for the ease of effort via higher search result rankings. Think of it as Google's way of saying, "You're doing great, sweetie!"
That's why we have an SEO wiz like Fischer to make sure all our source code meta tags are optimized for Google.
Why can't you just learn all that yourself? Fischer says it's a matter of time and resources:
"I think anyone can learn, but unless you have the time to really learn SEO + web strategy, hiring an SEO expert to do keyword research + keyword mapping can be a HUGE time saver."
What about header tags? These are often used interchangeably as meta tags, but they speak specifically to your site's structural organization.
Tag, you're it.
Header tags
Even if your copywriting is stellar, nothing's more of a buzzkill for readers and Google's crawlers than long, daunting walls of text.
Enter: header tags, an SEO writer's not-so-secret weapon for making content more digestible.
These structural elements act as a roadmap, seamlessly guiding readers through your content. When you navigate a page, you'll notice a prominent H1 as the page title, accompanied by a few H2 and H3 subheadings, and sometimes H4s, H5s, and H6s for more comprehensive content.
Fischer says a common SEO pitfall is failing to add h3 headings:
"These are not only really great for breaking up big chunks of text visually, but it also allows Google (and the reader more importantly) to understand that those bullet points or examples are important to the structure."
Here's an example of an H2 and H3 subheading from our bounce rate article: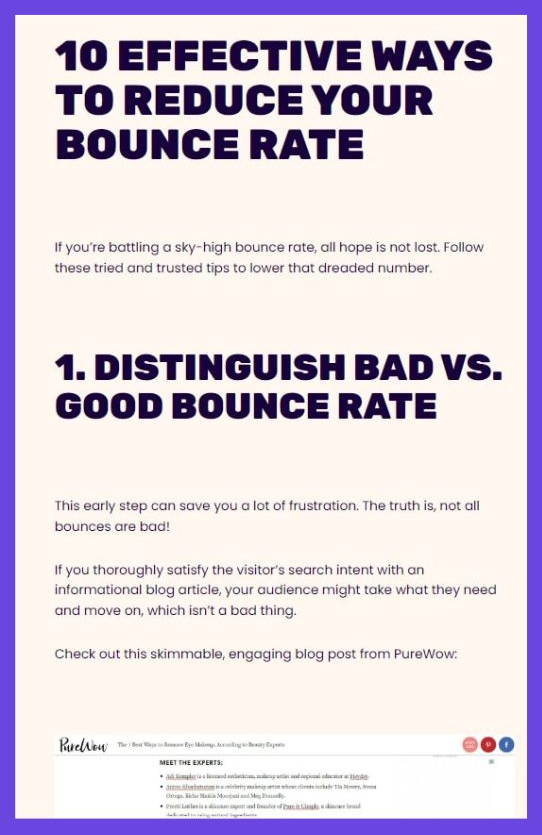 Remember how we mentioned H1 as your primary page title? That applies to the web page or blog title. However, in addition to your H1, you have a separate, dedicated title tag that appears on the SERP.
To make the most of this precious real estate, it should always include your main keyword and capture the essence of your content, like this one from Byrdie:

At Lyon Content, we take SEO seriously—that includes optimizing header and title tags with relevant keywords when crafting web page or article outlines for our clients.
Next up, quality checks.
Quality Content
Proofreading and grammar checks are essential, but they're just the icing on the cake when it comes to covering your SEO bases.
The bulk of quality content lies within the cake itself, which embodies:
Original content
Is your blog stuck rehashing the same article topics your competitors covered last month? Time to spice things up and catch Google's eye. Besides, nobody enjoys regurgitated content — leave that to the AI content generators and competitor copycats. Speaking of competitors, how do you expect to stand out in the same niche when you're all ranking for similar keywords? 
To truly differentiate yourself, Fischer advises taking inspiration from the competition and leveraging original content strategically:
"See what they're writing about, how they structured the page, what topic/subtopics they covered, and write that all down. Then when you go actually to write, be sure to always write from your own unique perspective, with your unique opinions. We never want to copy our competitors because their ICA (ideal customer avatar, or customer persona) is going to be different."
Brand voice and style
Imagine your brand persona as if it were a real person. How would they articulate thoughts or connect with an audience? Here's the thing: you might know your brand inside out, but maintaining a consistent written voice requires a clear set of brand messaging guidelines. Create voice and tone guidelines that cover vocabulary choices, emotions, communication style, and brand faux-pas to keep your content voice cohesive and authentic.
Accuracy and relevance
Are you relying on outdated niche reports or linking to websites with broken links? These practices can harm you in the SERPs and give the impression of an outdated web page. Keep your content accurate, current and relevant to your audience. Are they interested in your blog calendar's topics? Do you inform content with keyword research? Whether monthly or quarterly, every marketer should regularly audit their web content for accuracy and relevance.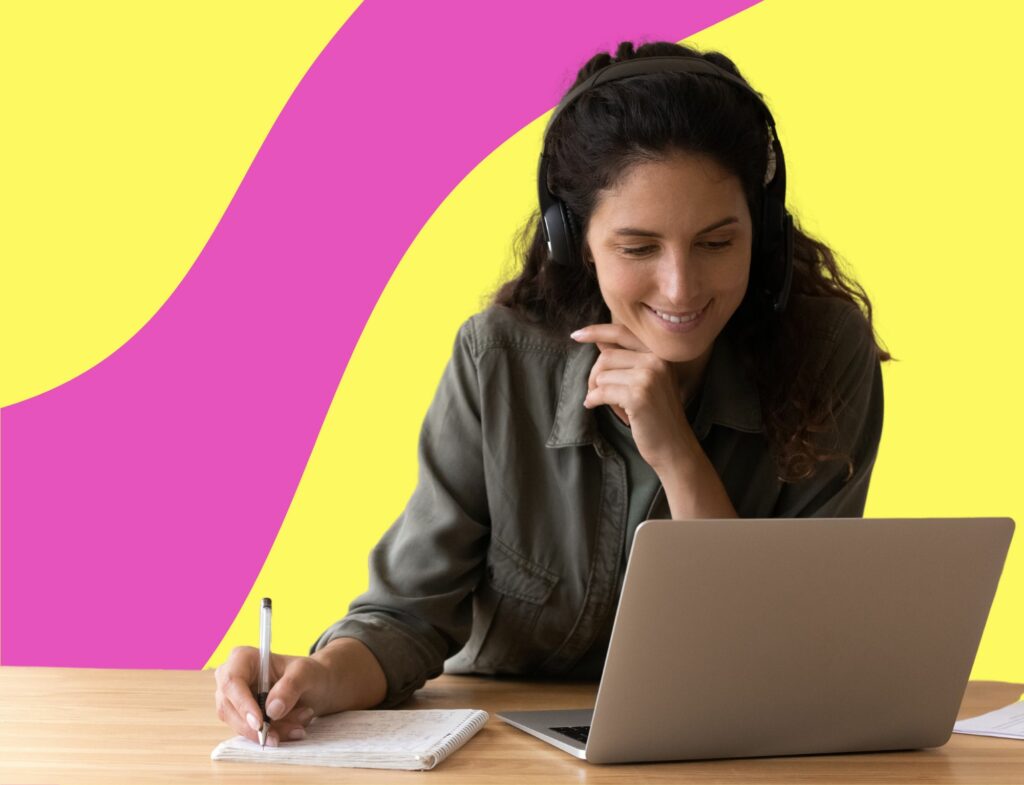 Logical flow
Remember those H1s and H2s we discussed earlier? These elements help you organize long chunks of content, but you can also use bulleted lists, small paragraphs, highlighted and bolded font for emphasis, and columns to maintain a clear and logical flow. This enhances readability and makes your content more inviting and accessible to your audience.
Speaking of flow and accessibility, how does your audience flow through your website as a whole?
Website architecture and internal links
Ever experienced that awkward sensation when stepping into a room, and something just feels off? Perhaps the couch cuts off the room's space too quickly, or the bed intersects too closely with the closet—that's the Feng Shui being thrown off.
Just like a poorly arranged room, an unoptimized site layout can disrupt the flow of user experience, making navigation confusing and off-putting for your visitors. Fischer sees this all too often:
"Internal linking is the most commonly forgotten SEO tactic when people are DIYing. To truly connect your content, you want to link to other pieces of content as well. This shows your audience (and Google) that these pieces of content are related and relevant, and they should go check it out. You want people to stay on your site as long as possible, so make sure they want to by providing other content."
Just like you, Google's crawlers appreciate a well-organized website. When they can easily navigate your site, it signals good site architecture, which in turn becomes a vital ranking factor in Google's algorithm.
Let's say your readers peruse through your home page, but can't access the service they have in mind. The solution? A breezy, drop-down menu with clear categories and subcategories that lead your readers directly to the services they have in mind.
Here's how we did it on our site: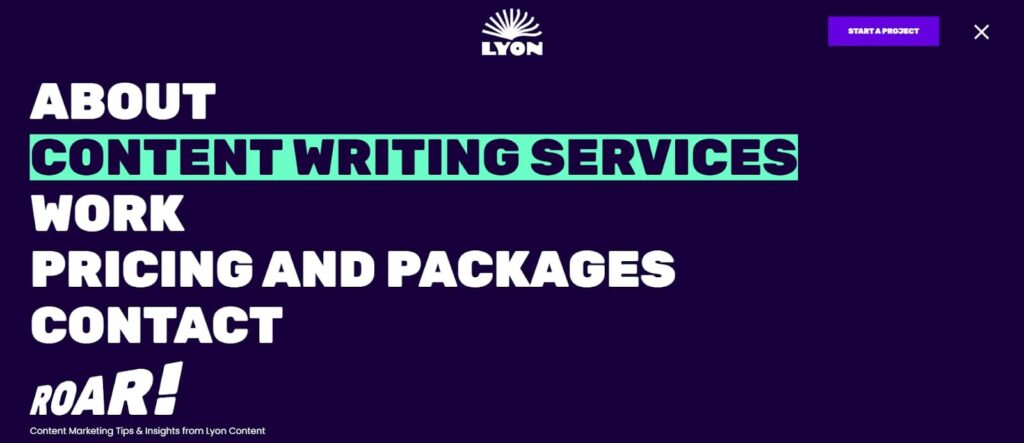 See how we've placed a convenient contact button at the top-right of the page? This way, our customers can easily reach out to us, no matter where they are on the website.
Internal links throughout your web content are vital for seamless website navigation. If you're writing about a topic and reference something that another internal page also speaks to, drop in that link! This helps Google crawl your website and reduces bounce rate thanks to your customers sticking around longer to explore your site.
Fischer also recommends specifying services on your page as much as possible. Instead of plugging a plain old "services" page, plug in "content writing services," "salon services," or any other specific indication of what you offer your clients.
What about external links?
External linking
Hang on, wouldn't external linking drive customers away from your site? Valid concern!
However, when used strategically, external links can actually benefit your site's credibility and user experience.
You see, you might know your niche intimately, but you can't pretend other industry experts don't exist either. Why? Because linking to external authoritative sources shows your readers that you're providing valuable, well-researched information.
This builds trust with your audience and positions your brand as a reliable source of knowledge. Another bonus? It helps foster relationships with other key players in your industry, which could encourage reciprocal backlinking (where both websites benefit from linking to each other's content).
Hello, guest posts! If other sites link to your website, that's a recipe for higher page rank on Google's SERPs. And it's a win-win for both brands, since you both increase visibility and credibility in your respective niches.
Now, we're not suggesting you should start linking to competitors. But external links to reports or stats in your blog content are key to demonstrating your content is well-researched and trustworthy (to both audiences and search engines).
Let's shift gears to meta descriptions.
Meta descriptions
Think back to the last time you browsed Google's SERPs. Each result had a snippet of copy that previewed the meat and bones of each piece of content. This is known as the meta description, which SEO experts optimize with target keywords and tight, crisp copy.
Here's an example from our newsletter article:

Our advice? Make sure your meta descriptions are as unique and original as possible. It's often tempting to mimic a competitor's description since you're working with similar topics, but be cautious not to veer too close. Google will penalize you in the SERPs for duplicate content.
But Google will reward relevant keywords.
Keywords
Keywords lead your target audience to your content. But how do you know what they're typing into Google? Fischer's discovery strategy is two-fold: competitive analysis and keyword tools:
"It's easy to fall into comparison-itis with your competitors. However, take a look at what they are actually ranking for, not just the copy on their site. This is going to be the best source of info. Using tools like SEMrush (this is what I use) or Ubersuggest to see what your competitors are ranking for is the best way to pull inspo for SEO."
Now that you have some keywords, how do you implement them into your web content? Include your primary keywords in key spots like headings, meta descriptions, and web copy. Next up? Fischer shares the importance of secondary keywords:
"I always like to tell clients and our audience to think of your website content as a web, not individual pieces of content. So we use secondary keywords to show the relationship to other pieces of content and to show context."
Another way to show context? Pics, please!
Images
Google's crawlers and algorithms aren't human — but they're still visual creatures, just like us. Meaning? They'll get bored with endless bodies of text. While headers and bullets help readers and crawlers digest content, rich images elevate your webpage with higher clickthrough rates, engagement, and more engagement time.
Take a peek at our healing crystal content for our client Zenluma. While our warm, compassionate copy spoke directly to their target audience, the addition of captivating visuals for each crystal conveyed information faster and added visual beauty to the content: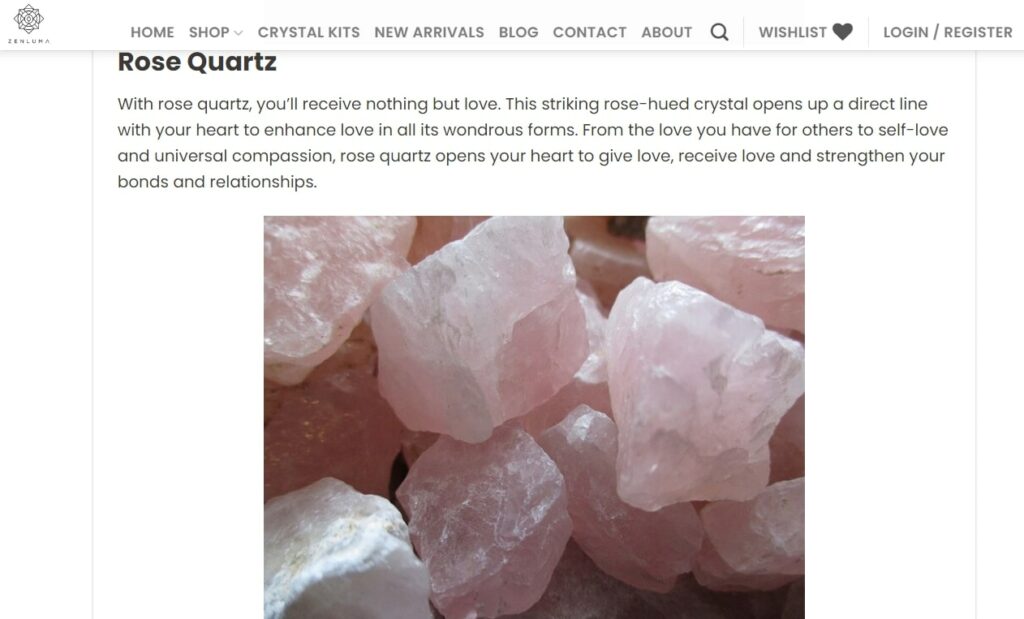 But some SEO elements are more subtle than others.
URLs
You might not pay much attention to your site's URL structure, but Google certainly does — especially if it's encountering your content for the first time before crawling and indexing the page.
So, are keywords necessary in your URL?
Search Engine Journal says it's more of a nice-to-have than a must, based on multiple statements from Google's execs. But Fischer says it's better to include them in most cases, both in your blog post URLs and standard web page URLs.
At the very least? URLs should be audience-friendly, providing a clear indication of what your content is about.
Peep our client Daniel Alain's SEO-friendly URL for a piece on wigs for thin hair. Just by glancing at the URL, you can easily predict the content topics it covers:

That sums up all the elements of on-page SEO!
But remember: you can't look at them as forever-checked boxes on your list. As our search engine marketing client HawkSEM shares, every brand should conduct regular SEO audits to uphold high SERP status and continually improve their online presence!
Your Go-To On Page SEO Checklist
To keep things easy-breezy, here's a handy onsite SEO checklist to share with your marketing team: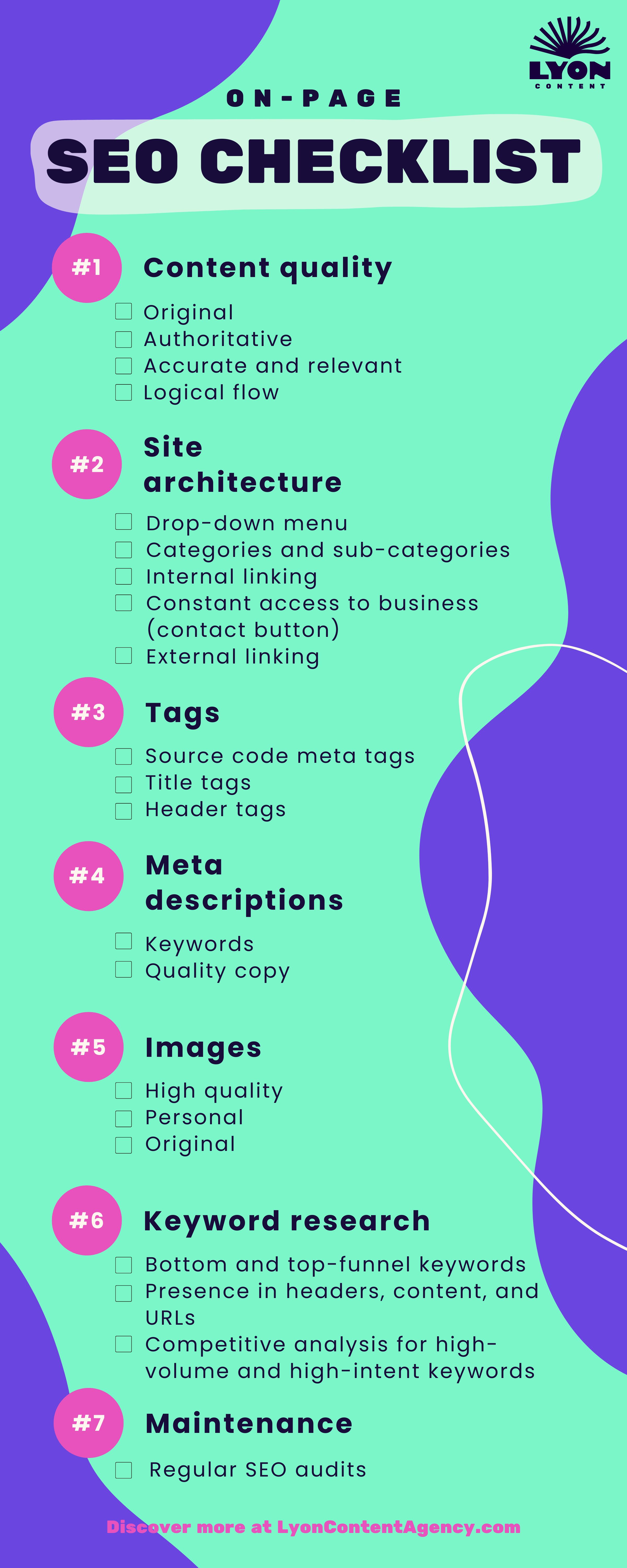 Want this on-page SEO checklist within reach at all times? Download our FREE PDF version below!
Final Thoughts
Think of on-page SEO as the gateway to unlocking more traffic and conversions for your biz. However, this gateway has a handful of locks that require your attention before it opens wide.
Our on-page SEO checklist gives you all the keys you need to unlock greater online visibility and sales from eager leads and new customers.
But hey, we understand that brand marketers have a lot on their plates these days. If you're struggling to squeeze in regular SEO audits or dedicated keyword research, you might miss the mark with your SEO strategy. Fischer says a well-executed SEO strategy is the biggest gift an SEO specialist can offer:
"Having a specialist come on and help with web strategy (either from the beginning of a new website or just for the content strategy) is a big difference. Taking the time to build out a web of content that people are already searching for with blogs and keywords and understanding the why behind what people are searching for is something that a specialist is going to be really valuable for."
Lyon Content can bolster your content strategy with high-class, quality written content and stunning, high-res photography. Plus, we have SEO strategy and expertise to ensure your content is search-engine optimized and ready to shine every time.
We offer a diverse range of pricing and packages to cater to your specific content objectives and priorities. And behind each offering is a team of niche experts like talented writers, meticulous editors, and of course, savvy SEO specialists. With our collective expertise, we'll help you reach, engage, and convert your customers with content that leaves competitors trailing behind.
No more looking up from low search engine rankings. Let's crack page one of the SERPs with compelling, supreme-quality content!

08/17/2023
Chrissy is a contributing writer at Lyon Content based in Toronto. She loves writing and editing tech, marketing, and lifestyle content. But her favorite part of writing is helping businesses express themselves. When she isn't writing, she's traveling as much as possible and eating a lot of cheese.