Life as a beauty brand marketer or business owner can make you feel like a badass babe — but also overworked and overwhelmed, especially if your content creation strategy isn't bringing you ROI. You can DIY your beauty copywriting, but at the risk of sending mixed signals to your target audience. You're starting to think you need some help, but which content writing agencies are best suited to your brand and marketing goals?
Imagine this…
You spend hours every week perfecting your latest skincare tip blog articles, but they're not ranking on search engines
You just hired a freelance beauty writer to revamp your web copy and product descriptions, but bounce rate and web traffic are still lagging.
No matter how many hours you spend writing content, it never quite hits the mark.
Sound familiar? We've heard it all before from our beauty brand clients. It's easy to know and feel your brand's value, but it's hard to communicate it effectively for Google and your audience — especially with everything else going on in your business. To see the best results, you'll need to combine search engine optimization (SEO) with informative, engaging, quality writing.
We hate to break it to you, but writing content isn't something you can bypass in today's content-hungry digital landscape. The longer you don't act, the faster your content will fall down the SERPs and your audience's good graces.
It's time to make a change and invest in SEO content writing services for your beauty brand. But which is the best content writing agency for the task? We've rounded up the best choices available for the beauty niche.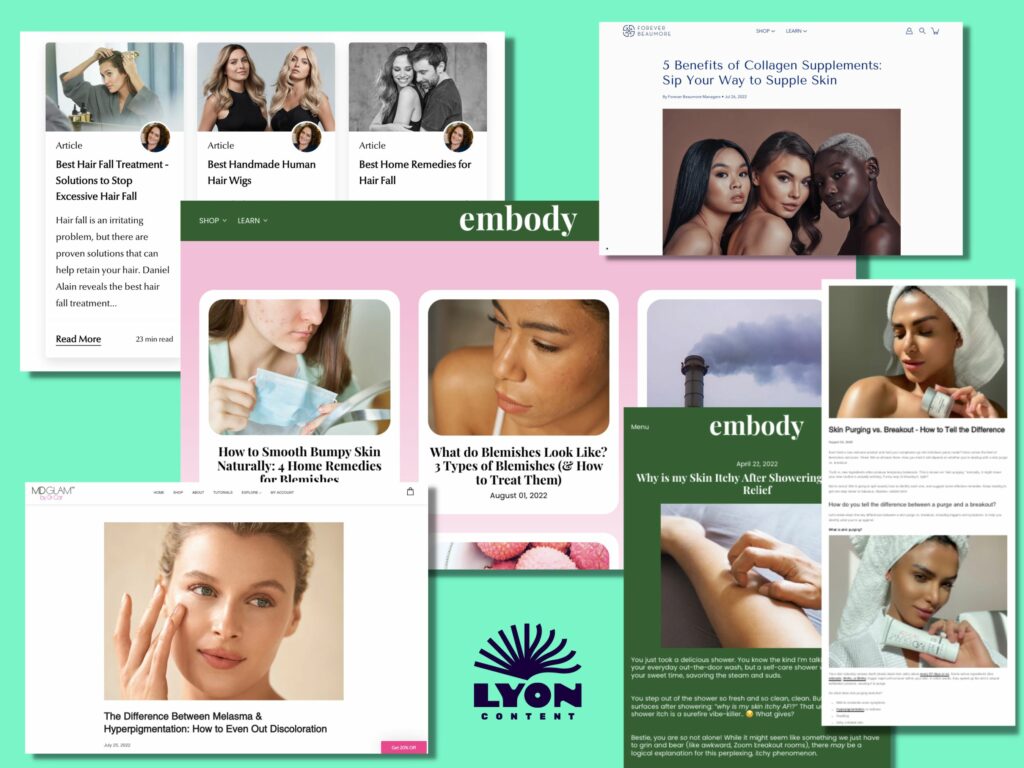 What to look for in a beauty blog writing agency
Every holistic content marketing strategy relies on quality written content. Whether you need support with blog writing services, technical writing, article writers, website content, white papers, email marketing strategy, or social media posts, it's vital that you partner with a content writing company that understands the beauty niche.
There are many professional content writing services, including freelance writers, agencies, and in-house writers, but if you want the most bang for your buck, consider partnering with one of these content writing agencies for beauty brands.
Factors to consider:
Beauty niche expertise: Does the agency have proven experience writing content for beauty industry clients?
Case studies: Do they share case studies featuring the brands they've worked with, testimonials, results, and ROI?
Customer reviews: Are there ample positive ratings on Google or Yelp? Look for real social proof to back their claims.
Proven results & ROI: Writing is creative, yes, but it's also fundamental web content that must use solid search engine optimization to get seen and thus, boost ROI.
Pricing: You can pay pennies or thousands for written content, and where you fall on that spectrum will dictate the quality of writing you receive. Still, the agency you partner with should align with your marketing budget.
Ready to level up your beauty content?
Learn about our gorgeous, ROI-driven content writing services today!
So… which are the best content writing agencies for beauty brands?
Considering the factors we listed above, which agencies made the list? We scoured case studies, customer reviews, and the full spectrum of content writing services to present you with seven solid options. Here are our top picks:
Velox Media
Strategically
Lyon Content
Content Dog
The Content Panel
Goodman Lantern
Formosi
Let's dive straight in!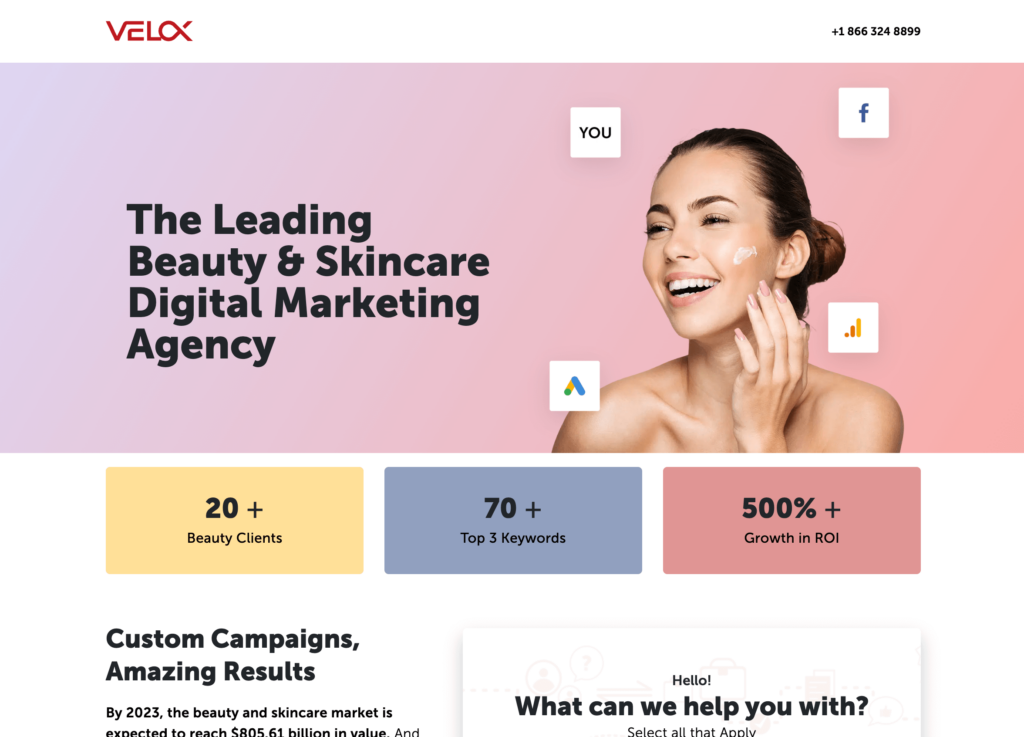 1. Velox Media
Velox Media is a full-service digital marketing agency with a solid content writing service for ads and SEO, along with social media, paid search, and reputation management marketing.
It's rewarding and fun to write helpful, high-quality content for your audience — but you can't let your digital pen run too wild. Velox Media reminds us of this with the outcome-oriented values behind its content creation. While not solely a content writing company, Velox uses buyer personas, brand strategy, competitor analysis, and existing content audits to inform every piece of written content. The result? A hyper-focused attention on:
Discovery: So your audience finds you.
Conversion: So they buy your stuff.
Velox has a nice roster of industry experience, from babies and wellness to SaaS, and of course, the skincare and beauty niche. A top-3% beauty marketing agency, Velox especially shines with dynamic PPC campaigns, eye-catching visuals, and tight, crisp web copy that makes your products shine for eager buyers.
Two case studies on their website showcase impressive results. First, a $500 monthly revenue increase for Better Skin Today. Second, keyword rankings that surpassed Sephora for their client, 100% Pure.
Velox brings results, that's a fact. But a minimum $10K monthly investment feels a bit inaccessible, especially if you're just getting started with your beauty marketing strategy.
Best for: Huge, high-revenue beauty brands with eyes on results no matter the cost
Pricing: Starting at $10K/month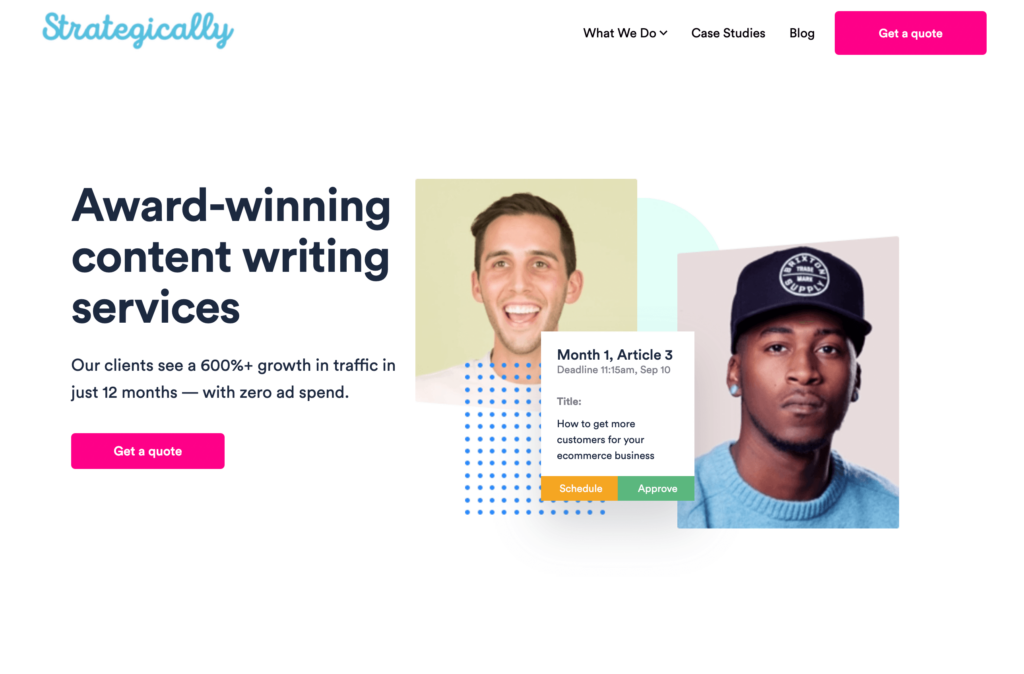 2. Strategically
Strategically boasts an impressive 5-star rating on Google. The content writing service works with writers skilled in various topics like casinos, SaaS, fintech, and beauty. While we love their impressive stats — 8 million words written — we would love to see some of those words published in a beauty case study to help you visualize Strategically's potential for your brand.
Still, Strategically shines with two free value adds as part of its digital marketing solutions. First, they offer a content ROI calculator. What a fabulous sneak peek at the value of quality content writing for new businesses. Second? A free minisite audit. All you have to do is email them your URL and they'll provide insights into your current rankings.
Best for: An ambitious, go-getter marketer that enjoys fine-tuning strategies
Cost: Starts at $649 per month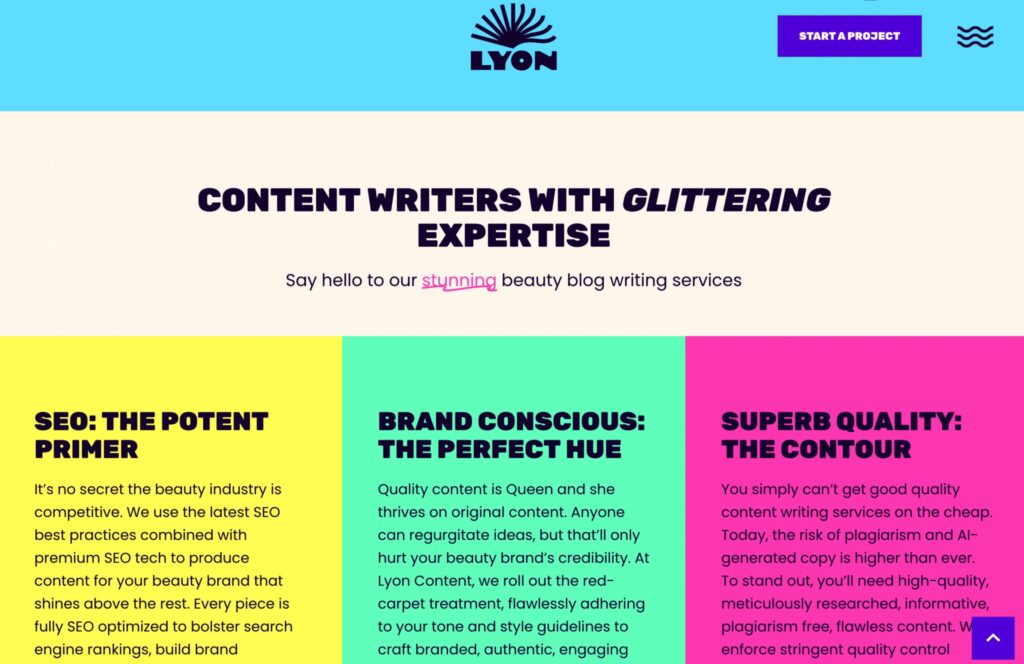 3. Lyon Content
Notice something similar about all the other content writing agencies on our list? Content writing and beauty aren't inextricably linked. Don't get us wrong; many of the content agencies on our list have impressive portfolios and industry credibility.
But they serve various industries, not just beauty.
Where's that flawless union between your exact needs (content writing) and niche (the beauty industry)?
Lyon Content is a dedicated content writing agency that tailors our knowledge, skills, and work to develop awareness and web visibility for badass beauty brands. Not "beauty and 30 other niches" — you're our main event.
Our case studies demonstrate clear SERP and engagement results that follow our meticulous attention to brand voice and values, audience personas, and maintaining authority.
Pricing is consistent with our writers' high caliber of talent, with an entrepreneurial attitude to treat every single piece of work like their own. Our quality writing is simply unmatched. We train every writer with regular check-ins and client research tasks to channel impeccable brand alignment, character, tone, and style in every word we write for our beloved beauty industry clients.
And it's working.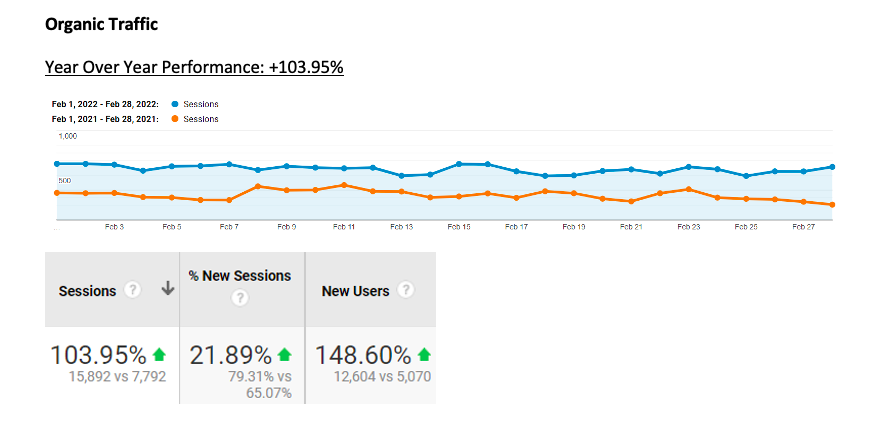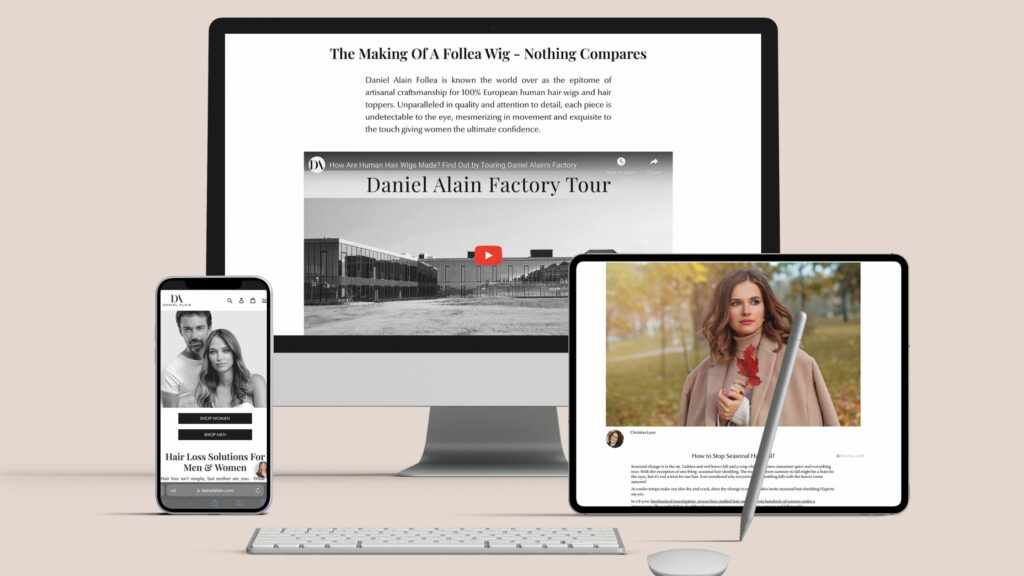 One of our biggest success stories is Daniel Alain — a luxury, leading authority in the alternative hair industry that sells 100% European human hair wigs and hair loss innovations.
The marketing team at Daniel Alain didn't just want to catch the eyes of women looking for wigs — they wanted to be on the radar of virtually any woman in any stage of her hair loss journey. What's more, they wanted to reframe the narrative around hair loss and ensure their tone and messaging were empathetic, branded, and empowering.
We went straight to work on multi-faceted content creation, including dynamic long-form blog content, SEO articles, educational video content, eBooks, ad campaigns, and more.
Next time you doubt the power of SEO articles, remember this:
Our high-quality, authoritative, engaging blog articles contributed to:
70% of DA's landing page traffic
104% increase in organic traffic
42% increase in annual revenue
Around 30k new visitors every month
That's just one example demonstrating the power of working with one of the best content writing agencies for your specific niche. Check out our case stories to learn about our prowess in crafting sharp, converting, on-brand beauty content for luxury skincare brand MD Glam and boutique collagen product retailer Forever Beaumore.
Best for: Mid-level and scaling beauty brands whose top priority is exceptional, quality content written by professional beauty writers
Pricing: Starting at $375 per article; $1,500 monthly minimum. Browse our pricing & packages to compare plans and services.
Are you ready to supercharge results with glowing beauty content? Get in touch today so we can start roaring for your brand!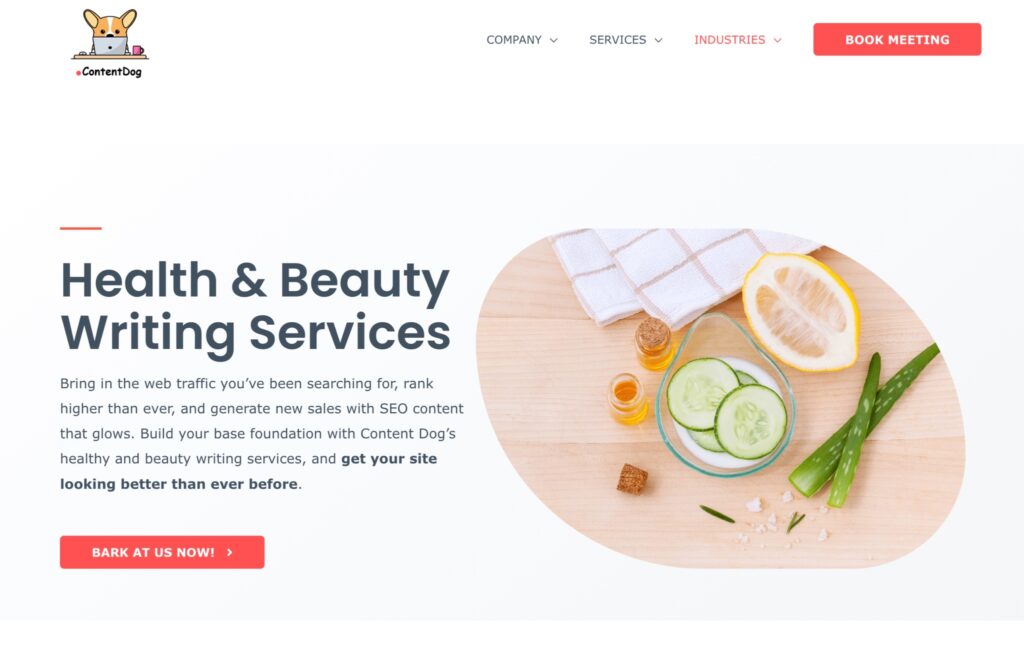 4. Content Dog
Content Dog channels a down-to-earth, friendly vibe with a basic, no-frills set of writing services surrounding two things: SEO and writing.
Product descriptions? Check. They'll describe your latest vegan lip balm to the 't, and write an SEO-friendly blog post to go with it. We also love their varied beauty experience, writing for clients in the spa, skincare, makeup, and cosmetic surgery sub-niches of the beauty industry. But they also cover other industries like pets, medicine, wellness, fashion, food, and apparel.
While they don't transparently list pricing, Content Dog self-proclaims their content writing services as affordable, so we'll take their word for it.
Our main qualms? Minimal reviews and social proof. Content Dog has some pleasant testimonials on their site, praising speed and content quality. But the reviewers are just first names with initials. No company sites, and no web content shared. Plus, their case studies only show keyword rankings and traffic for the pet, CBD, and medical industries — nothing to highlight their experience writing content for beauty brands.
We see a general-knowledge content writing company that could help beauty startups kickstart their content strategy. Give it a shot (or bark 🐶) if you're not too fussy about proven beauty brand results or direct-industry case studies.
Best for: Startups and beginners, multi-niche beauty, health, or wellness brands
Pricing: "Affordable"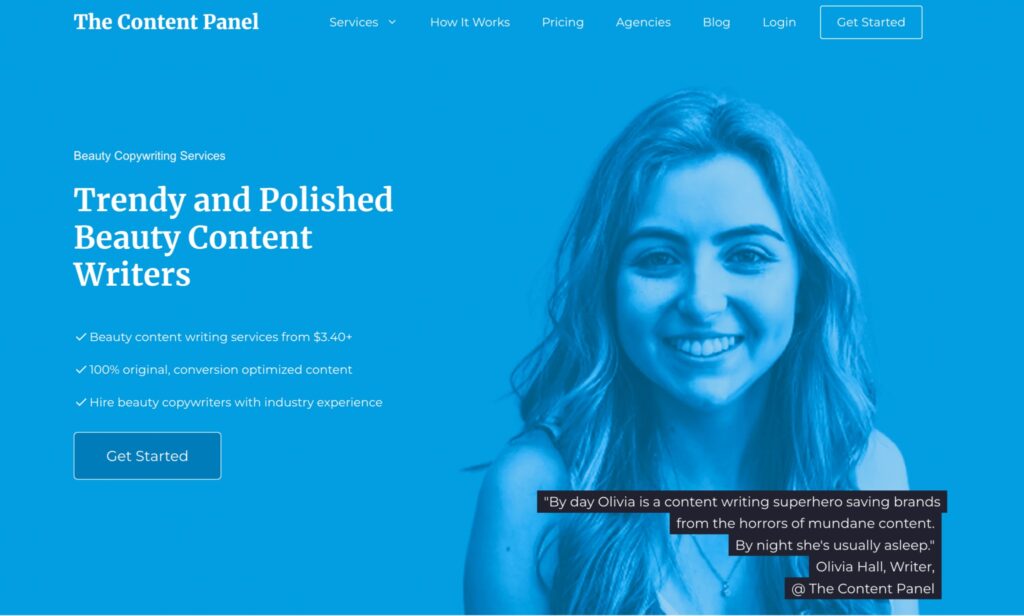 5. The Content Panel
The Content Panel is more of a content mill than an agency — a content writing service with hundreds to thousands of freelance content writers pumping out quick, abundant content.
Still, The Content Panel does win points for sheer productivity, availability, and rapid turnaround time on their writing services. When you have 3,000+ writers under your belt, you'll never have trouble meeting deadlines. Their writing service assesses content writers by their strengths, eventually granting them more niche access to writing work. Their content writing services include SEO content, copywriting, blog management, and articles.
What about quality assurance? It's hit or miss. See, while The Content Panel has an extensive application process for content writers to assure grammatical prowess and original content, it can't promise the best of the best. New writers are qualified based on simplistic plagiarism and grammar tests — leaking tons of writers with little experience or style in the mix. This enhances the risk of poor-quality content sneaking through.
You may need to edit more extensively to improve the content quality, but for the prices, it's a great option for startups and small businesses.
Best for: Brands on a budget who don't mind beginner freelancers and need quick content
Pricing: $45 per 500-word article for ultimate writers, and $17 per 500-word article for standard writers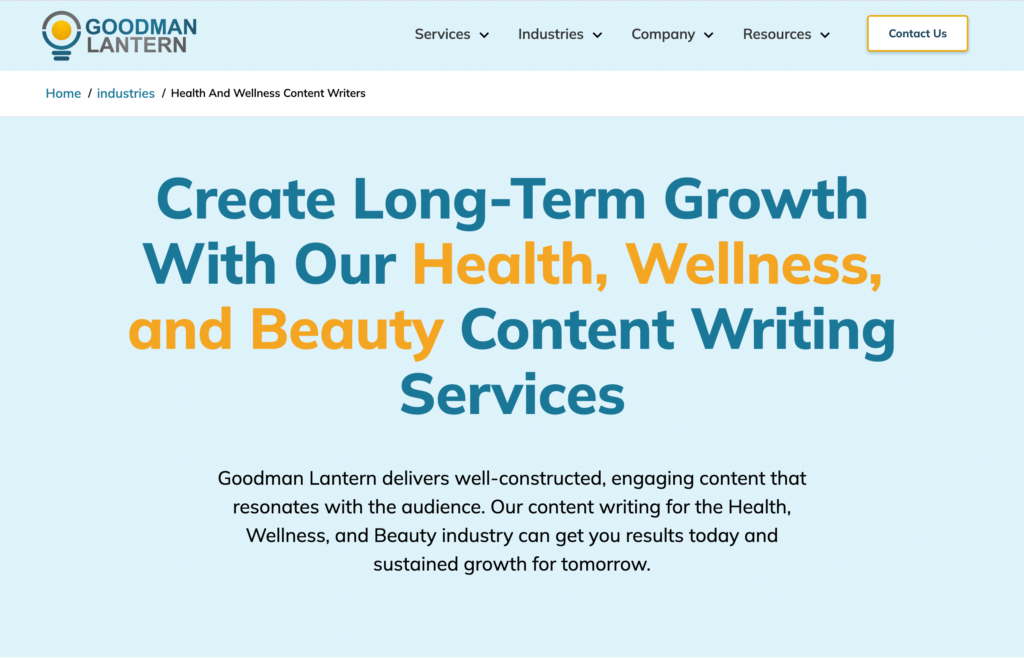 6. Goodman Lantern
Goodman Lantern is an impressive award-winning content marketing agency recognized by the likes of Goldman Sachs, and Inc. On top of that, they've written high-quality content for some seriously big names like Trivago and TikTok. Though they list health, wellness, and beauty among their 32 specialty industries, we wish we saw more examples of beauty content in their case studies.
Still, this rockstar agency has a solid list of SEO writing services like technical writing (biotechnology beauty, anyone?), proofreading, and blog writing. Something that caught our eye was the thought leadership and storytelling specialties — a must for beauty brands that really want to shake up their industry and engage wide audiences while still maintaining their authority.
Best for: Beauty brands looking for the best content writing agencies with accolades and brag-worthy experience alongside seriously high-quality content
Pricing: Upon request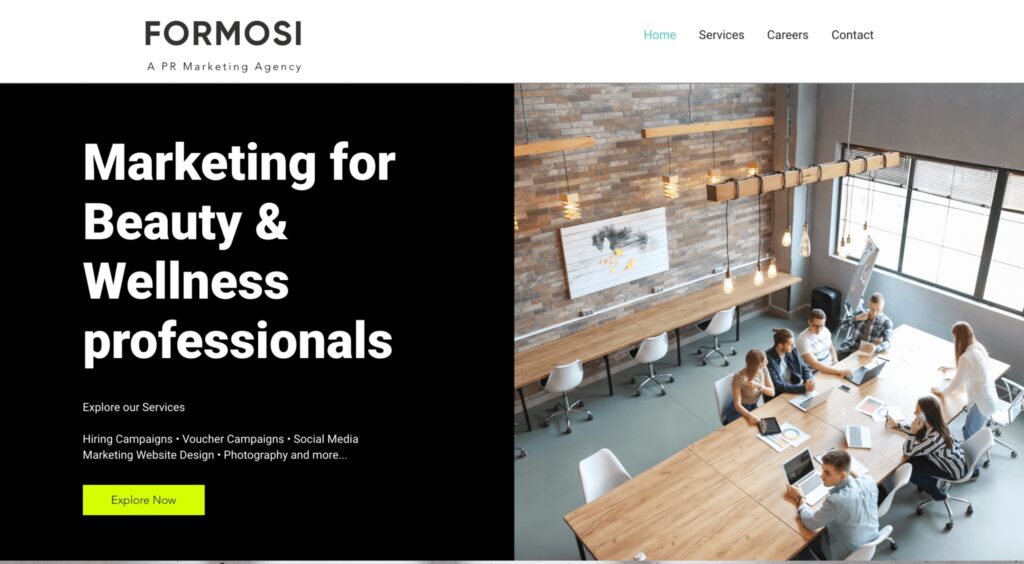 7. Formosi
Formosi is one of the few content marketing agencies on our list that specialize specifically in the beauty industry. With ten years of experience, Formosi is a PR agency first, a branding agency second, and a content writing agency as well. Still, they've produced solid thought leadership articles for some of their top clients, like the European Wax Center. They know how important content creation is for rankings, which is why they offer content writing services.
Still, Formosi focuses a bit more on the lights, camera, and action than the script. Photography, web design, voucher campaigns, and social media marketing all tie into this content marketing agency's top priority: your PR and reputation.
Final thoughts? Formosi does take an extra step that we feel is impressive and demonstrative of their commitment to their clients' success. They offer voucher campaigns, where customers can purchase campaigns from Formosi and redeem them for beauty services across their clients. On top of PR marketing for clients, Formosi takes the role of affiliate marketer themselves — they truly only work for brands they stand behind, which is admirable.
Best for: Beauty brands that want a solid PR strategy and visual online marketing materials first, and writing services second
Pricing: Not listed; contact for quote
Outsourcing to a writing service: which is the best choice?
We've covered the best content writing agencies, but what other content writing services should you consider when outsourcing your content writing? In this section, we'll compare your main choices:
Freelance forums
Independent beauty writers
In-house writers
The best content writing agency is one that meets your growth goals and budget while keeping your brand vibe on point.
But you might consider UpWork, LinkedIn independents, and even a recruiter's promise to find you the best SEO content writers for in-house roles — those are all ways to get your content writing going, right?
Sure, but the best writing agencies soar over in-house and freelance offerings tenfold.
You'll experience more personalization, expertise, and commitment from an agency that's built an entire business to make your beauty brand shine. Still need convincing? We'll give you the lowdown.
Freelancer forums
Many beauty companies take to UpWork and Fiverr to find writers. Ever seen a native-English speaker on UpWork offer 5 cents per word to write content? Sounds tempting, right? Imagine an entire content strategy that keeps your beauty brand on the map without breaking the bank. While you might be tempted by the affordable price, you'll want to weigh the risks.
Freelancer forums are popular amongst beginner writers that don't usually have enough experience to work for the best content writing agencies. They also work on a conveyor-belt-type model that can't promise you the dedication of a full-service beauty brand content writing agency.
On top of that, you need to watch out for AI.
Lately, tons of content writers have jumped on the trend of using Jasper.ai, ChatGPT, and other AI writing software. We'll admit: some of its capabilities are freakishly human-sounding. But that's a big risk to your business. After all, a robot isn't a content writer.
Why?
For starters, your content will just be regurgitated and revised from other existing sources. It's not original, quality content. Second, you'll risk tanking your rankings — Google sees through AI and punishes websites that use it. Finally? It's lazy writing.
You're a professional and go above and beyond to give your clients products that make them feel beautiful, sustainable, and safe. Don't you want to uphold that standard for the information you provide them? Don't your loyal customers deserve high-quality, professionally written content?
AI content lacks the meaty research, attention to detail, accuracy, originality, value, and brand alignment that professional, dedicated beauty content writing services offer.
Freelance forums are cheap, but you get what you pay for.
Now that doesn't mean you can't find expert writers on these forums. There are plenty of talented, efficient, and trustworthy freelance content writers — our founder even got her start on UpWork back in the early days of blogging — but you will have to sift through the rough to find the sparkling diamond.
Independent SEO beauty writer
This freelance beauty writer might still have a profile on popular platforms like UpWork, and charge per word, as well. However, they're more experienced and branched off to offer independent SEO blog writing services. Yay! You're looking at a professional with proven writing experience under their belt — maybe even dedicated beauty experience. And we're not just talking about beginners. Some independent freelance writers have decades of experience but prefer to work alone.
Now, that might not be a bad thing for your beauty brand. Especially if you just want to test the waters. But if you hire a beauty writer with proven expertise, you're going to pay a premium rate and may end up investing as much as you would into an agency.
If you have ambitious growth goals for your content creation — weekly content, reigning keyword rankings, skyrocketed conversions, and ROI — it takes a village. And that's why you should work with one of the content writing companies on our list.
One person can't possibly do all that work within your six-month growth timeline. Agencies have multiple content writers and additional staff to keep your beauty strategy flowing strong. You'll have a dedicated writer who will grow with your brand and content, rather than a writer spread thin by a bunch of other clients. You'll feel peace of mind with a company process that delivers, with contingency plans for anything that goes haywire.
In-house writers
Do you have an extra $56K to shell out every year for in-house content writing? That's what you'll need to hire an experienced SEO writer — more if you're in an expensive city like Los Angeles. Still, the return is pretty sweet. You get a dedicated content writer whose sole priorities are to understand your beauty brand and create content that reflects your values and beliefs.
What better way to connect with your target audience and rank on search engines? Instead of outsourcing content, scouring freelance forums, and paying premium monthly subscriptions or retainers, you've got a dedicated content writer on the payroll.
But it's not all rainbows and butterflies, is it?
Employees come with extra responsibilities like training, management, and benefits. If you pair that with a tight budget, hiring an agency's content writing service might feel like a lower-stress alternative for your content.
Ultimately the type of content service you choose depends on your growth goals, content needs, project management, and budget.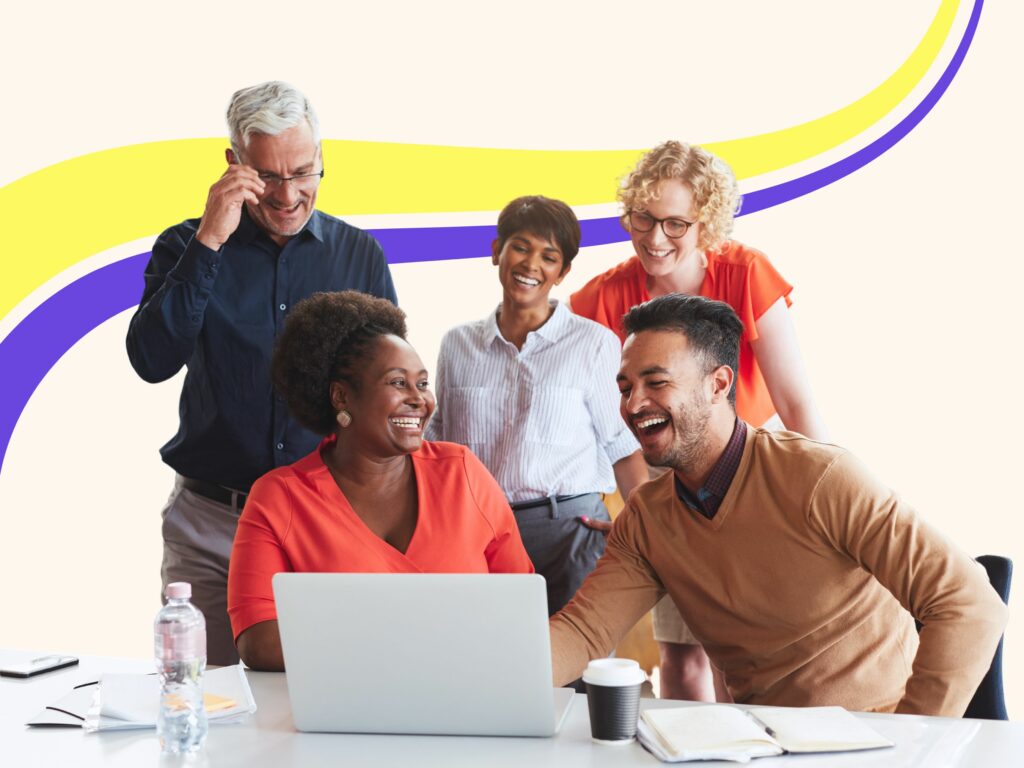 Why work with the best content writing agencies?
All successful entrepreneurs know this vital principle: you must outsource to scale and spend money to make money. Otherwise, you'll find yourself spread thin, burnt out, and back at square one in no time.
If you want to reach your audience on a deeper level, build brand awareness, and grow your beauty business, you need to maximize your time. Hiring a content writing service with proven results and a track record for success will eliminate the headache of consistently having to publish high-quality content across various platforms and communication channels.
Plus, it removes the guesswork of wondering if the content you're writing will perform well. The best content writing services are experts in their field, saving you time and money by creating content quickly, consistently, and seamlessly.
That's why it's essential to partner with agencies that combine expertise, value, and affordability while honoring your marketing goals. At the end of the day, a busy in-house marketer or business owner is simply spread too thin to add content writing to the long list of to-dos.
That's where we come in. We're your beauty copywriting gurus ready to lend a passionate, helping hand.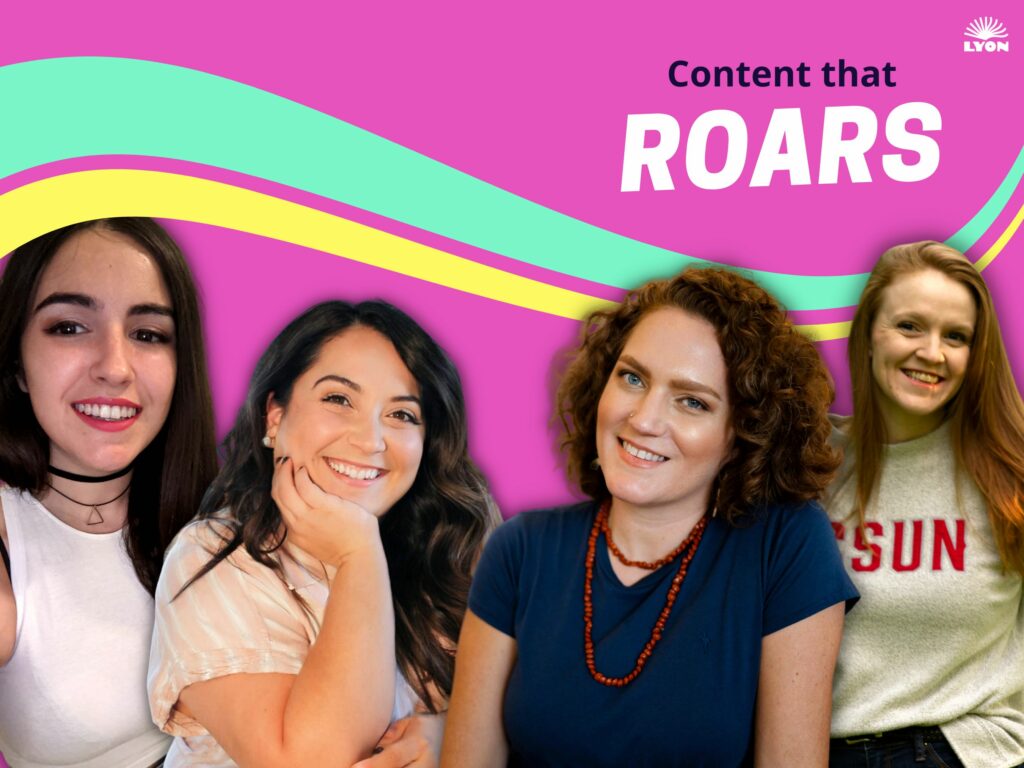 Final Word
So, what are the most reputable content writing services for your beauty brand? We've listed some solid contenders.
But our Pride offers something your beauty brand needs: complete dedication.
Lyon Content is the only content writing agency dedicated solely to beauty and lifestyle clients. Our writers know your niche inside out and stay current on skincare, hair, makeup, and every other industry trend you could think of.
With us, your industry isn't sandwiched between 30 other areas of expertise – we stick to what we know best and we're proud of it.
And if that's not enough?
All our staff are talented writers with proven niche experience. We're not wearing the hats of social media manager, graphic designer, affiliate marketer, and PR rep at once. Our business is writing, and we're damn good at it.
Lyon Content is one of the best content writing services in the USA for beauty brands that want to roar their unique values, vibe, and va-va-voom vision into the world.
Pair all that with proven conversions, web traffic, ROI, brand awareness, and happy clients all in the beauty industry? You'll command the lion's share of your industry's attention.
Ready to work with the beauty industry's hottest content agency and give your beauty brand a glow up? Let's talk.
FAQs
1. What does a content writing agency do?
Content writing companies craft SEO-optimized content that helps online and e-commerce brands build awareness, increase traffic, boost sales conversions, and scale revenue. While some agencies specialize in one niche, like Lyon Content's beauty industry expertise, others cover various niches and offer additional content marketing services.
2. Which company is best for writing?
There are many professional content writing services, and the best one depends on your niche, goals, and budget. Some of the top-rated agencies include Velox Media, Goodman Lantern, Lyon Content, and The Content Panel. When outsourcing content, you should always do your research to ensure the company or content writer is reputable, talented, and within your budget. Look for customer reviews and case studies with proven success for increased ROI and success metrics.
3. Which company is best for content writing?
There are many digital marketing agencies, but few specialize exclusively in content writing. You should choose an agency that demonstrates industry expertise, has proven results for increased traffic and conversions and offers content writing services within your marketing budget. While some of the more affordable options include Verblio and Content Panel, you may not receive the high-quality content expected from established agencies such as Formosi, Velox Media, and Lyon Content.
4. How much do you charge for content writing?
Our content writing packages start at $1,500 a month for blog articles, and prices range depending on the type of content and complexity of the project. We do our best to fit most budgets, but quality content is an investment into your brand's reputation and growth. Every piece of content is methodically researched, authentically written, edited, fact-checked, revised, and plagiarism checked. Our content writing rates are competitive and reflect the level of expertise and quality our clients receive.
5. What is the best content writing service?
For affordability, you may want to hire a freelance writer, for consistency, a reputable agency may be the best fit for your goals. Across the board, content writing companies offer the most consistent, high-value content. Just be sure to check customer reviews and case studies to ensure the agency is a good fit for your brand.
6. How much should a content writer charge?
Rates depend on whether the writer or agency charges per project, per word, hourly, or on a retainer. Brands can expect to invest at least $1500 a month for ongoing content writing services that yield the highest ROI. Project-based fees range and depend on the scope, expertise, and services offered. For example, blog posts usually cost hundreds of dollars while web copy costs thousands.
7. How much does it cost to get an article written?
Most articles range in length from 1,000-3,000 words, with prices ranging from $100-$1,000+. Article rates depend on the length and the writer's expertise. Starting rates are usually 10 cents per word for beginner writers, which is extremely low. Experienced writers and agencies generally don't charge per word, but a project-based fee reflective of their industry credibility and experience.
8. Which are the best content and article writing services online?
Some of the highest-rated and trusted writing companies include Velox Media, Lyon Content, Formosi, and Goodman Lantern. More affordable options include UpWork, Verblio, and Scripted. Ultimately, the best service will align with your niche and marketing goals.
9. Who is offering the best blog writing services?
There are many blogging service providers, from freelance writers to content mills to agencies. Content platforms like UpWork, Verblio, and Scripted are the most affordable, but quality varies significantly. More premium options are agencies and niche-specific professional writers with expansive portfolios, recognizable clients, and positive customer reviews. Top choices for premium blog writing include Lyon Content, Strategically, Compose.ly, and Writer Army.
10. Can't I just use AI WRiting Tools to write my content now?
You sure can, but it's only going to do more damage to your rankings. AI writing tools like JasperAI and ChatGPT spit out regurgitated content written by other web pages. This means that the outlines, ideas, angles, and copy are completely unoriginal. Sure, it'll spit out 1,o00 words in one minute — which is tempting, but Google will penalize AI written content, which means that cutting corners here will result in lower positioning on search engines, less credibility, and unfortunately, lowered sales and conversions.
In an era of AI-everything, we totally get the impulse to save money by using AI, but at what cost? Sharing mundane, bland, inauthentic content for your audience? Why would they trust you if you're not giving them high-value, human-written content that's meticulously researched, edited, composed, and curated specifically for your target audience? We may be naive, but robots can't replace the expertise and skilled hand of expertly trained writers and industry professionals, which is why we caution brands from using it.
Investing in high-quality content is one of the best ways to increase organic traffic and skyrocket conversions.

02/01/2023
Chrissy is a contributing writer at Lyon Content based in Toronto. She loves writing and editing tech, marketing, and lifestyle content. But her favorite part of writing is helping businesses express themselves. When she isn't writing, she's traveling as much as possible and eating a lot of cheese.