A high bounce rate means your audience is abandoning your site after viewing only one page.
Monthly visits, conversions, newsletter signups, and SERP rankings are content marketing metrics likely at the top of your checklist.
But bounce rate is another valuable number to keep your eye on. Why? Because paying attention to bounce rate is a great way to serve lost or unsatisfied customers.
So, what's a good bounce rate, and how do you achieve one? Hint: publishing high-quality content is a surefire way to captivate your audience and keep them on your site longer.
And we're going to share exactly how to do that. Keep reading for the ins and outs of bounce rate and how to craft kickass content to reduce it.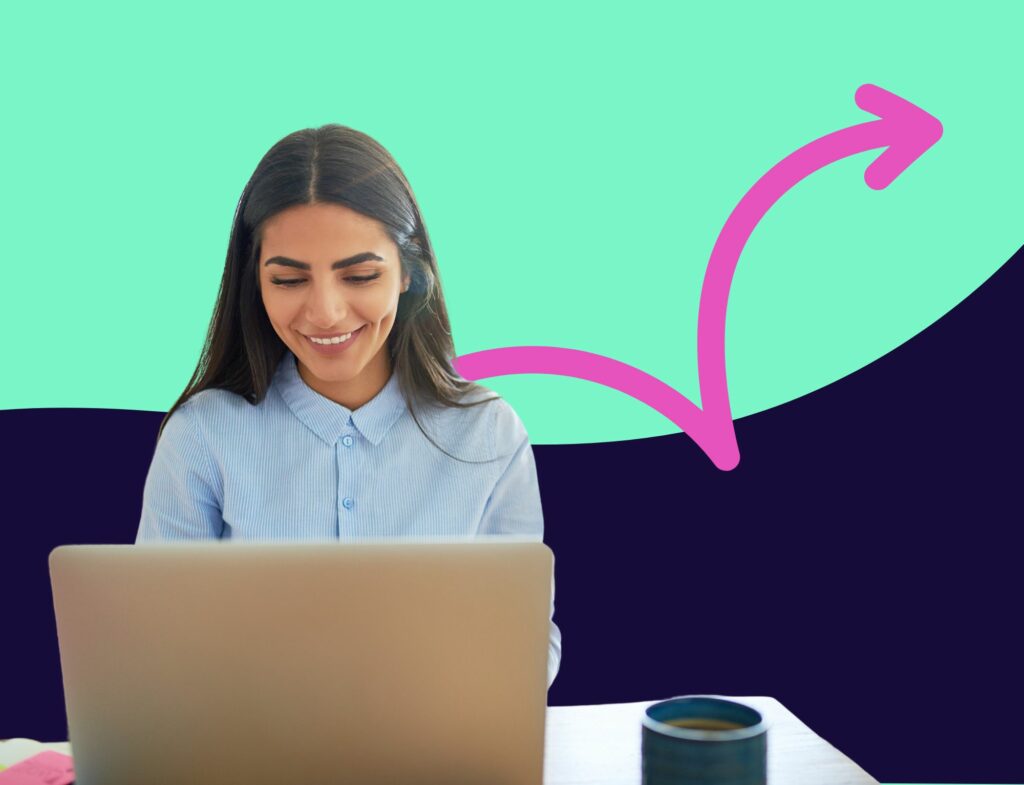 What is bounce rate?
Bounce rate is the figure representing the percentage of people who visit your site and leave after viewing only one page.
Maybe they jump to a new website or shut down their browser altogether. Either way:
They don't bother looking at your services page, or a second page.

They're not checking out your gorgeous, high-value blog.

They don't even sign up for your newsletter.
In other words? You spent time prepping your pad, but your audience dips before the party even starts.
We want to keep the snacks and libations flowing to keep the good vibes high. But first, you need to know where you're at.
To calculate bounce rate, take your total number of website visitors viewing only one page and divide it by the number of total visitors.
For example:
500 total visitors

400 single-page visitors

Bounce rate: 400/500 = 80%
Now, 80% sounds bad. And it isn't ideal. But lucky for you, bounce rate doesn't directly affect Google search rankings.
But it still means your audience is walking into your website and leaving immediately.
As a content marketer, one of your many jobs is to find out why and to fix it. But first, let's figure out what to aim for.
What's a good bounce rate?
Stay with us, 'cause this is a weird one. A generally good bounce rate (we're talking home pages) is anything under 70%.
Based on tons of examples and average bounce rates, you could have over half of your audience leaving your website after a second and still have a decent bounce rate.
Huh?
Sephora's is about 44%, while Search Engine Journal's is 66%. Yet both are still multi-million (multi-billion, for Sephora) dollar companies. That still seems like a huge chunk of their audience is, well, bouncing.
Here's the thing: you'll never achieve a 0% bounce rate. You likely won't even come down to 25%. And even 40% will be tough to accomplish. So, what's a good bounce rate then?
If you keep your bounce rate at 70% or lower, you're doing good.
According to Search Engine Journal, here's the scale of bounce rates, from good to bad:
<25%

: Too good to be true — SEJ says "something is probably broken."

26% to 40%

: Fabulous

41%-55%

: OK

56% to 70%

: Higher than normal, but not necessarily bad, depending on your site and industry.

70%+

: Something isn't working.
What's a good bounce rate for blog content?
Keep in mind that SEJ's figures are for home pages. But what's a good bounce rate for blog content?
Certain types of web pages (like affiliate landing pages) could have higher bounce rates, and that's considered normal. Another example? Blog content.
Readers come to a blog article for a specific answer and then move on. Meaning bounce rates might be higher for blog content. But as long as you helped them and they found value in your content, you're good.
After all, they found you on the SERPs to answer a question, right?
Curious about what your bounce rate is? Just check Google Analytics. You can also use Similarweb.com to compare numbers with other sites and find more metrics like company revenue, team size, and traffic stats.
Now, let's say your website's bounce rate is a tad unsavory. What can you do about it? Next, we'll share ten ways to reduce a high bounce rate and keep readers surfing through your site.
10 effective ways to reduce your bounce rate
If you're battling a sky-high bounce rate, all hope is not lost. Follow these tried and trusted tips to lower that dreaded number.
1. Distinguish bad vs. good bounce rate
This early step can save you a lot of frustration. The truth is, not all bounces are bad!
If you thoroughly satisfy the visitor's search intent with an informational blog article, your audience might take what they need and move on, which isn't a bad thing.
Check out this skimmable, engaging blog post from PureWow: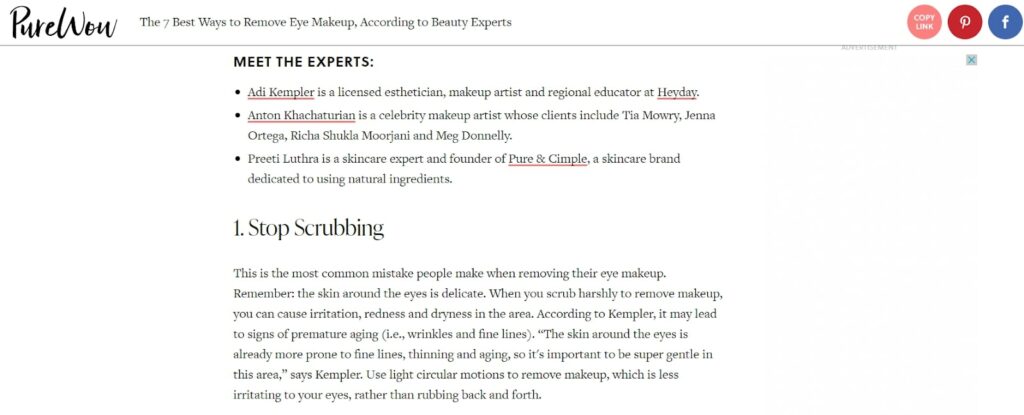 Source: PureWow
The content highlights authority with the bulleted list of experts, then dives into an instructional listicle that offers "ways to remove eye makeup." Straightforward, right? Maybe a visitor reads the whole thing, then goes to take off that persistent waterproof eyeliner from last night.
Spoiler: they are still scrubbing.
But you have to distinguish those readers because they're not the average bouncer.
Here's the difference: a satisfied reader spends more time on your site before leaving, even if it's still a single-page session.
So, we recommend that you add two more metrics to your list: average session duration and time spent on page. What's a good bounce rate if those two metrics are high? If a reader spends a few minutes exploring your blog article, even a 70%+ bounce rate is considered good.
Props to your kickass writing team for producing such high-quality content!
A reader who spends a few minutes (versus a second or two) on the same page before bouncing is a happy visitor.
2. Speed up your site
Imagine spending thousands of dollars on content and endless hours crafting your blog. But your load speed took five seconds, and your target audience didn't even read a word of it.
Bummer, right? Put yourself in their shoes, though.
Ever catch yourself waiting a grueling five seconds for a web page to load? Probably not. Even if it finally loaded on count five, you already bounced.
How do we know?
Google noticed sites on mobile devices that slowed from one second to five seconds resulted in a 90% increased chance of bouncing. Even just three seconds amounts to a 32% increased chance of readers bouncing.
What can you do?
Look at your brand inspo. If you're a makeup brand, see how long Maybelline's web pages take to load. A few milliseconds at most. If you're a SaaS brand, check out Slack's site — same story. And Slack has an impressive 26% bounce rate!
What's going on? Poor load time signifies poor user experience, which creates a host of problems. One of them is a higher bounce rate.
But what's slowing down your site? Unfortunately, a number of causes — including immense web traffic.
We perused advice from leading web hosting services to share common culprits:
Oversized images

: Most web hosts have helpful image size guidelines. If you need to trim them down, check out a service like

Optimizilla

.

Coding issues:

DreamHost notes "bulky code" can be a drag on speed. This is code stuffed with too many characters and elements, as well as unoptimized CSS or JavaScript files.

Slow scripts

: Tools like

Pingdom

and

Web Page Test

can help you target slow scripts.
If you've been DIYing web development services, slow loading time could be a sign to hire an expert.
3. Master the call to action (CTA)
A clear CTA invites your reader to visit other parts of your website, including:
Services pages

Contact pages

Other helpful blog content

Newsletter signup

Product pages

About page

Information pages
A strategically placed CTA can generate a good bounce rate since it directs readers to an internal link within your website's content.
Here are some kickass CTA's in action:
A home page CTA usually links to a contact page to book a consultation or make a purchase.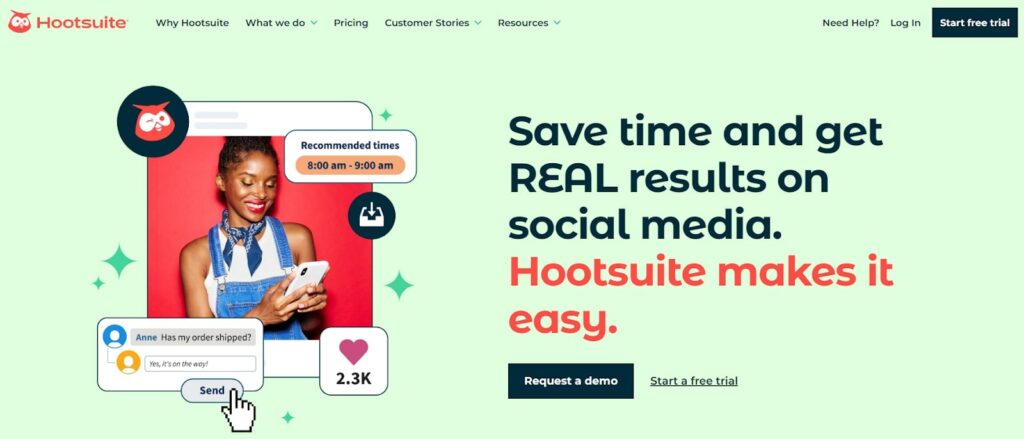 Source: Hootsuite
A blog article should also have a clear CTA in the conclusion that encourages a purchase or contact. We love Hubspot's example because they offer clear value in the CTA with a freebie: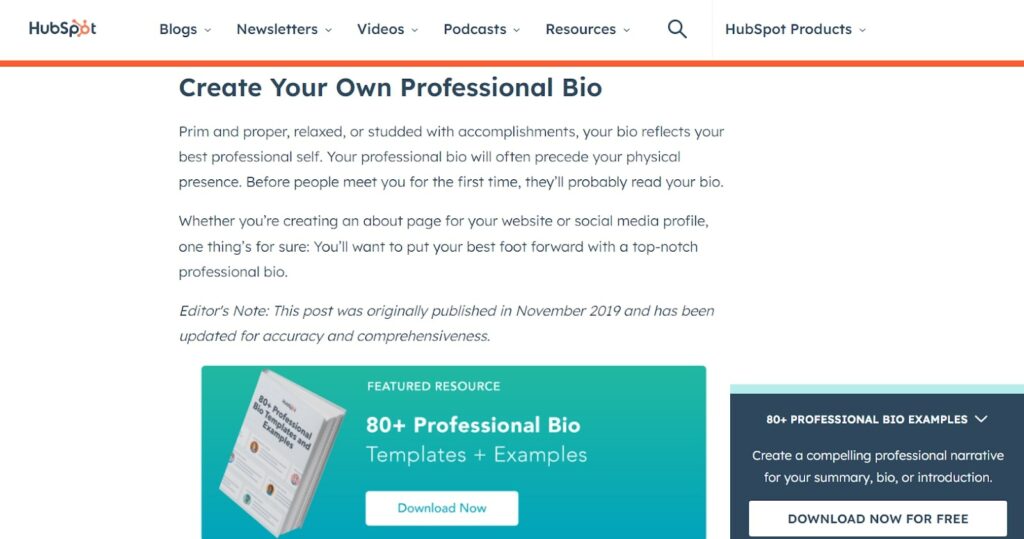 Source: Hubspot
4. Write and design for mobile users
Desktop users jump from page to page consuming content at lightning speed.
But if you thought desktop users were quick, try mobile users. Mobile readers make up nearly 50% of all web users and even more if you have a younger target audience.
Say your site looks great on your laptop, but overwhelming on your phone. Endless text and minimal CTAs will send users away immediately. On top of that, your content should be super skimmable. That means bite-sized paragraphs and lots of headings to organize your thoughts.
People reading on their phones are often killing short periods of time on breaks, so they appreciate easily digestible info.
5. Lose the "bait and switch" of irrelevant content
No one intends to publish irrelevant content. But in the endless content marketing to-do list of busy founders and marketers, it can happen in a few ways.
A vague or even mismatched title that doesn't align with the content of your web page or article might slip through, and this can confuse your readers.
Let's say readers find their way to your site, but your content doesn't match the title and meta description on Google. Talk about a bait and switch.
Or maybe you publish an article on fashion trends for 2023, but spend the first half of the article talking about last year's trends. That's not what readers came here for.
Chances are, they're going to bounce.
This can also result in the toxic misuse of SEO to get keyword search rankings at any cost. Some content marketers desperately try to rank for keywords even if the content isn't directly relevant, which we absolutely advise against.
Here are some ways to ensure your content remains relevant:
Dive deep into audience research
When's the last time you got to know your customers? Consider collecting data from surveys, email signups, or even purchase behavior. Competitor and keyword research are also great ways to find out what your audience wants and needs. Learning more about them helps you craft relevant content to satisfy their interests.
Help them solve their biggest problems
Every piece of content should solve a problem for your audience. Identifying that problem and providing a solution before you start writing will keep your content on track. Need some inspo? We rounded up 50+ beauty blog content ideas for your next brainstorming sesh.
Keep up with industry trends
How does your brand's content fit with the industry's backdrop? Ensure your content relates to the broader contexts and conversations of your niche and find ways to tie them together into a cohesive content strategy.
Use internal links tastefully
Directing site visitors to other online content is a great way to expand those single-page sessions. But you shouldn't bombard readers with endless links, which can come across as scattered and diminish the importance of your current blog post. Cited in an SEJ article, Google's John Mueller says too many internal links make it harder for Google to understand what's important to you — let alone your readers! You don't have to limit yourself to one internal link per piece, but don't go over five.
6. Spice up your web design's visual elements
Every marketing strategy should account for visual appeal. It's not just what you say, it's how you say it — and how your readers digest it.
Let's say your blog content takes the form of a few text blocks against a simple web template with a stock photo.
We think you can do better! Here's how:
Throw in your original, high-quality branded images.

Show us some unique typography.

Give us a creative yet accessible page layout.
Aesthetic appeal captures your audience's gaze, and web design is an art form you can leverage.
7. Go easy on the pop-ups
Sure, a prompt to sign up for your newsletter might be a great tactic for lead generation. But you can't prioritize that over user experience. In most cases, you'll make a sacrifice through a higher bounce rate.
Why?
Popups can be disruptive if you're not careful.
For example, don't you cringe at websites with ads that have tiny x-buttons?
Or full-page popups that have you wondering where you actually clicked on the SERPs?
Here's our advice for popups, whether for email signups or special promotions:
Don't popup right away

: Let your reader breathe a little while they scroll through your site. An immediate popup is like an overzealous salesperson bombarding a shopper as soon as they walk in—they haven't even had time to look around yet! You could toggle your popup to appear after the reader is already on your site for a few seconds.

Make the X visible

: We know you have a lot to offer your readers, but they should still be the boss of their browsing experience. If they want to exit your popup, make it as easy as possible for them.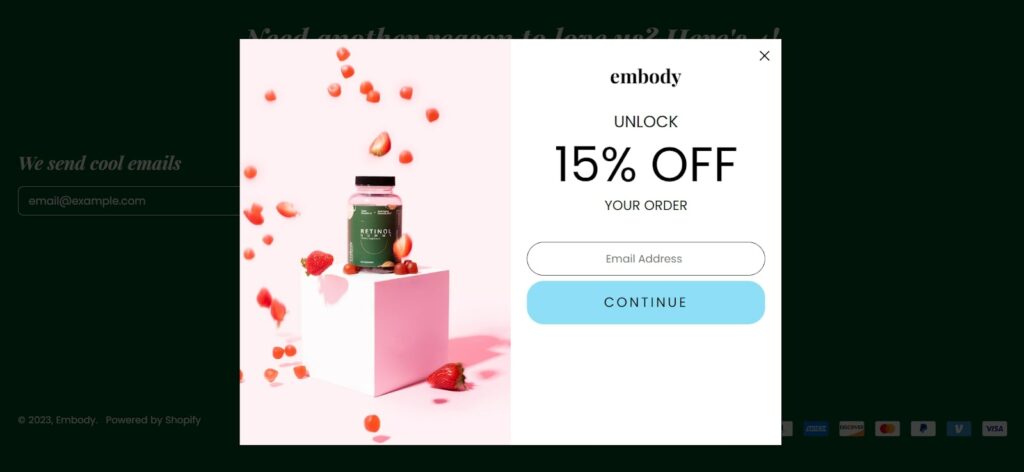 Source: embody
Get rid of irrelevant ads

: We know ad income is hard to pass up, and we've seen brands make them look classy in the header or footer of their sites. While too many ads is a total no-no, we'd also say ads in general aren't ideal for readers trying to access your content. Plus, you're a rockin' business owner with a ton of value to offer your readers. Leverage your authority with badass content and let them come to you that way. Don't rely on ad income for your site—your audience will thank you for it.
8. Switch up your blog content formats and structures
Engaging, relevant content is king, but you don't have to always rely on the same structure. Switch it up! You might land on a reader's radar who appreciates a well-done interview article, or another who prefers listicles to exposés.
Don't be afraid to add a pop of color or some movement. Background videos and professional, branded photos also engage readers to stick around your site a little longer.
Lyon Content offers a wide range of high-quality content writing services and video production services, including branded videos, blog content, social media content, and dynamic visual and written media that'll make your campaigns pop and reel in quality leads.
9. Help readers navigate your site and content
Hunting for thrifted treasures is exciting. Hunting for services and pricing on a website? Not exciting at all. In fact, it's a big turn off for new visitors to your site who are looking for quick information to help them make the best decision for their needs..
That's why web navigation is essential for a seamless user experience. Structure your offerings in an organized way to ensure easy access to all your pertinent biz info.
What does that look like? A website navigation bar that's visible even as your readers scroll through your site, like Byrdie's: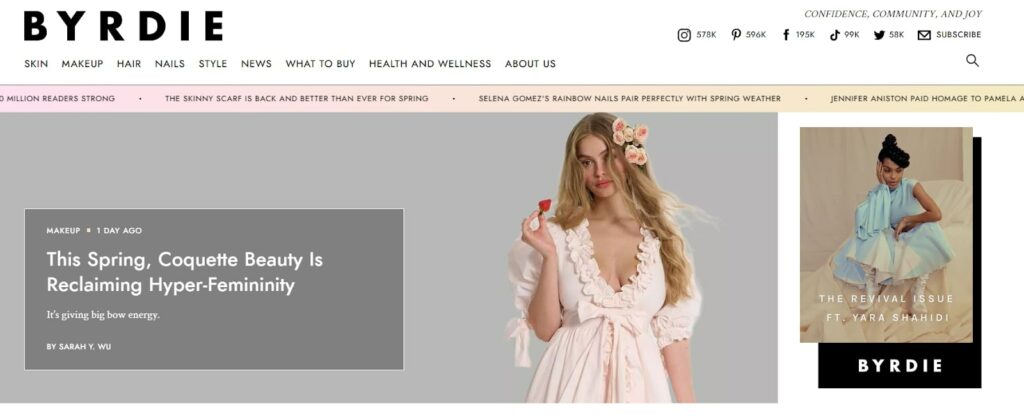 Source: Byrdie
Notice the search icon to the right? This is vital for the time-pressed reader. But to make the most of website search, all your content should be indexed and responsive to typical queries with keywords.
Your web page layout should be neat and organized — down to your web copy.
If you have large chunks of dense paragraphs without clear labels, headings, or CTAs, your reader might lose interest. The same goes for long-winded blog posts.
Skimmability is a must, since people are scanning your site for important tidbits and takeaways on their smartphones.
But we get it — copywriting is an art form that requires style and persuasion. With Lyon Content in your corner, you can bet your copy will reach your audience every time.
10. Level up your blog with hot takes and quality content
Bounce rate isn't always a sign of technical issues or irrelevant content. You might have a killer perspective and keyword rankings to attract both organic and referred traffic.
But none of that matters if you can't keep visitors engaged on that first impression.
In other words? If you bore them, you'll lose them.
We understand the struggle. Even brands with serious street cred fall into the trap of regurgitated content. Your competitors are trying to rank for similar keywords, and it's easy to blend into the abyss of endless, niche content.
That's why content quality and originality are vital for both SEO success and lower bounce rates. Here are some pro tips to level up your content:
Showcase expertise with original quotes
Your audience won't know you're a thought leader unless you show them. Infuse original quotes from your staff within your content to highlight your expertise, like this great example from our client, HawkSEM.

Source: HawkSEM
Fill competitor gaps
If you want to capture an audience with competitor keywords, you can, but you'll need to bring something new to the table.
Let's say a competitor article discusses home remedies for eczema, and you want to write something similar. You might stand out with additional remedies, showcase your product, or add a comprehensive comparison to support your reader's experience.
Hire a professional
If your in-house marketing team is slammed, your content quality could take a hit. Take some work off their plates with a qualified content writing agency. You might delegate part of your blog content calendar to them, or you hire an editor to maintain quality for your in-house content.
Stop Readers from Bouncing with Kickass Content
So, what's a good bounce rate for content? The experts say anywhere from 26% to 70%, with blogs experiencing slightly higher bounce rates.
But whether your website has a bounce rate of 40% or 90%, a strong content strategy will only help your brand connect with readers. Plus, bounce rate is just one metric. If you manage to keep it low, props for that — but your work on your brand's content is ongoing.
Need some inspo or support?
Lyon Content creates content with impact. Content that not only informs, but also tantalizes and inspires your readers to take action.
We can help you craft content that reflects your brand values, roars with originality, and keeps readers engaged so you can trim down that bounce rate. Let's shake up your content!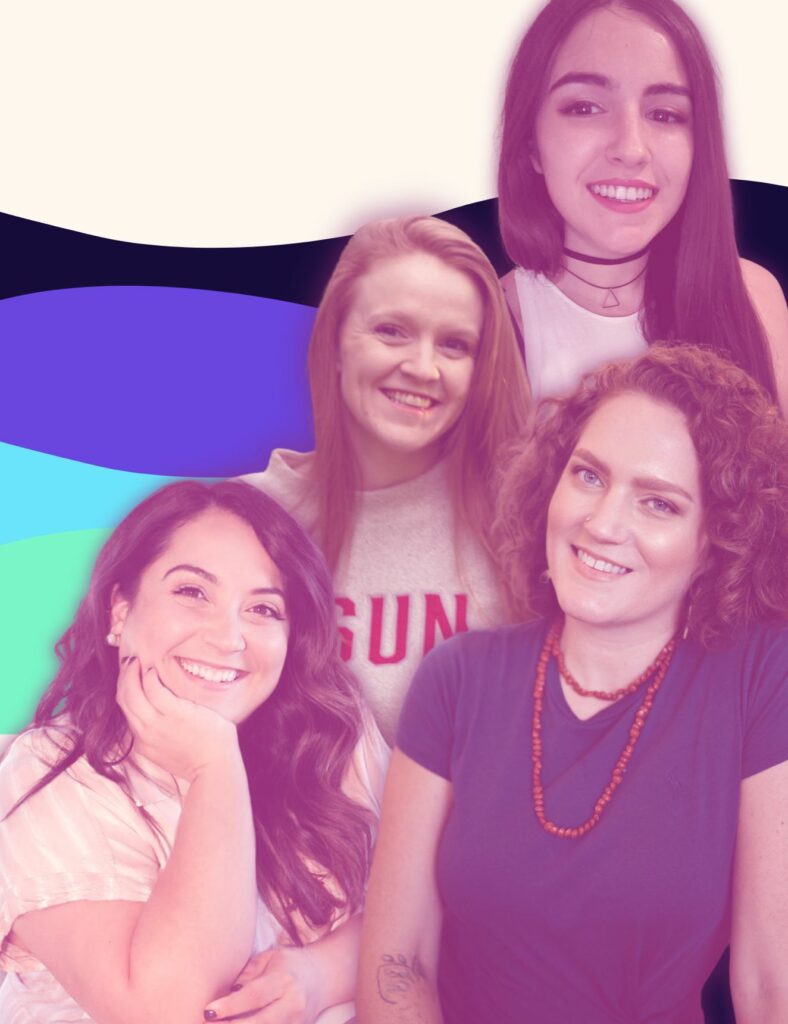 Human Writers. Kickass Content.
Ready to create a cult-like following with high-quality content? We thought so.
FAQs
What's a good bounce rate?
A good bounce rate is between 26% to 40%, but anything under 70% is acceptable.
2. What does a high bounce rate mean?
A high bounce rate means site visitors are leaving your website after only viewing a single-page session. Broader implications could include poor web navigation, irrelevant content, or slow load time.
3. Is a low bounce rate good?
Yes, a low bounce rate is good because it means web visitors are engaging with your website and exploring multiple pages.
4. Why is my bounce rate so low?
A low bounce rate could stem from a combination of issues like coding problems, poor user experience, fluffy content, or unattractive web design.
5. Is 50% bounce rate good?
A 50% bounce rate is very good, but it's most important to ensure you're publishing high-quality content and offering a seamless user experience to ensure you retain your visitors' interest.
6. Is a bounce rate of 20% good?
A page's bounce rate of 20% is excellent, but almost impossible. If you have a 20% bounce rate, your analytics suite might have an error since it's a rare figure. It's nearly impossible to have a bounce rate this low.
7. What does a 100% bounce rate mean?
A 100% bounce rate means every single person who visits your site exits before clicking on another web page or link, which isn't helping your biz. If you have a high bounce rate, it's important to lower page load, improve your user experience, and publish quality, helpful content for your audience.
8. How can I lower my bounce rate?
You can lower your bounce rate by improving your web navigation and user experience, elevating your content quality, speeding up load time, and generally appealing more to your readers.

06/21/2023
Chrissy is a contributing writer at Lyon Content based in Toronto. She loves writing and editing tech, marketing, and lifestyle content. But her favorite part of writing is helping businesses express themselves. When she isn't writing, she's traveling as much as possible and eating a lot of cheese.