In today's day and age, finding the top digital marketing agencies is like searching for a needle in the digital haystack. As a content marketing agency with nearly a decade of expertise in crafting high-ranking, engaging, and valuable blog and written content for some of the industry's leading beauty and lifestyle brands, we know what it takes to get the job done right.
Today, we'll highlight the top ten digital marketing firms that rise above the noise and exhibit demonstrated success in a variety of categories.
In this article, you'll find:
Our round-up of the ten best digital marketing companies in 2023
What makes these agencies the crème de la crème
Digital marketing agency pitfalls and how to dodge them
Nuggets of wisdom from Christina Lyon, our fierce and fearless pack leader
With that, it's only fitting we kick off our list with the online marketing agency we know best: us! *duh* 🥳
But we're not just tooting our own horn because it's us (although, let's be honest, we rock). It's because our clients' businesses have undergone epic AF transformations—all thanks to the power of our content.
Why else do you think DesignRush named us one of the best digital marketing companies of June 2023? It's 'cause we've got the chops to back it all up.
So, let's step into the Lyon's den, shall we? 🦁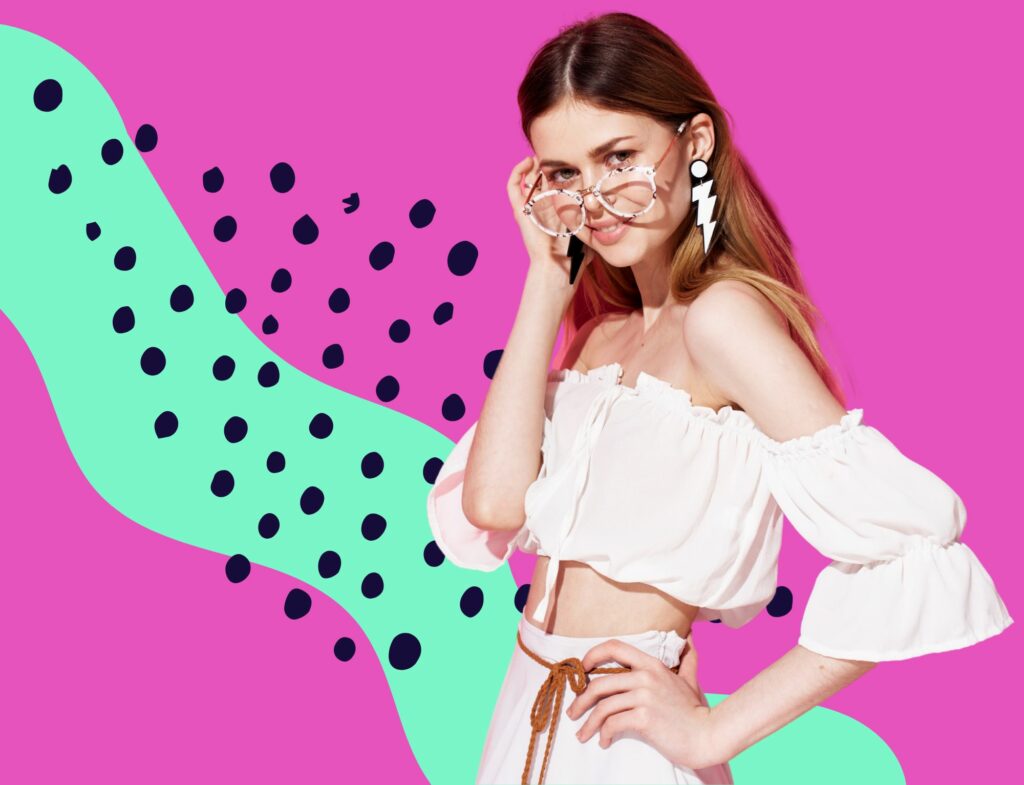 10 best digital marketing agencies in 2023
Lyon Content Agency
Verblio
Compose.ly
HawkSEM
Coalition Technologies
Disruptive Advertising
MuteSix
WeAreSocial
WebFX
AndHumanity
Best digital marketing agencies for content writing
Content writing is an art—it takes skill, experience, and finesse to transform mundane topics, decode industry jargon, and create captivating content that truly connects. These agencies have mastered gorgeous, high-performing content writing that gives your biz a pulse and makes it come alive like never before.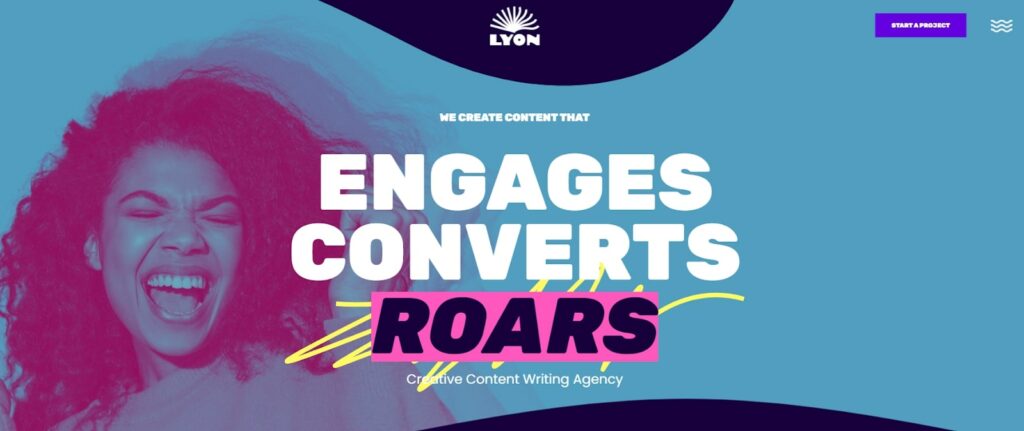 We don't mean to brag (well, maybe just a little), but Lyon Content Agency ain't your typical digital marketing agency.
Lyon Content is a boutique content writing agency based in California with a small team of diverse writers in the U.S. and Canada.
Our founder, Christina Lyon, is fueled by a deep passion for partnering with trailblazers in beauty and lifestyle. As the alpha of our pack, her relentless vision inspires our team to approach creating content with empathy and enthusiasm, always putting quality first and leading with value. The result? Exceptional content that reaches our clients' audiences on a deeper level.
"We're a small but mighty, niche-focused team devoted to quality. We take the time to dive into our clients' audience personas, needs, and pain points to craft compelling, empathetic, and articulate language that speaks to them in a relatable, conversational, and human way."
Every piece of content we produce is driven by diehard passion, research, and audacious creativity. We don't play when it comes to the art of infusing SEO, either.
Christina puts it best:
"We deep dive into every brand's niche and competitors to mine data on the most relevant topics. We shoot for high-volume, low-competition keywords, but this is really just the start. We use keyword research and SEO as a framework for building outlines and providing direction. Once we've got the data, the storytelling takes over.

From there, our human writers weave together nuanced conversational and empathetic elements that bring the copy to life. We infuse relevant stats and data, add quotes from industry experts, and paint a vivid picture of pain points that match the searcher's intent (the reason they took to Google to find an answer in the first place).

Anyone can throw words on a page, but we're storytellers who artfully combine SEO with personality-driven copy to best reach our clients' audiences."
And AI content? That ain't how we roll.
We're all about creating content that's real, raw, and brimming with the human touch. No bots here—just fierce, personality-packed content that leaves your target audience swooning, skyrockets visibility, and makes it rain with revenue. 🤑
Services Offered
SEO content writing & blog writing
SEO content strategy
Website copywriting
Press releases
White papers and eBooks
Tone and voice guidelines
Brand messaging and storytelling
Emails and newsletters
Presentations and pitches
Top-notch editing and quality control
Video content (creative direction, videography, production, editing, and more)
As for the badass clients who've trusted us to take their content game to the next level…
Notable Clients
Eager to join the content revolution? 💥 Peep our packages here.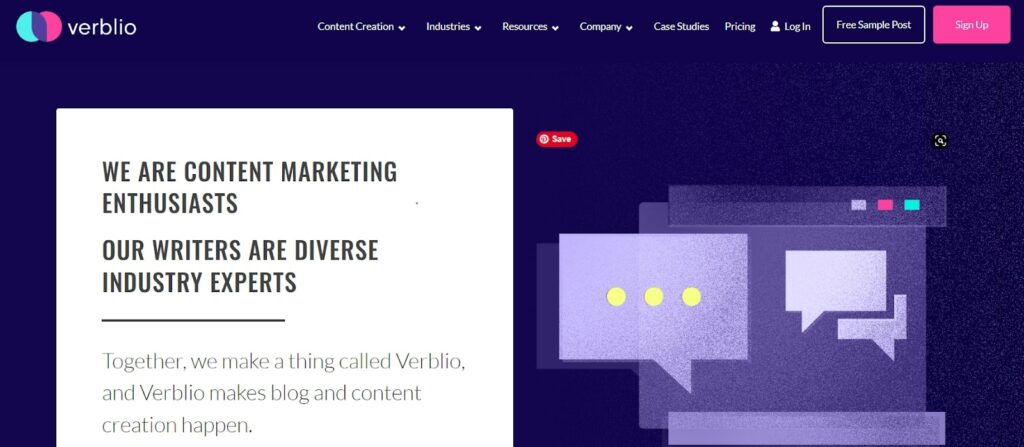 Verblio takes a broader approach by providing a platform that connects businesses with a large pool of freelance writers. This lets them offer an assorted range of content types in varied industries, catering to a super diverse clientele.
Following a more stringent vetting process than comparable digital agencies, Verblio ensures their writers possess a high level of subject matter knowledge. They also take a firm stance against AI-generated content, offering it as an entirely à la carte service.
What's great about Verblio is that they let clients customize services to better suit their biz objectives. With a diverse range of content types available, quick turnaround times, and the ability to handle projects of various sizes, Verblio offers scalability and flexibility at an affordable price.
It's almost like they're taking a page from boutique agencies' playbooks and infusing it on a grander scale—we dig it. 💁‍♀️
Services Offered
Blog posts
AI content writing
eBooks
Newsletters
Podcast summaries
News releases
Product descriptions
Website content
One-off projects
Video content
Content management
Subscription services
Notable Clients
Functional Remedies
CarHopper
GrowthSquad
Seer Interactive
Rankings.io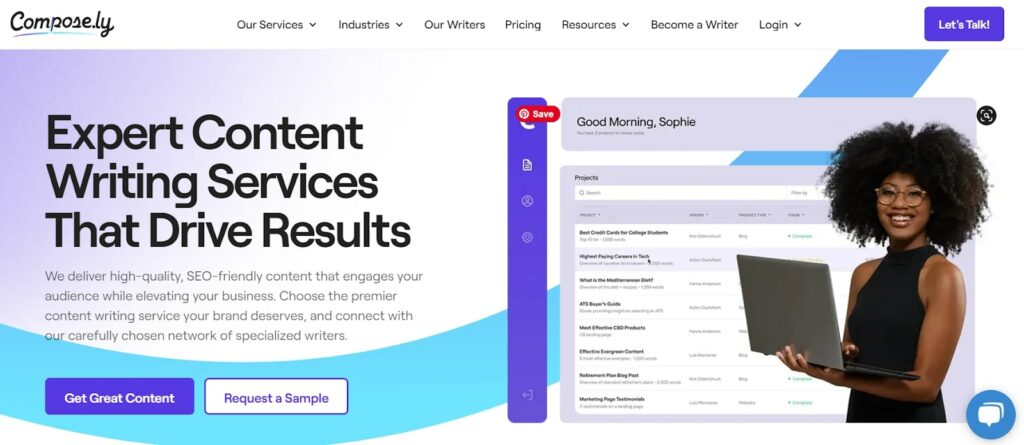 Unlike other digital marketing agencies that aim to be jacks-of-all-trades, Compose.ly hones in on one thing and does it exceptionally well: high-quality, SEO content.
Compose.ly offers full-service SEO content management geared towards taking the burden of content creation off your shoulders. Despite being a large platform, they're particularly strict about vetting their writers, editors, and SEO advisers to guarantee experts in both their fields and your industry.
More importantly, Compose.ly is committed to creating content that embodies Experience, Expertise, Authority, and Trustworthiness (EEAT) with the human touch.
From a user-friendly marketplace to pay-as-you-go pricing, Compose.ly has the tools and talent to help your business thrive in the digital jungle.
Services Offered
Blog articles
Copywriting
eBooks
Ghostwriting
Press releases
Technical content
White papers
Content briefs
Keyword research
Custom plans
Notable Clients
WebMD
MailChimp
Dolby.io
Pacific Life
Calendly
Best digital agencies for SEO & PPC
If elevating your brand's online dominance and establishing an unstoppable digital presence is priority numero uno, these digital marketing agencies are the unrivaled masters of their craft.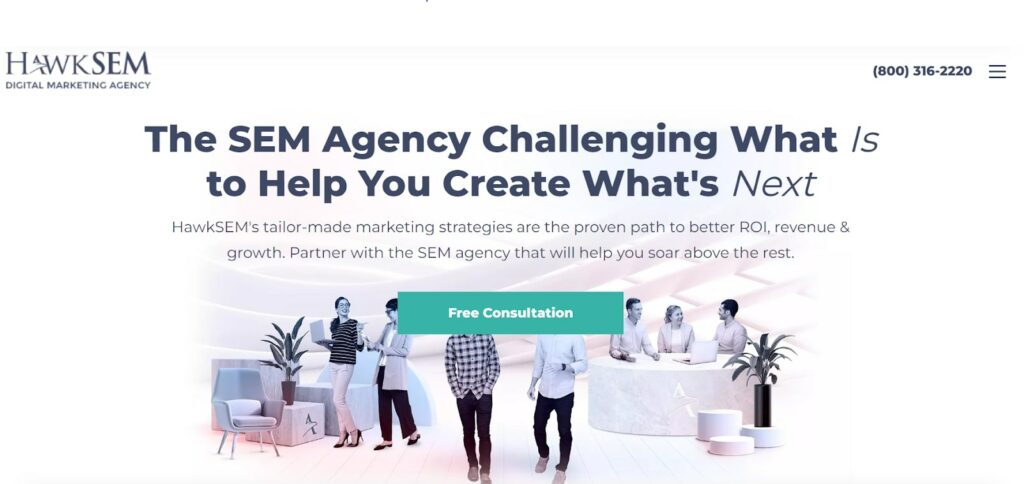 When you hire HawkSEM, you get a dedicated marketing team ready to strategize and execute a marketing plan tailored to your brand. You also have access to their collective agency-wide mind via their Performance Team, an extra set of eyes for peeping growth opportunities and keeping your biz on track.
Their other secret weapon? ConversionIQ™ is your easy-to-navigate dashboard for unifying all your marketing efforts and optimizing your campaigns like a boss.
As for street cred, HawkSEM is in the top 3% of agencies in the country, recognized by big shots like Google, Microsoft, and more. They've been in the game for over 15 years, racking up certifications and awards like nobody's business.
And their clients? We're talking an average 4.5X ROI and a jaw-dropping 98% retention rate.
When it comes to search engine marketing, you better believe HawkSEM is the name to remember (that's why we joined forces with them, after all). 😉
Services Offered
Paid search/pay-per-click advertising (PPC)
SEO services
Conversion rate optimization (CRO)
Digital advertising
Remarketing and retargeting
Web design and development
Landing page optimization
Full-service content marketing
Customized strategies
Notable Clients
Honda
Microsoft
Nike
DirectTV
Merrill Lynch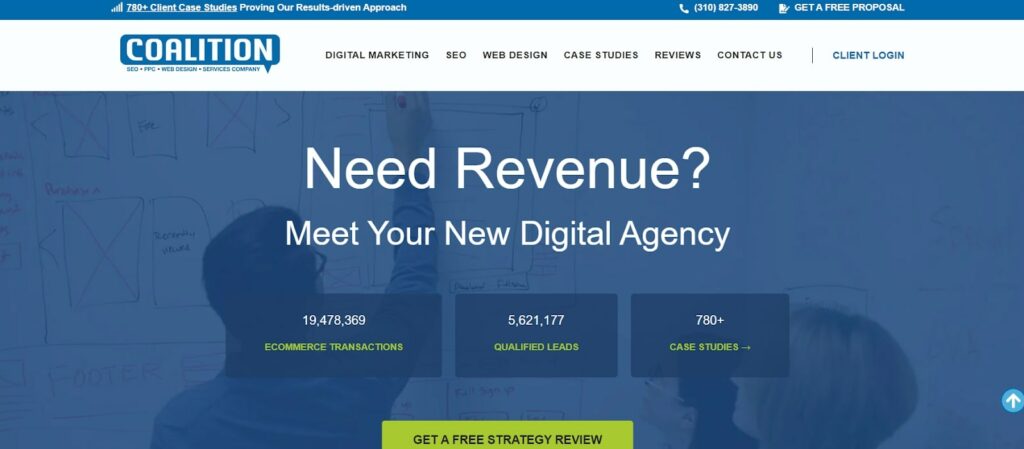 Coalition Technologies offers full-service digital marketing solutions, but they're one of the most recommended PPC companies in the US and a top-rated Google Premier Certified Partner 404 404.
Their portfolio of impressive case studies speaks to the tangible outcomes and significant growth they've garnered for their clients. With a focus on data-driven strategies, innovative thinking, and a commitment to excellence, they've certainly earned their stellar rep.
Unlike other agencies that tie clients down with long-term contracts, Coalition Technologies takes a refreshingly different approach. They believe in the power of their expertise so strongly that they don't burden clients with long-term commitments. Instead, they let their work and track record do the talking.
Trust, transparency, and mutual success? Heck yeah.
Services Offered
Branding and creative services
Reputation management
SEO marketing
PPC
Social media advertising
Email and SMS marketing
Web and app design and development
Ecommerce development
CRO
Analytics and reporting
Flexibility and no long-term contracts
Notable Clients
PayPal
Microsoft
Pink Lily
Swimspot
Billion Dollar Brows
Best digital marketing agencies for social media and PR
With their unmatched expertise in creating epic social media campaigns and game-changing PR strategies, these digital marketing agencies propel brands into the spotlight, spellbind audiences, and dominate the digital discourse.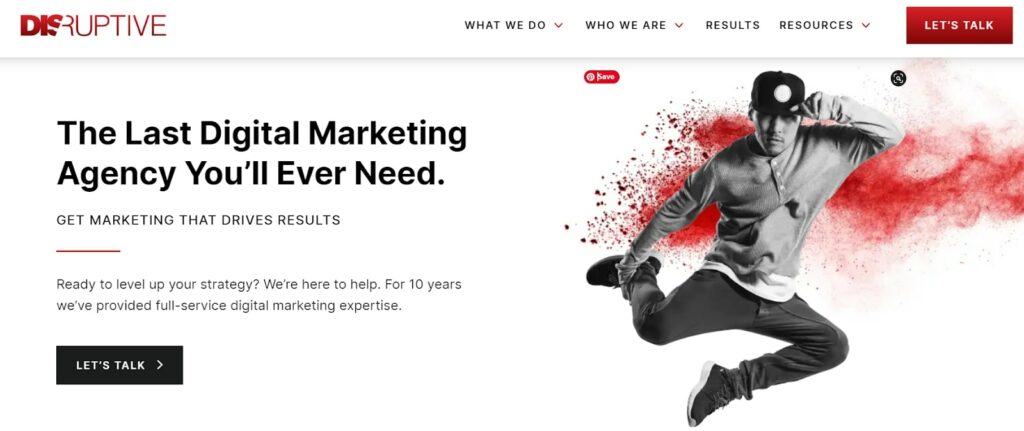 Disruptive Advertising isn't just getting a spot on our list because we love their name—this digital advertising agency touts a decade of experience under their belt. They've put in the work and emerged as one of the best digital marketing agencies in the realms of PPC, SEO, and, especially, social media.
This agency provides full-funnel strategies and solutions for brands ready to scale. As experts in lead generation and ecommerce, they're committed to making your marketing irresistible—both visually stunning and high-performing.
Beyond content marketing services, Disruptive fosters an environment where employees and clients are empowered to learn, grow, and succeed. They have an innovative team ready to support brands in their quests for positive impact and world change.
Services Offered
Amazon advertising
Paid media advertising
Display advertising
Social media advertising
CRO
Landing page optimization
SEO services
Analytics and reporting
Conversion tracking
Web design and development
Customized strategies
Notable Clients
Adobe
Litter Robot
Guitar Center
Scotts
Cabo Adventures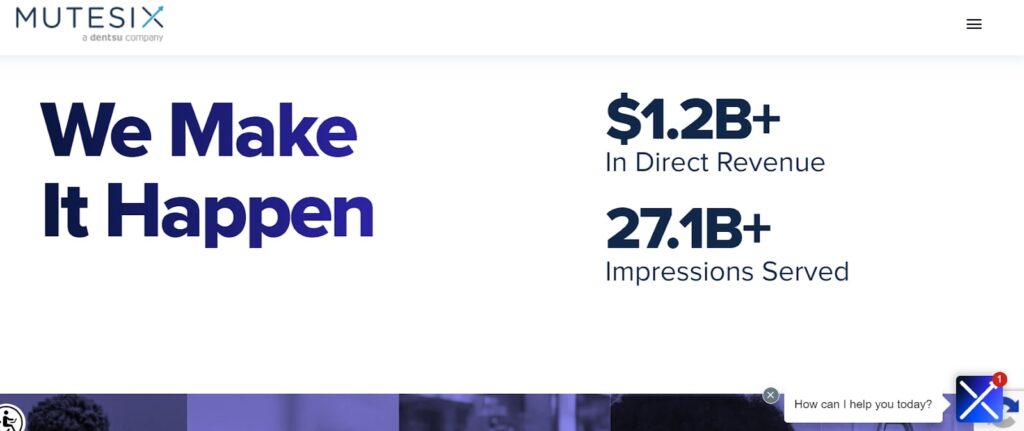 MuteSix doesn't believe in following conventional rules. They're all about pushing limits and embracing what's next in the world of real-time performance marketing—you know that's right up our alley.
This dynamic marketing agency specializes in social media and PR to take your brand's digital presence to the next level. They combine the power of creative and media to deliver innovative, multifaceted solutions that drive results.
With a custom omnichannel strategy, award-winning creative, advanced measurement solutions, and a diverse client roster, MuteSix stands out as a trailblazer in the industry, consistently pushing boundaries and propelling brands toward success.
Services Offered
Paid social media advertising
Google Ads (PPC) management
Amazon advertising
Influencer marketing
Email marketing
Conversion rate optimization
Analytics and reporting
Ecommerce strategy and marketing
Branding and messaging
Notable Clients
Morphe
Outdoor Voices
Disney
GNC
Pinterest

We Are Social keeps their finger firmly on the pulse of social behaviors, online communities, and all those juicy subcultures that make the digital world so fascinating. They understand that in order to truly reach the right people, you need to be strategic, relevant, and, above all, effective.
This marketing agency also joined forces with The Narrative Group, blending their unrivaled social media capabilities with the art of "embedding brands in the zeitgeist"—a match made in marketing heaven.
So, what does this mean for a potential client like you? 🤔
It means you're in for an authentic, buzz-worthy experience that's anything but traditional. We Are Social creates "earned-led" brand experiences that make an impact. They're not just about reaching the masses; they're about sparking real-time reactions and generating buzz through press, influencers, events, and the passionate voices of consumers.
If you're ready to go beyond the ordinary and ignite conversations that matter, look no further.
Services Offered
Brand messaging
Branded content and editorials
Social media marketing
Design and creation
Marketing strategy and development
Social insights and audits
Cultural intelligence
Competitor analysis
Influencer marketing
Video and photography
Illustration and animation
Podcasts and audio
Media planning and management
Metrics and measurement techniques
Notable Clients
Adidas
eBay
Pantone
Audi
Samsung
Best full-service digital marketing agencies
Looking for all-in-one powerhouses that leave audiences and competitors with their jaws on the floor? We got you. These full-throttle agencies handle every aspect from strategic planning to creative execution and everything in between.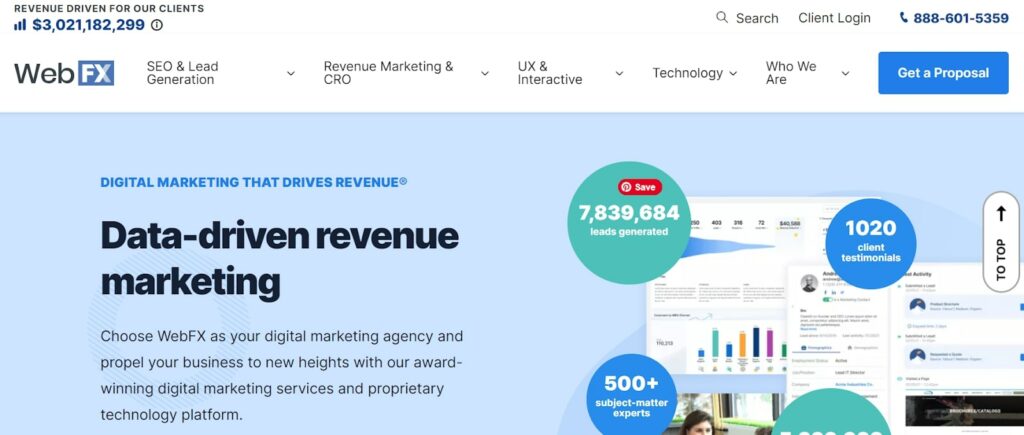 With a 25-year track record and a team of over 500 subject-matter experts, WebFX is a big name in custom strategies that meet clients' unique needs and goals. They're masters at leveraging data-driven insights to optimize digital marketing campaigns and generate leads and revenue.
What really sets WebFX apart from other digital marketing agencies is their comprehensive approach. They understand that success comes from strategic channel pairing, so they offer full-service strategies that combine various digital channels to increase visibility, conversions, and revenue.
Their proprietary platform, MarketingCloudFX, is also a game-changer. With tools like IBM Watson and Google Cloud Platform, this custom-built software gives clients real-time analysis and insights to make smarter marketing decisions.
With WebFX, you benefit from the winning combination of expert digital marketers and cutting-edge tech. The result? Unbeatable campaigns that boost revenue and catapult brands to the tippity-top.
Services Offered
SEO marketing
PPC management
Ecommerce marketing
Digital intelligence
Conversion rate optimization
Marketing automation
Web design and development
Content creation and marketing
Reputation management
Web analytics and reporting
Notable Clients
Wrangler
Subway
Jiffy Lube
Sysco
The YMCA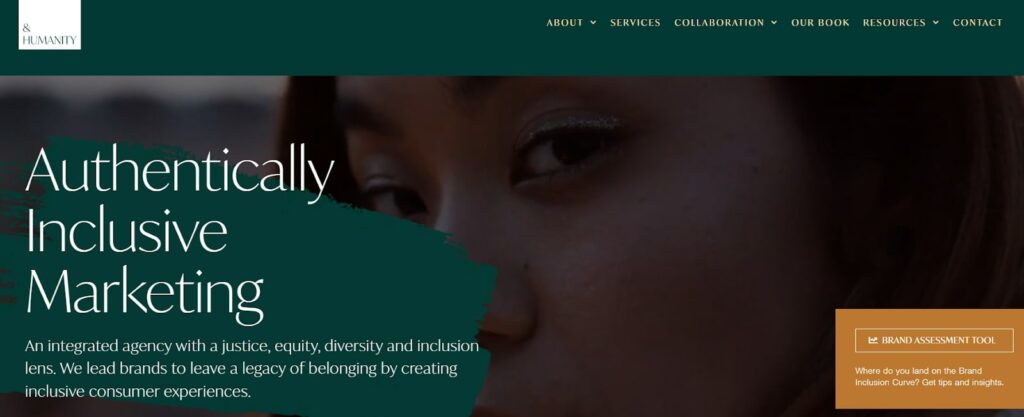 AndHumanity is the best digital marketing agency for authentically inclusive marketing with a justice, equity, diversity, and inclusion lens. They're passionate AF about helping brands close exclusion and underrepresentation gaps by elevating marginalized voices and advocating for change—now that's disruptive!
We're fully on board with their commitment to creating thoughtfully aligned brand values, authentic allyships, and relevant content that deepens customer loyalty and influences positive social change.
With a team of inclusive marketing experts immersed in various dimensions of diversity, AndHumanity offers a collaborative approach that involves working with an Equity-Deserving Allies Network to inform their work.
Their inclusive processes, data-driven results, and expert strategies make them the go-to for inclusive digital marketing services.
Services Offered
Inclusion assessment
Brand strategy and development
Marketing strategy
Creative ideation
Production and processes
Digital media outreach
Measurement framework
Consultation and advising
Marketing training
Thought leadership and public speaking
Notable Clients
Amazon
Science World
Coast Capital
Destination British Columbia
Vancity
What makes a digital marketing agency the best?
If it isn't obvious, we don't settle for mediocrity or cookie-cutter approaches, so any digital marketing agency we vouch for certainly doesn't either. We've scoured the web for agencies backed by roaring results and client testimonials that leave zero room for doubt.
Just as importantly, we value agencies with a diverse range of marketing services to cover all bases. From search engine optimization (SEO) to reputation management and web development to video marketing, we know that a well-rounded firm delivers an undeniable edge that cuts through the competition.
But honing in on the best means looking beyond the surface-level ish.
Just like the clients we serve, the best digital marketing agencies are disruptors, trendsetters, and innovators who aren't afraid to challenge the status quo and take some risks.
Whether it's their unique industry expertise, a commitment to transparency and collaboration, or an unwavering passion for client success, these agencies do way more than check the right boxes.
As for those digital marketing agencies that didn't make the cut…
Digital marketing agency faux-pas:
We don't just want to help you narrow down the best digital marketing agency for your biz. We also want to shield you from potential content disasters and ensure your investments are well spent.
Here are some digital marketing faux pas to look out for:
Prioritizing quantity over quality
Christina warns that many digital marketing agencies rely on global platforms to rope in thousands of writers for high-volume content at lightning speed. Sure, it might be cheaper and faster—but these writers are often spread so thin, they can't devote ample time to researching and crafting the kind of tailor-made content smaller agencies like us serve on a silver platter.
Outsourcing to inexperienced or low-quality writers
Another dark side to agencies casting wide nets and bringing in loads of writers worldwide? They're not too picky about who they hire. That means your content could fall into the hands of someone who's clueless about your industry, lacks experience, or isn't fluent in your language.
Unlike other digital marketing agencies, we hand-pick each and every writer on our team. This ensures they have the expertise, industry knowledge, and linguistic prowess to deliver content that hits the bullseye every time.
Cheaper isn't always better
Christina warns against settling for cheap content that could be outsourced to underpaid writers or even generated by AI.
"If an agency doesn't have any success stories or legitimate reviews and testimonials from real clients who own real businesses, then you should question their credibility. Also, be careful about agencies that claim they can do it all without the horsepower to follow through."
Relying on AI-generated content
We can't deny that AI is making waves and transforming various industries. Even Christina acknowledges its impact:
"AI-generated content is definitely changing the landscape of digital marketing, but human-crafted content will always appeal more to humans because we get each other, and robots don't."
When it comes to content creation, though, she emphasizes that AI lacks human empathy and relatability for compelling storytelling. For instance, it can't interview experts, tell novelty anecdotes, or network with thought leaders for fresh insight and quotes.
As humans, we go beyond the limitations of AI, offering a personalized touch and leveraging creativity and connections to create standout content that truly connects with target audiences.
Little focus on KPIs
Christina believes establishing KPIs from day one is a must. For instance, does the client want to increase web traffic and conversion rates or book more consultations? She says this makes it easier to track data on Google Analytics and the client's CMS, as well as discuss progress during check-in meetings.
"The most important thing is to see what type of content is ranking and which is lacking. Legitimate marketing agencies will work with a contracted SEO professional or have in-house SEO to keep tabs on all ROI data."
Now, the million-dollar question: How do you steer clear of these red flags?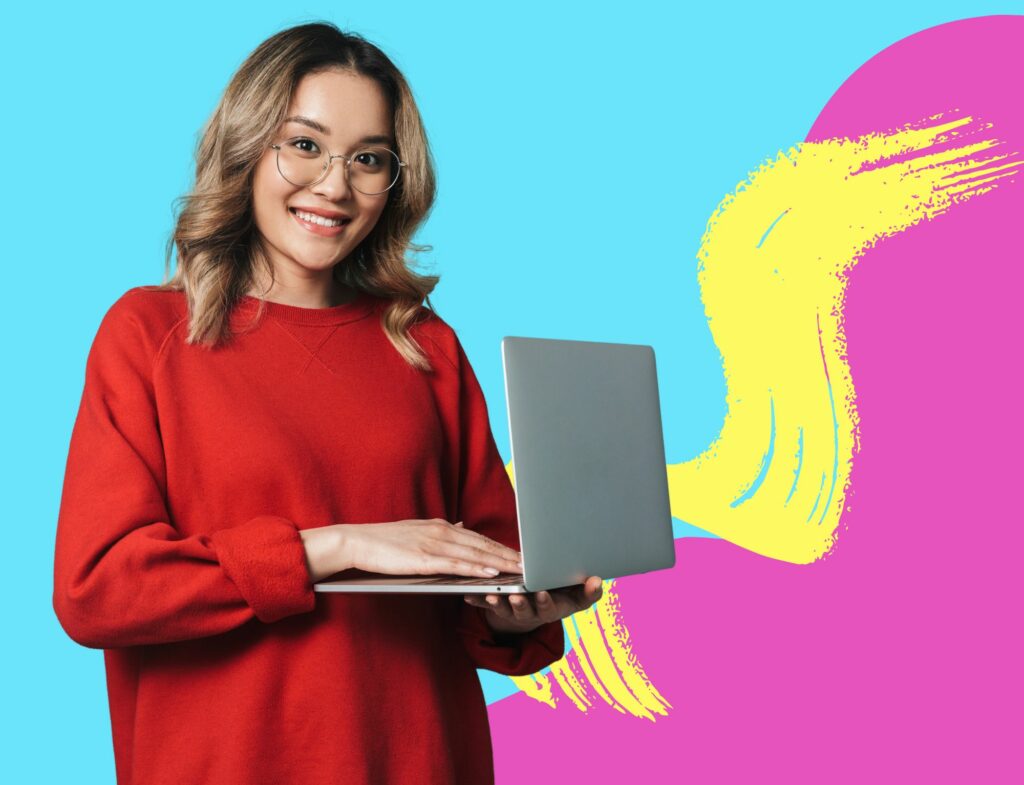 Dodging digital marketing agency landmines 💣
Avoiding these pitfalls requires a keen eye and diligent research.
Here's what Christina says to look for when separating the pros from the pretenders:
"Brands should look at case studies to see if an agency is familiar with their niche. If they have proven success in that field, they may be a great candidate, but it goes beyond niche experience. There must be clear business objectives and goals supplied by the brand to the agency so everyone's on the same page."
She emphasizes that synergy is paramount:
"If you aren't on the same page, then your content will suffer. I always ask prospective clients about their goals, KPIs, and top priorities. For us, the biggest priority is to help the reader first, then appeal to search engines second. So the clients need to be on the same page with the goals, understanding that value and quality should always take precedence."
If their track record's legit and their goals and values align with yours, it's safe to say you've found a digital marketing company that passes the vibe check. ✔️
Shake sh*t up with Lyon Content!
At Lyon Content, we don't treat you like just another dollar sign.
Your business growth, reputation, and brand messaging are our obsessions. We're so invested in understanding your biz and services that it practically feels like our own. Trust us, we're all in.
We take quality control seriously, too. Why? Because exceptional content starts with a meticulous review process. Every piece of content passes through our kick-ass editor, ensuring your content is primped, polished, and perfected at every stage.
And soulless AI content or impersonal platforms where you're left waiting for months on end? That ain't our style.
In Christina's words, "When you partner with Lyon, you aren't entering a client portal and shouting blankly into the digital ether. We work collaboratively and diligently, completely devoted to each account to ensure we're putting out the highest quality content on the internet.
Nothing is regurgitated—every word is original, creative, authentic, and fresh."
From captivating Content that Roars with impact to strategies that make competitors tremble, our mission is to help you dominate the digital landscape.
Ready to ditch the cubs and partner with one of the fiercest players in the biz? Our pride is waiting.
Need a roaring digital marketing crew?
Partner with Lyon Content to take your digital content from frigid to fierce!
Digital marketing agency FAQ
What does a digital marketing agency do?
A digital marketing agency like Lyon Content specializes in helping businesses achieve success in the online world. They employ strategies and tactics like organic content marketing, SEO, social media, and paid advertising to promote brands and offerings through digital channels. Whether working with large enterprises or small business owners, their goal is to maximize online visibility, attract targeted audiences, and ultimately generate leads and conversions.
Which company is best for digital marketing?
Every agency offers different digital marketing services. For example, Lyon Content specializes in writing high-quality SEO blog content. Some cater to certain industries, while others may specialize in one or more specific marketing strategies.
For instance, do you need a full-service agency that offers do-it-all-for-you packages or perhaps a smaller, ecommerce marketing agency that's laser-focused on boosting your online store's success?
Ultimately, determining the right digital marketing agency for your brand boils down to your business growth ambitions and needs.
What is an example of a company's digital marketing?
Some common examples of digital marketing projects include:
Influencer marketing
Digital advertising
Performance marketing
Social media management
Content creation
SEO services
SEO blog writing
Email marketing
Web design and development
Paid media
Reputation management
Remember, digital marketing is a vast and diverse landscape, teeming with endless possibilities. This is just the tip of the iceberg when it comes to the myriad services and strategies that digital marketing firms can offer.
Is it worth it to hire a digital marketing agency?
Absolutely! If you want high-performing marketing strategies, you might not be equipped to do it yourself.
Digital marketing teams are skilled in search engine marketing, web design, digital services, social media management, and other marketing tactics that elevate your biz and expand your brand's reach.
The reality is most business owners and entrepreneurs just aren't versed in these areas. Investing in an agency that not only understands the intricacies of digital marketing strategies but also knows how to tailor them to your specific business goals and target audience is a game-changer.
How much investment is required for a digital marketing business?
It depends! Digital marketing agencies charge varying rates for their services depending on the scope of work, level of expertise required, and specific goals of the client. For example, SEO and PPC marketing can cost anywhere from $3K-$10K monthly.
Blog writing costs vary from $1500-$3K a month for high-quality content and SEO strategy.

07/18/2023
Natalie is a beauty and lifestyle writer at Lyon Content, born and raised in sunny Miami, Florida. She's passionate about crafting personality-driven copy that helps brands build a ride-or-die following with their audiences! Like a true Cuban, she runs on XL cafe-con-leches and loves horror movies, houseplants, exploring new places, and snuggling up with her SO and fur babies.