When it comes to providing value for your readers, every word counts. And if you're writing content for websites (web copy), I'd say every letter counts. Why? You have limited space to communicate a message to your audience, and how you communicate that message will influence the actions they take next – bounce, scroll, click on a link, read a blog.
In this guide, we'll walk you through our expert tips on writing web content that oozes appeal and incites action. We'll cover:
What web content is and how it's different from blog content
How to make your web copy concise and persuasive
Why audience research is essential for creating web copy that converts
Why copywriting experts are your best bet for kickass web content
Let's get to the goods.
What Is Website Content?
Website content or website copy is the written media on your web pages. It includes every title, description, tagline, introduction, paragraph, link, and contact point for your business.
Web copy has one overarching goal: to sell—without coming off sales-y.
Let me explain.
Readers look to your website for answers to questions like:
What's your brand all about?
What kind of products and services do you offer?
How do you stand out from competitors?
But your copy shouldn't just be on-brand and personal. All web pages need persuasive and concise copy presented in a way that's easy to navigate and tailored to your target audience.
"Writing website copy requires more research into your audience's psychology and biggest problems that need solutions," says Christina Lyon, our founder at Lyon Content.
"You tap into your audience's psyche, understand their biggest issues and fears, and craft copy that speaks to their needs, without having to sell your product."
That's a lot to accomplish in 400-600 words (the average length of a website home page). But it's just another day in the jungle for our content writers—see for yourself!
Types of web copy
About page – Insert a vivid origin story about your roots, founders, values, and mission here. "This is prime real estate to bring your story to life and make your brand relatable and human," says Christina. "But all too often, brands place a corporate mission statement and hit publish." 

She advises avoiding this impersonal mistake and to instead use the About page to be honest and vulnerable. "Dive into your team's diverse backgrounds, and talk about the reason you started the business and the challenges you face," says Christina. "Rather than simply stating your mission, use it to drive a narrative that feels raw and relatable."  
Services page – What do you offer? Brands might have a general Services page for short sneak peeks with invitations to "learn more" on dedicated services pages that provide more background information.
Contact page – How does your audience reach you? Phone numbers, hours of operation, names, and email addresses for your brand reps go here. And if you have a physical location? A Google Maps embed goes a long way.
Home page – This is the cover letter of your digital first impression. It's the first thing your audience sees after clicking to your website from the search engines. Home pages are striking and on-brand, encompassing all your business's most important details.
You might also add a page for educational resources, news releases, case studies, blog posts, partnerships, events, and more. But "services," "contact," "about," and "home" pages are the pillars of a business's website.
So, why is web content different from blog content? Christina weighs in:
"With blog content, you answer a question thoroughly, whereas with website copy, you provide a solution quickly and efficiently without being sales-y. It's incredibly nuanced, which is why web copywriting is such a skill and art form."
Keep reading to learn what it really takes to perfect the art of web copywriting.
12 Tips for Writing Content for Websites
We've worked with industry-leading brands across the beauty, lifestyle, and ecommerce niches to create content that captivates and converts.
Whether it's long-form, authoritative blog content for leading SEM agency HawkSEM or personalized, empathetic copy for alternative hair leader Daniel Alain (DA), every brand has something in common when it comes to writing stellar web copy.
They need to perfect their brand message, tell a compelling story, and make their web copy pop off the page.
Together with our skilled writers, we've compiled our insider tips to help you create website content that engages and converts.
Let's go.
1. Be concise 
If you have something important to say, say it.
Website visitors don't wait for brands to beat around the bush. Unless a sentence offers irrevocable value to your reader, cut it. You just don't have the web real estate to dive into every detail unless you know for a fact that your readers want it.
We know the average home page only has between 400-600 words. That's about a page on Google Docs. So how can you make the most of those words?
Keep sentence structure short and sweet – The best web copy gets the message across in short, punchy sentences. "My goal is to always say more with less," says Christina. "You have just a few seconds, so get straight to the goods."

We reiterate our commitment to brevity not only in our work but also on our own website:

Kick jargon to the curb – This is a tricky one for many, especially if you're in a specialized field or have a lot of science backing your products. But if you get too technical, your readers might not catch your drift. In other words? You won't sell a thing if your copy leaves readers like this: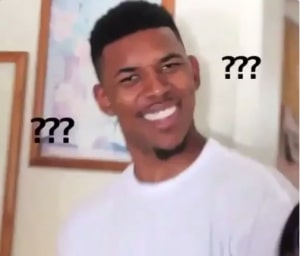 "Clunky industry-speak is a huge turn-off, and I see this so often with SaaS brands, B2Bs, and medical businesses," says Christina. "Writing stuffy, impersonal, tech-y jargon does nothing to differentiate you from your competitors."
The solution? Talk to your audience using language they actually understand—like one of our clients, Dr. Cat.
Located on Rodeo Drive, Dr. Cat is one of the world's most esteemed plastic surgeons. Even in the medical niche, her website copy is crisp, clean, and tops out at a middle-school reading level, making it accessible and inviting: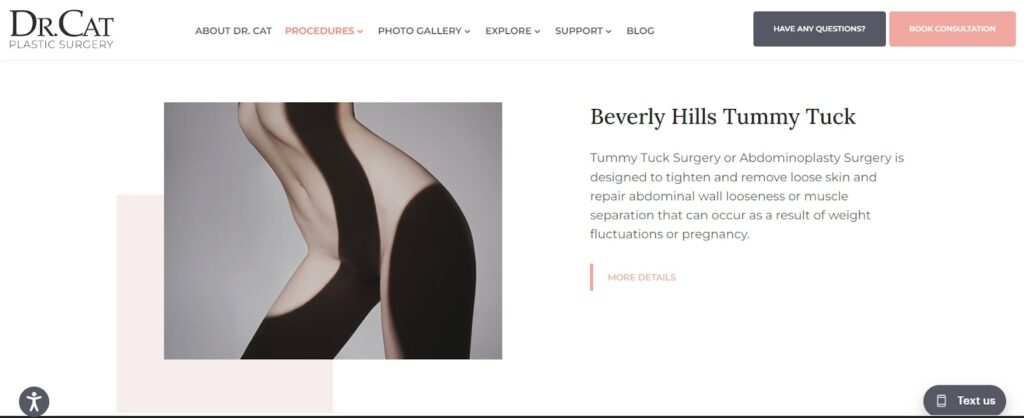 But conciseness doesn't only apply to word count or language. It also comes down to how you structure your web copy.
2. Make your content scannable
Skimmability is the difference between an engaged reader and one who bounces. This isn't anything new, though. Online behavior studies tell us that over the last 20 years, web readers have had a consistent habit of scanning content—not reading it. 
Making content skimmable means creating bite-sized chunks of copy with white space, headings, subheadings, highlights, quotes, images, and bullets for new eyes to scan with delight.
Here's a great example from the home page of another one of our clients', HawkSEM: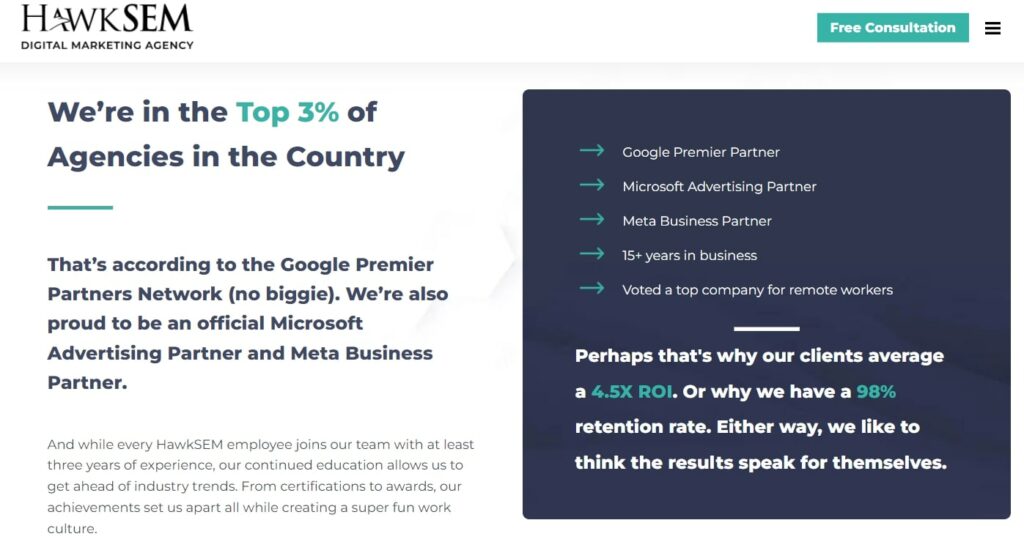 What stands out? Carefully placed color pops emphasize key elements of HawkSEM's greatest value points:
Top 3% of agencies
4.5X ROI
98% client retention rate
Plus, they strategically use bullets to quickly build authority with their readers.
That said, while skimmable content is important, be careful not to summarize to the point where important information is missing. That might confuse your audience, or worse—anger the search engine optimization gods, a.k.a. Google's search engine crawlers.
They're always reading and ready to penalize your search rankings if you don't convince them you know your sh*t.
Of course, we infuse HawkSEM's blog content with personality and flair to make even the most technical digital marketing concepts and research feel engaging for their readers.
3. Leverage visual content to liven up web writing
Photo content and web copy go together like the Real Housewives and a glass of wine.
Here's why you need visual elements in your website content:
First, they catch your readers' attention. Hello, engagement! Everyone likes a high-res burst of color when they're scrolling the web.
Second? Pictures help you communicate entire paragraphs when you're pressed for space. They're a great way to speak to your value without overwhelming your readers with dense chunks of copy.
We supplemented the Artist's Collective's solid website with 48 high-res branded photos to support their comprehensive strategy:
4. Communicate value to your target audience
What's in it for me?
You wonder this before embarking on most endeavors that cost you some coin, whether it's launching a new product or spending $200 on a night out.
You're writing for human readers, so they naturally want to know the same thing before purchasing your products or services.
Christina says you need to put yourself in your readers' shoes and imagine their unique pain points.
"I often see web copy that is so brand-focused and completely misses the opportunity to speak to the audience's needs."
The solution? Christina continues:
"Instead of long-winded sentences that focus on your services or products, immediately speak to their pain points. By using your audience's language and phrasing, you'll keep things more punchy."
Here's a fab example from Drunk Elephant…
(Just FYI, the pain points are wrinkles and puffiness.)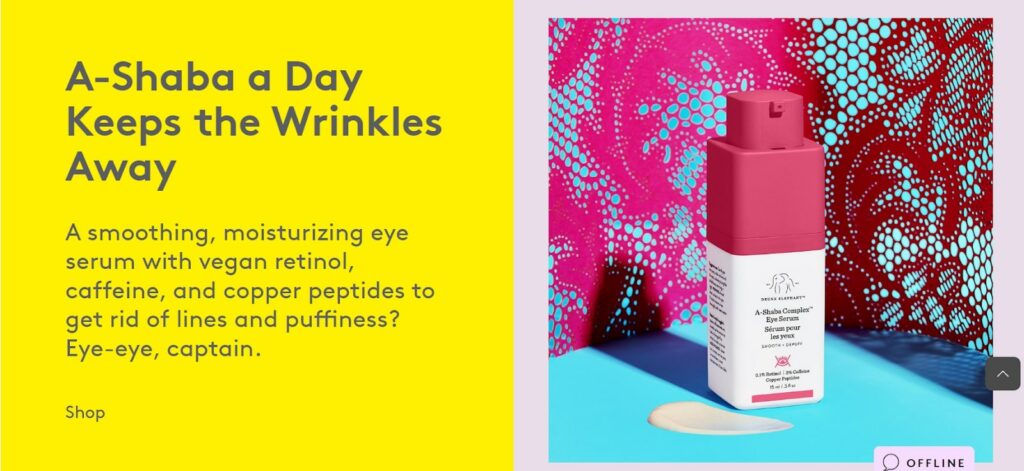 What if you want to speak to a bunch of different pain points at once? It's hard to list them all in a short product preview. But we love how Peace Out Skincare includes every potential problem with their product filtering system:

5. Tell readers how you stand out from your competitors 
We hate to break it to you, but your website isn't the only one readers are perusing. You can bet your tail that they're skimming your competitors' offerings, too—and even buying from them.
That's an opportunity for you. Before you pounce with your web copy, stalk your competitors' content to gather some intel.
You can leverage a ton of free tools like Similarweb.com to get this info. And once you have it? Take a note from your competitors' playbooks. 
However, that's not quite enough. The real meat is figuring out what you offer that competitors don't and presenting that to your readers. Identify that unique selling point (USP) and display it in a way that resonates with your audience.
For example, WealthSimple knows their audience needs to see numbers, so they use a helpful graph to demonstrate competitive fees: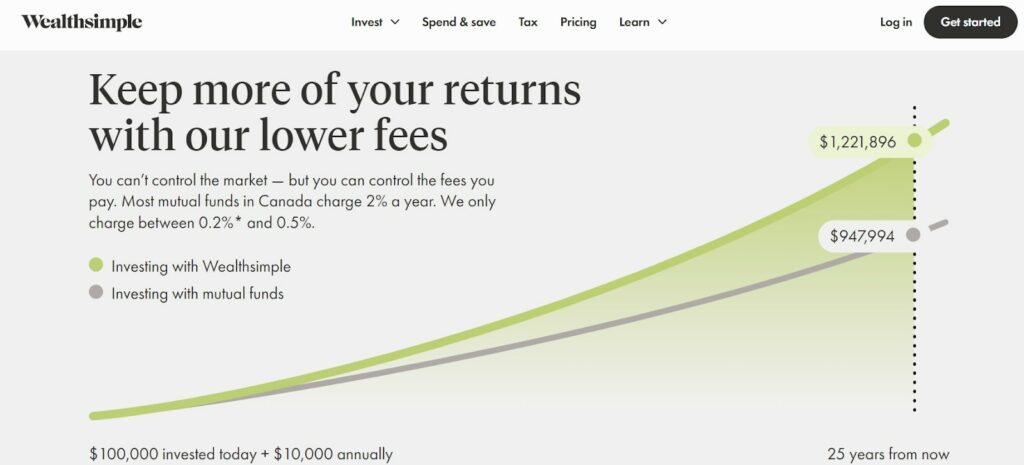 Our client Daniel Alain stands out with a commitment to innovation and empathetic language: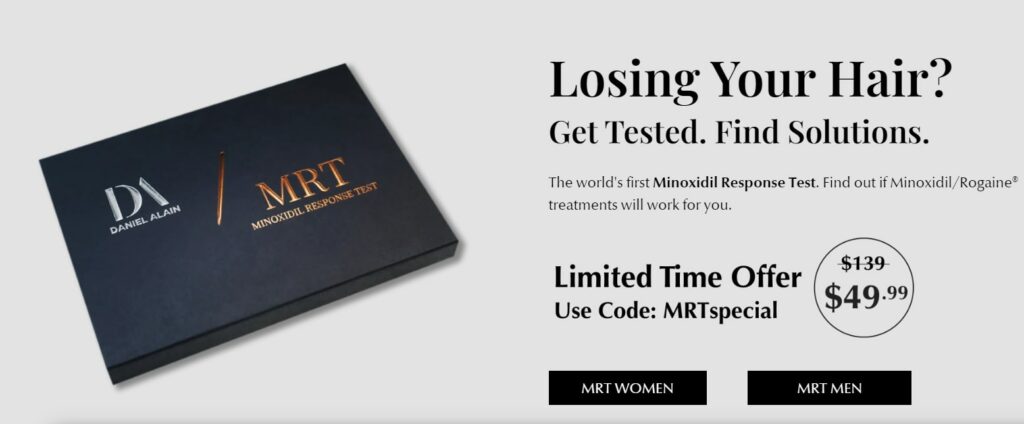 The world's first Minoxidil Response test? Come on. How can their readers overlook that? That's why DA is a leader in their industry, offering readers the best solution with a dynamic suite of hair loss innovations and products.
But the best way DA stands apart from their competitors? Christina says it's leading with empathy and following up with empowering language:
"Having written extensively for Daniel Alain, we were intimate with the audience's needs, facing a world of taboo and stigma around women's hair loss. We sought to craft copy that made them feel heard and validated, rather than heard and embarrassed."
The result?
"We helped give the power back to their audience and guide them through the best options and solutions available," explains Christina.
Learn more about how we brought Daniel Alain's message to life with targeted website copy and written content here.
6. Incite action with an active voice
One word: confidence. It's attractive, and it leads your readers to a second date—and eventually a conversion. Wink wink.
What stands out from these two sentences?
Your acne will be reduced by the capabilities of our new Acne Bomb product.
Say goodbye to acne with our new moisturizing Acne Bomb!
Option #1 is written in passive voice. Some writers might favor this for more "formal" copy, but we're not a fan of it, especially in content marketing.
Why? Because it just doesn't land. It's lengthy and sounds too hesitant and unsure.
Option #2 is much more direct because it has an active voice and instantly incites action.
Instead of waiting for acne to "be reduced," we're kicking it to the curb by saying goodbye to it. See the difference?
Our client Forever Beaumore dazzles readers with active website copy: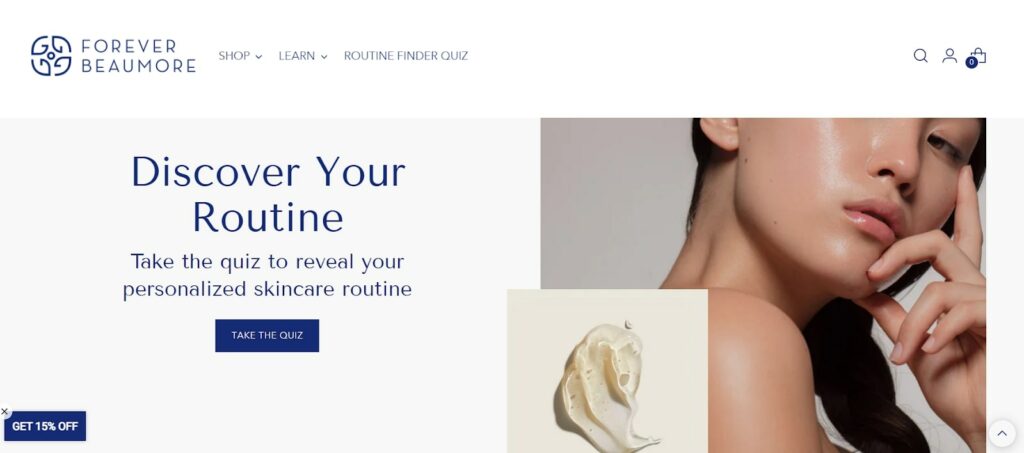 "Discover," "Take," and "Reveal" are all compelling words that incite action without sounding too pushy. They put the power into the hands of the reader. And that's a potent feeling.
7. Make it personal
Even the biggest corporations try to speak to their readers on a personal level. Case in point: Netflix's personal recommendations. Or the way Amazon greets you every time you sign in.
But how do you add a personal touch to web copy that's supposed to reach thousands of readers? It's not always about addressing the individual directly as much as it is about reminding them that there are humans behind your brand.
Here are some tips to make your web copy more personal:
Add staff bios to your "About" page – A mission statement and list of credentials might communicate your values and expertise, but readers can't relate to a corporate entity. They need to know that they're dealing with human beings behind all that marketing content. Employee profiles on your "About" page and blog posts about daily happenings at your place of business help build a sense of community.
Make ongoing web copy updates – Do you edit your own writing often? If you're writing web content, you should. Why? Because up-to-date information keeps your pages fresh and relatable to your audience. Replace old stats with more relevant links, add new audience pain points as they arise, and present your brand as a trustworthy source of information to your reader by sharing updates and buzzworthy blog content.
Use "I," "we," and "you" statements to build inclusivity – Remind your readers that you're all human beings. Speak to them in the second person and refer to your brand in the first person to include them in your messaging.
Speaking of human beings…
8. Don't use AI to write website content
We know…writing headings, titles, and descriptions feels draining at times. Writer's block, anyone? It happens to the best of us. But that doesn't mean you should hand the pen over to AI.
Of course, tools like ChatGPT are here to stay. They're kind of like that friend that crashes on your couch occasionally—you welcome their company, but you won't give them the keys to your apartment.
The same goes for your web copy.
We dove deep into AI writing tools for beauty brands, but our verdict is that talented human content writers trump AI every time. Plus, if a reader catches web copy that feels ingenuine? You can kiss that personal connection you once had goodbye—it's just not worth the risk.
9. Write snappy CTAs that easily navigate to your services page
Now let's chat about the most action-oriented copy on your entire website: calls to action (CTAs).
Calls to action link your reader to your brand directly. A few carefully placed, juicy CTA buttons across your website ensure your readers always have access to you when they're ready to convert.
But you have to be tasteful about it. Too many CTAs will come off as pushy, while grandiose invitations feel ingenuine.
Fresh Restaurants finds a delightful balance with rich visuals that make their thoughtful CTAs even more enticing: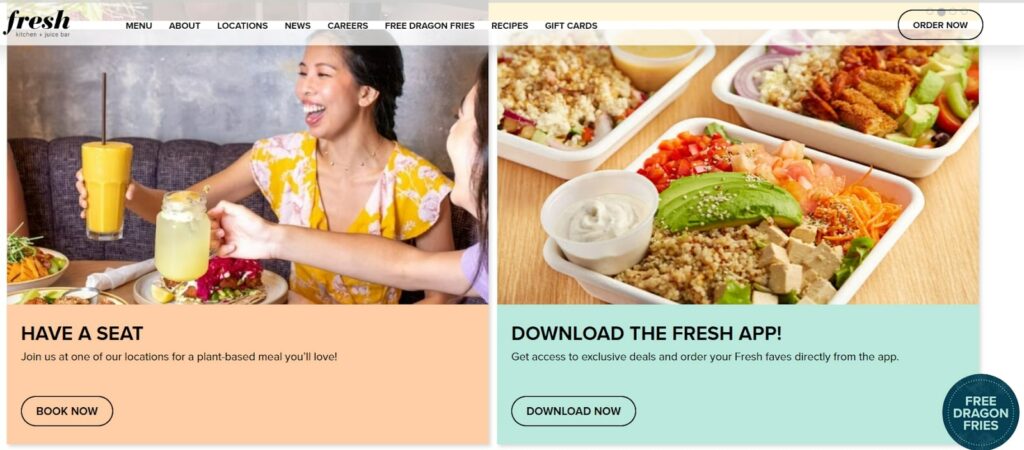 We also love the constant freebie CTA button across the brand's entire website. Free Dragon Fries? Yes, please!
10. Make your website easy to navigate
Let's say you have an absolutely killer "About" page, slammin' "Services" page, and a scroll-worthy blog to boot.
But how does your reader get from point A to point B?
Even the best web copy means nothing to a reader if they can't access what they're looking for quickly.
Enter navigation, a must-have for a solid user experience. It starts with an intuitive web design and a logical web menu, either at the header of your site or in a drop-down bar on one side. Category names should be relevant and accessible—but that's the minimum.
Your website is like an open house, and your readers should get the full tour. Everything should connect with internal linking across each page.
For example, the innovative toothpaste-tablet company, Bite, wastes no time helping readers navigate to subscription pages from their home page:

11. Deliver nothing short of perfection
When typing search queries into Google, your customers might not pay close attention to correct spelling or grammar.
But if you take those same liberties with your web content? Yikes. Credibility, out the window—your audience won't trust you with their hard-earned dollars if you let too many typos slip through!
So, how do you handle quality control with web content? Two things come to mind:
SaaS writing tools – Grammarly is a fabulous way to catch obvious typos before they slip through the publishing stage. Plus, the premium version helps you sharpen sentences and align copy with your brand values! Hemingway App is another great tool for ensuring specific grade levels for all your content. (An 8th-grade reading level is typically recommended.) 
Hierarchical process – Don't worry, we're not advocating for micromanaging in your marketing department. But at the very least, a dedicated writer and editor will help maintain clean, high-quality web content free of errors.
But the best way to assure kickass website content every time?
12. Hire a web copywriting expert to level up your content
If you don't have the capacity to produce stellar content for your readers, writing web content does them a disservice.
"Sometimes, an in-house marketer is spread too thin and is too close to the business to be able to write objectively and strategically. To write exceptional web copy, you need a trained eye, researcher, and objective voice to come to the table with fresh ideas and vision."
And what do you get out of that? Christina elaborates:
"They will artfully listen to the marketer's and founder's needs, and be able to mine the most pertinent information while keeping an impartial viewpoint, making the copy more customer-focused and less founder-focused."
Tons of our clients have marketing departments but trust Lyon Content to maintain a heavy content calendar filled with email newsletters, web page updates, and ever-flowing blog articles!
While anybody can write content for websites, only content writing experts have the juice and know-how to produce copy that lands every time.
Here's a glance at Lyon Content's web copywriting services:
Niche-specific writers – We only hire the cream of the crop, with demonstrated writing prowess in the fields our clients work in. Each of them has a strong portfolio with bylines to put your editor at ease.
No-AI policy – We take pride in our craft, which means we handle production from ideation to writing and editing. Not one single word that enters your inbox will be generated by AI—that's a promise.
Ongoing training – Our writers have years of experience, but we also maintain regular educational sessions to keep content on point. We evolve with new industry trends, audience demands, and SEO strategies to deliver content that inspires every time.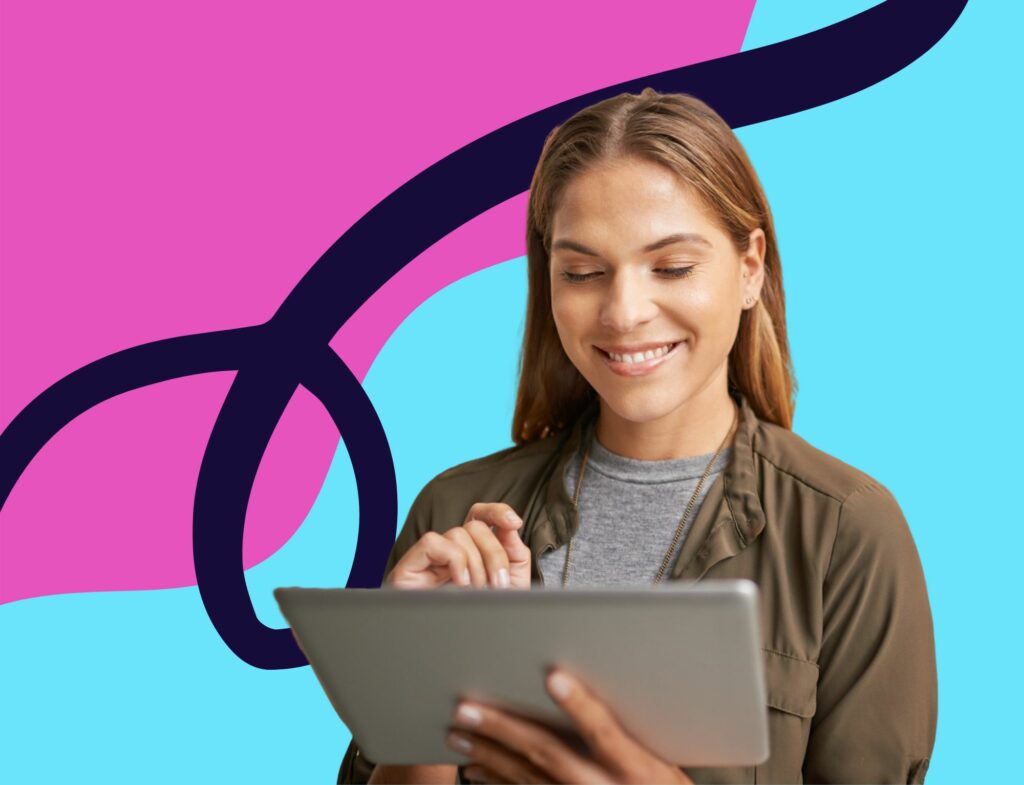 Create Web Content that Roars with Lyon Content!
So, what's the secret formula behind website content that engages and converts? Well, we just laid out all our insider tips…so we wouldn't call it a secret, per se.
But the best way to keep your website content fresh is to stay committed to your readers. This means:
Keep tabs on what competitor content engages them.
Stay on top of web visitor behavior and web traffic trends.
Maintain a standard of excellence for every word you publish.
Partner with pro copywriters to bring your unique brand story to life.
Choose quality over quantity by using human writers (no AI).
Lead with value, always.
You know how much your value can help your target audience. But your web copy might not communicate this effectively to them, resulting in mixed messaging and lost sales.
The solution? Consider us your secret weapon for copy that soars, producing more web traffic, high-quality leads, and a dedicated clientele.
Ready to start seeing results with strategic, captivating web content that fabulously articulates your unique value? Give us a shout today!

07/26/2023
Chrissy is a contributing writer at Lyon Content based in Toronto. She loves writing and editing tech, marketing, and lifestyle content. But her favorite part of writing is helping businesses express themselves. When she isn't writing, she's traveling as much as possible and eating a lot of cheese.