What started as a wonderland of shared imagery has evolved into a powerful marketing tool extending far beyond aesthetics. Today, learning how to write business captions for Instagram is about sparking meaningful conversations, nurturing online communities, and fostering priceless engagement for businesses worldwide.
Fun fact: Instagram boasts a whopping 1.386 billion active users, making it the fourth most-used app on the planet! Talk about a marketing goldmine…
One of the platform's most underrated yet influential features for cultivating that ride-or-die following brands dream of? The almighty Instagram caption.
That's right — when it comes to IG, visuals only do half the talking. It's the power of words that breathe life into your photos and videos. With a well-planned strategy, your captions can catapult your engagement and elevate your brand visibility to unprecedented heights.
So how do you craft unique captions that demand your audience's attention? 🤔
In today's article, we'll zero in on this wickedly underestimated aspect of social media copywriting, complete with:
Our proven formula for how to write Instagram captions that sizzle
Kick-ass inspiration to replicate on your brand's Instagram page
Mistakes to avoid when crafting business captions for Instagram
Expert insights from some of our #CopywritingGirlCrushes (including our pack leader herself)
Ready to rev up your social media game and send your Instagram engagement soaring? 🚀 Buckle up — we're diving right in.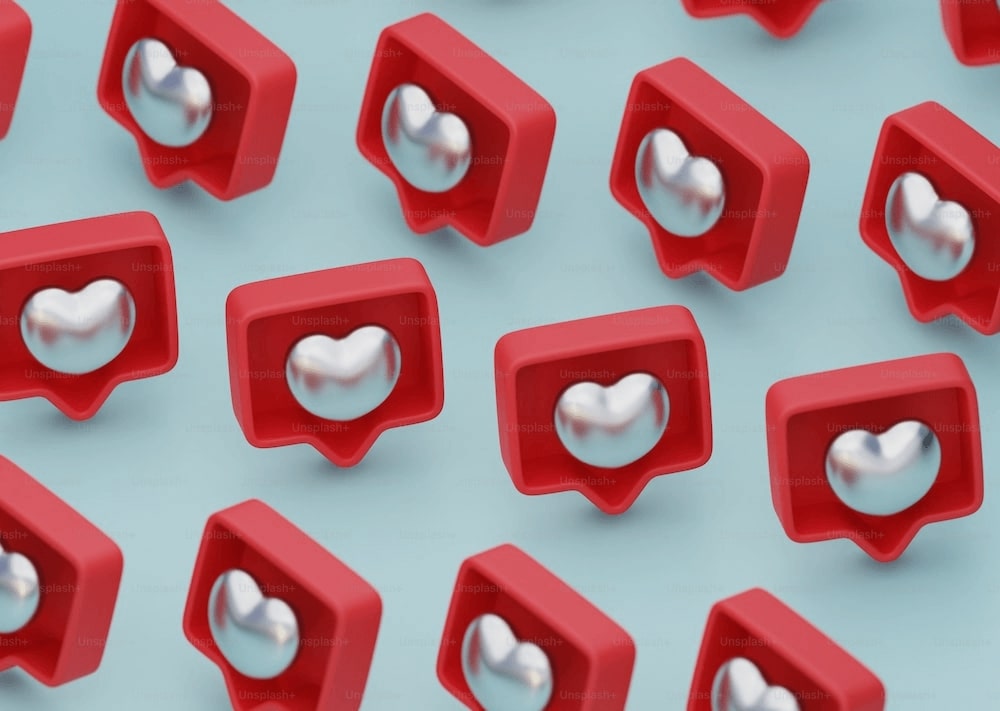 What are business captions for Instagram?
Business Instagram captions are the text accompanying the posts of your business account. They can range from a few short words to several paragraphs long.
As for their purpose, the sky's the limit! Captions can add context to your posts, tell a story, inspire, educate, promote, stir up conversation, or call your followers to action.
From a marketing standpoint, Instagram captions play a major role in building brand personality, driving engagement, and forging a bond between your biz and your target audience. The best Instagram captions expand your reach and encourage followers to interact by liking, sharing, writing comments, or even getting them to go to your website.
Now let's break down our formula for scroll-stopping, engaging captions that shimmer like Tay-Tay's mirrorball.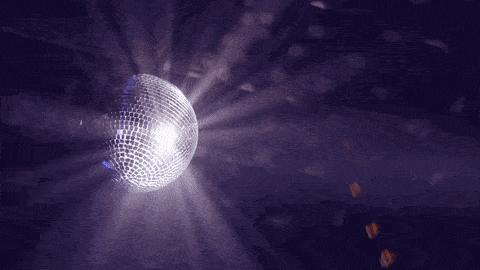 Boss Up Your Captions: How to Write Unique Captions for Max Engagement
Executed strategically, your captions hold the power to level up your brand like never before.
Here's our checklist for writing captions on your new Instagram content:
✔️ Define your brand's personality
Your brand story sets the tone for all your content creation. A clear brand personality sets you apart from the competition and shapes how your audience perceives your biz. It also helps you hone in on who your target audience actually is.
This is especially important for Instagram captions, which provide a unique opportunity to showcase your brand story and connect with followers on a more personal level.
Here are some questions to consider when defining your brand messaging strategy:
Why'd you start your biz?
What problem are you solving for people?
How are you different from others in the same market?
What are your brand's core values?
@TacoBell is a great example of a brand using Instagram to define its sassy, playful persona. They're consistently engaging with followers and creating content that's fun and unexpected, like their recent collab with cult-favorite LA bagel company @YeastieBoyBagels: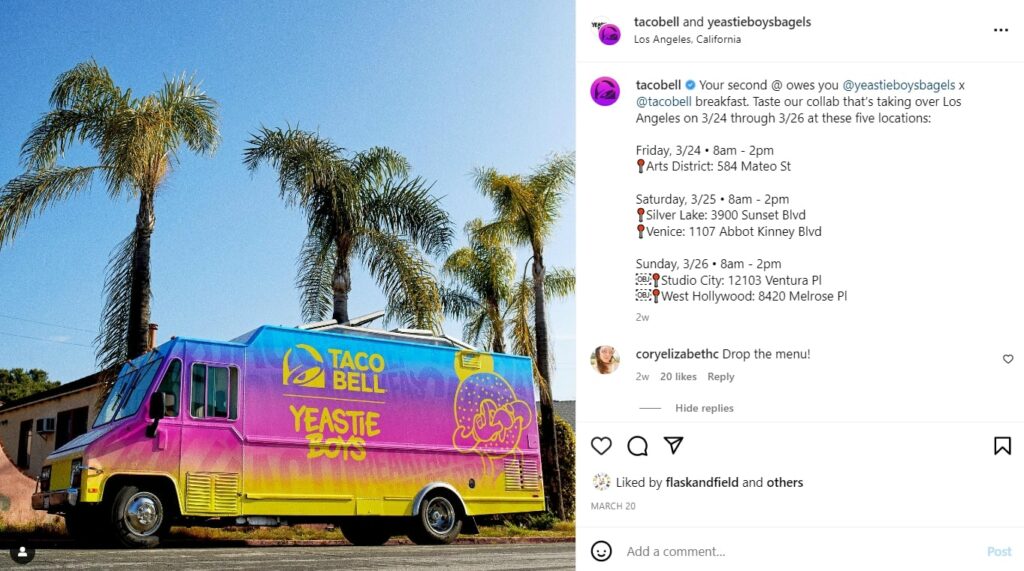 Once you've nailed your brand story, you can create a tone and style guide to frame all your content moving forward.
✔️ Talk like a human
Our founder, Christina Lyon, has always advocated for authentic branding and humanizing your brand persona. With so much Instagram content vying for attention, she emphasizes the best way to connect with your fellow humans is, well, to sound like one. "The best social media accounts are funny, relatable, and don't take themselves too seriously."
Remember that Instagram posts are about more than just promoting your biz. It's about building a community of followers that resonate with your message and feel like they're part of something bigger. The best way to do that? Keepin' it real AF.
Speaking of community, why haven't you joined ours? 🤨 Drop us a follow here.
✔️ Hook em' from the jump
Beautiful visuals may reel in your audience mid-scroll, but your Instagram captions keep 'em hooked.
Let's face it: Instagram is a sea of content, and every brand competes for our precious-little attention spans. That's why it's so f*cking crucial to nab your followers' attention from the very first word of your caption.
This is where the power of a killer hook comes in.
To level up your hooks to Nike status:
Include the most important words right off the jump.
Incorporate an unexpected opening line or funny quote.
Make it interesting, intriguing, and, most importantly…
Ensure it's relevant to your audience.
✔️ Mix up the length of your captions
The character limit for Instagram captions is 2,200, but you don't have to use all of them. Mixing up the lengths of your Instagram posts will keep your content fresh and engaging. After all, variety is key to keeping audiences' attention.
Write short Instagram captions for quick, punchy posts mixed with longer ones that offer more in-depth storytelling and insight into your brand. Mixing the lengths helps you cater to different preferences, keeping your content interesting.
✔️ Don't neglect SEO
If you think search engine optimization (SEO) doesn't play into business captions for Instagram, think again. As of 2020, search engines like Google and Bing crawl social media pages for search results, too.
Optimizing your captions for search will amplify your Instagram's visibility and ensure your brand is found by the right people — your people.
Here's how to infuse a little SEO magic into your Instagram captions:
Instagram's 'Explore Page' prioritizes niche accounts based on captions, so make sure you implement relevant keywords in your captions.
Incorporate targeted hashtags, including a branded hashtag. These also act like keywords, so sprinkle them throughout your captions.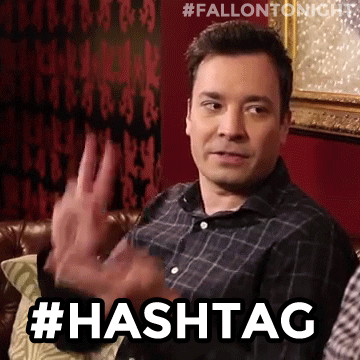 Use the Alt Text feature to describe your Instagram post, and include important keywords for improved accessibility and higher SEO.
Optimize your bio: Use your niche's primary keyword in your name and username for better Instagram searchability. Then use secondary keywords in your bio to describe your brand and services. Peep Alamar Cosmetics bio: primary keyword "cosmetics" in their name and username? Check. Secondary keywords "cruelty-free" and "ship worldwide" in their bio? Oh yes.

✔️Patience and consistency are key
When it comes to Instagram, consistency is the fuel that drives results. But as Christina says, becoming a cult sensation doesn't happen overnight. "If you're willing to put in the work, you'll find your flow, and your people will soon follow."
Here's how to stay consistent with your Instagram captions:
Create a content calendar and post regularly.
Stick to your brand guidelines.
Create templates to give your captions structure and consistency.
Use your branded hashtag every time you create content.
Engage with your audience and other creators.
There you have it — our secret sauce for crafting high-performing Instagram captions.
Ready for some inspo?
12 Epic Instagram Caption Ideas for Businesses to Try ASAP
Thinking up cute Instagram captions can leave you staring sideways at a blank screen for hours. You want something that grabs your audience's attention and inspires them to engage with your post.
If you're feeling uninspired or unsure where to start, I got you. 😉
From witty one-liners to heartfelt messages, these 12 Instagram caption ideas may be just what you need to spark your creativity and get your audience to pump the brakes on their endless scrolling.
Get ready to screenshot your favs in 3… 2…
1. Add context to scroll-stopping visuals
Not all your Instagram captions have to be promotional. Don't be afraid to use it to simply add more context to your imagery. While captions with a call to action (CTA) are great, using captions to add context can be just as impactful in maximizing engagement.
Here's how indie Miami floral studio @CalmaFloral stirs up buzz by adding short and sweet context to their breathtaking visuals: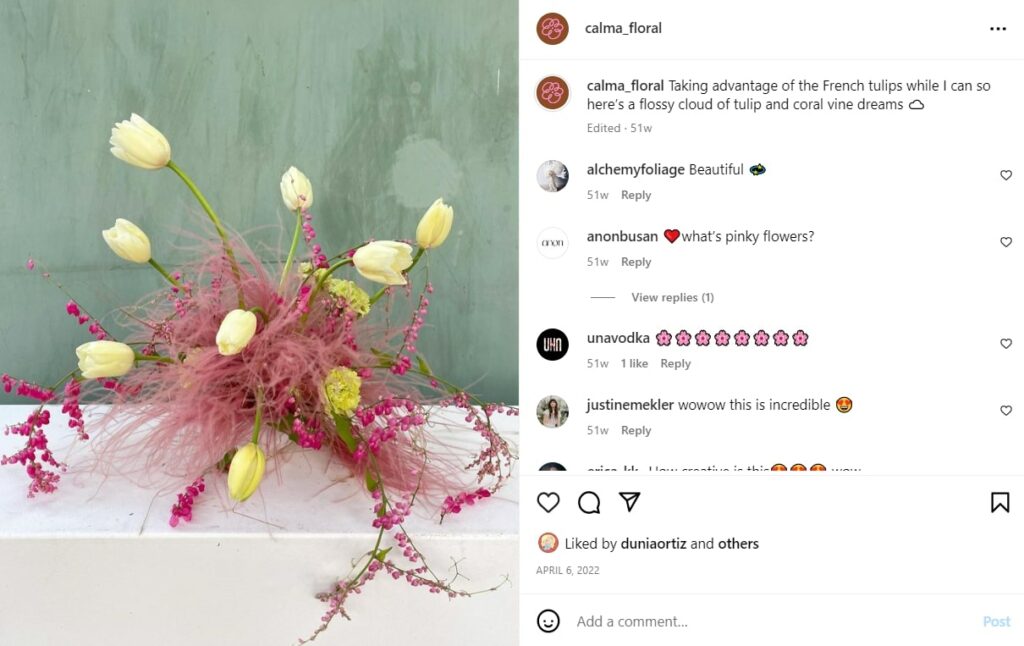 2. Spin a compelling story
Telling stories in your Instagram captions works like magic. By weaving a story that captivates your audience's attention, you can create a bond that transcends the screen and sparks an emotional connection, just peep this stellar example from Porsche. We'd expect nothing less from the luxury German car brand.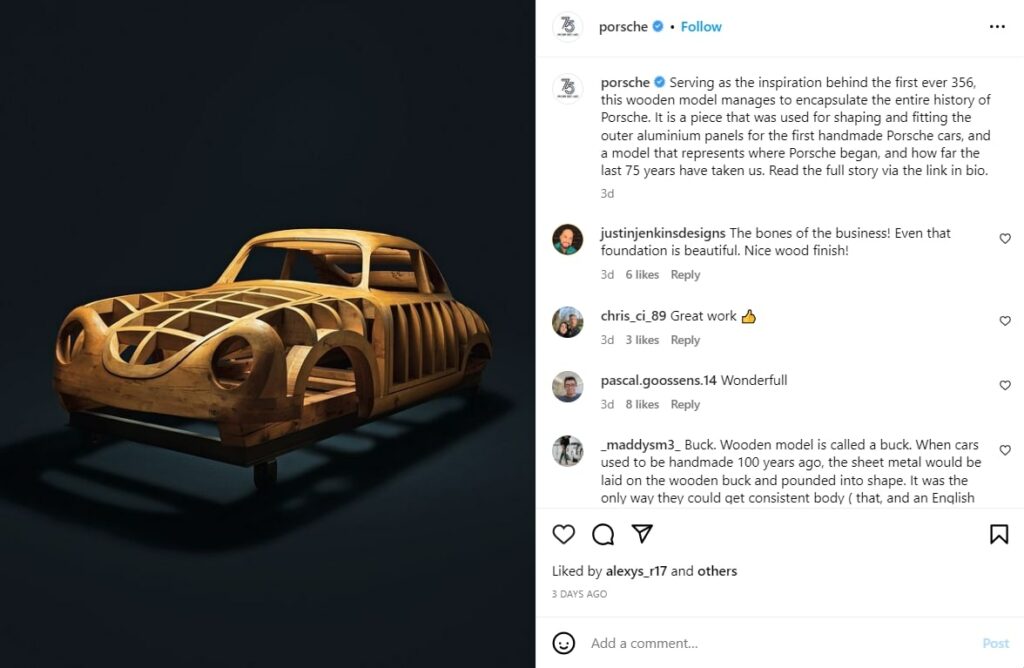 3. Tickle people's funny bones
Don't be afraid to unleash your silly side. Making your followers chuckle with funny Instagram captions will have them double-tapping faster than Michael Jordan sinking a game-winning dunk. 🏆
So use funny memes, reference viral celeb moments, or make fun of yourself. Infusing a little humor adds to your authenticity and makes followers feel like friends, not consumers.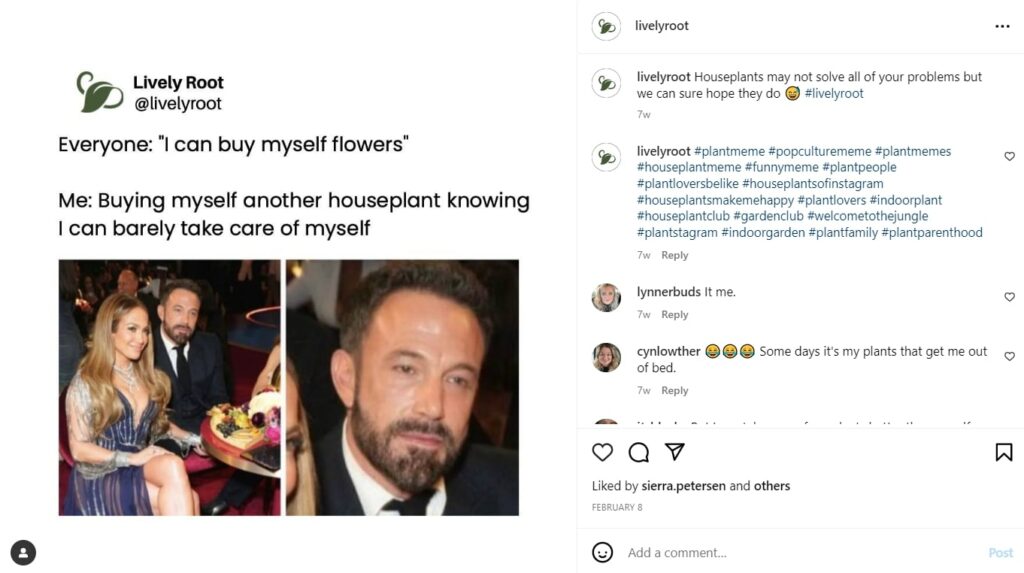 4. Write seasonal Instagram captions for holidays and special events
Stay relevant and increase engagement by keeping your Instagram seasonal. From holiday puns to current events, you have endless chances to showcase your brand's personality and creativity with original Instagram captions throughout the year.
Pumped for a white Christmas? Craft some cozy winter Instagram captions.
Spooky season creepin' in? Let the dark and moody fall Instagram captions reign.
Florals for spring… Instagram captions? In the words of Miranda Priestly, "groundbreaking."
Here's how @RareBeauty used their Instagram to pull a BIG April Fool's prank on their followers this year: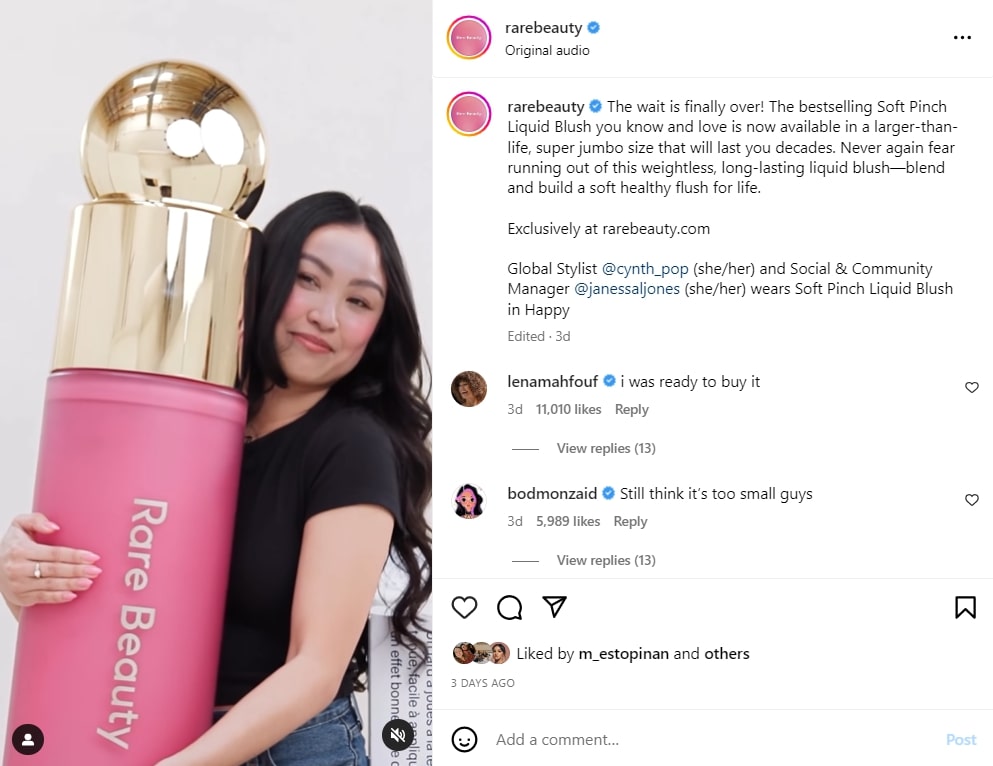 Just look at that boosted engagement! The top comment has over 11,000 likes, proving that there really is nothing sexier than good humor.
5. Infuse a little pop culture into your Instagram presence
If you want your biz to stay fresh and relatable, adding pop culture flair to your Instagram presence is the way to go. Infusing trendy references or celebrity shoutouts into your captions and Instagram Stories gives your brand a fun, relatable edge that resonates with your audience.
For instance, @FentyBeauty leveraged Riri's massive fan base to promote their CEO and attract more engagement.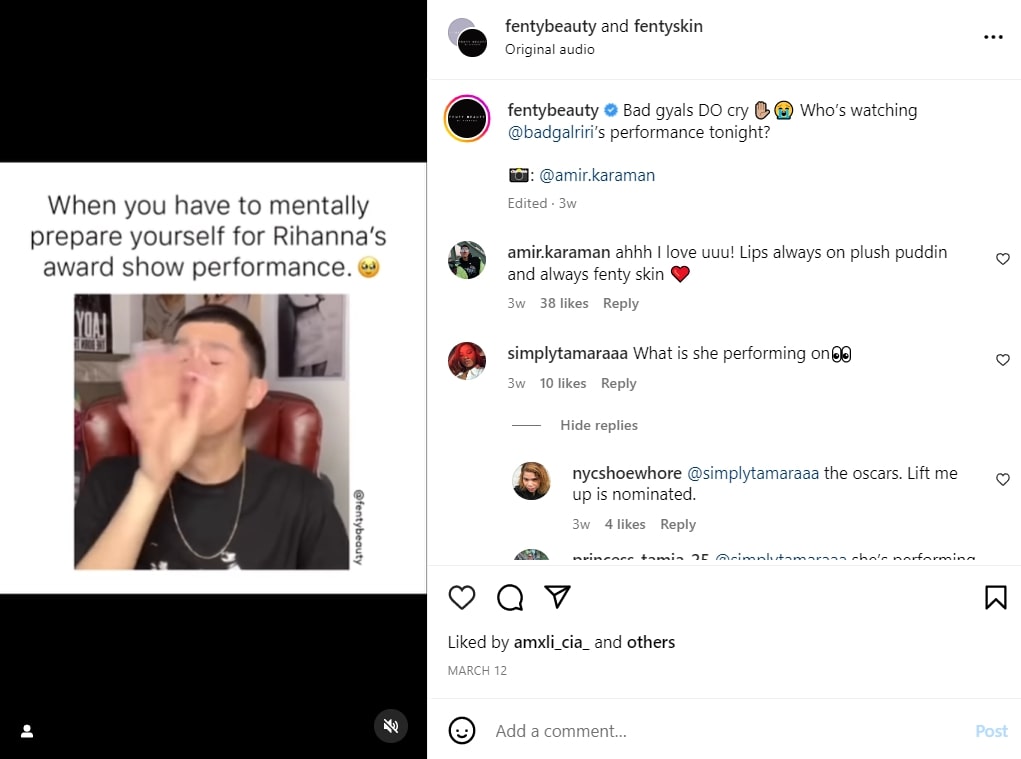 6. Voice your stance on important causes
"Today, people want brands that embody their personal values," says @AlexCattoni of the Copy Posse, "Even though business is business, it's important to take a stance on certain issues that speak strongly to who you are as an entrepreneur and brand."
One survey by SproutSocial found that 66% of consumers think it's important for brands to take a stand on social and political issues via social media. By boldly standing up for what's important, you have the power to not only connect with audiences on a deeper level but also become a force for positive change.
Who wouldn't want to buy from a brand like that?
It's clear that nothing delivers more inspiration than fighting to make the world a better place. 🤍 So don't shy away from standing up for what you believe in, and use your Instagram captions to make a positive impact.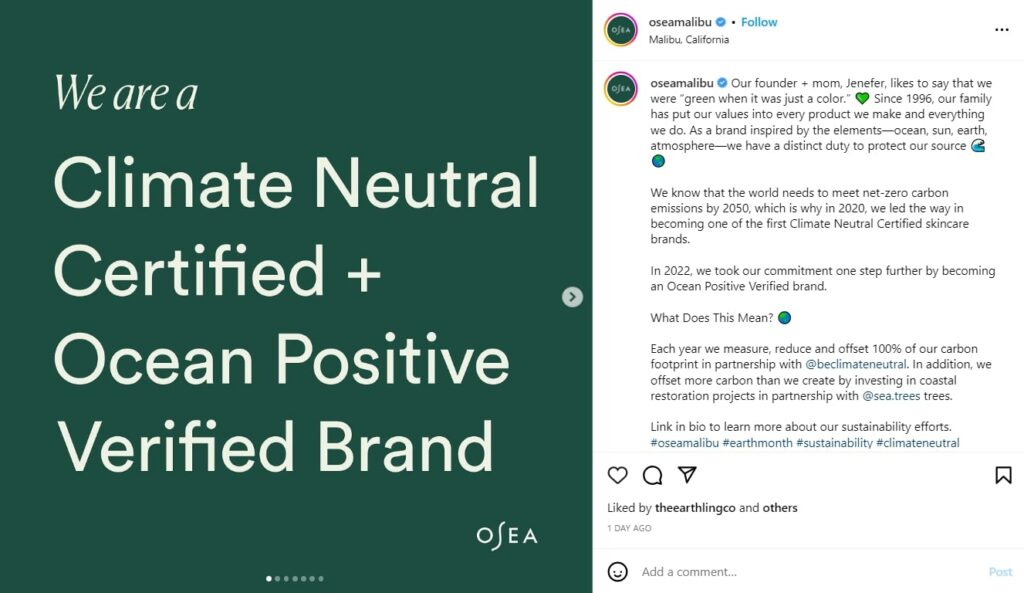 7. Dish your expertise
From BTS sneak peeks and insider secrets to industry news and trends, you can leverage Instagram captions to establish your position as a thought leader in your niche. This type of Instagram content delivers value to your audience, building trust and amplifying your influence.
In other words: be the guru, not just the product peddler. 🙃
Take MD Glam's post below, where they share six practical and informative anti-aging skincare tips. Why does it work?
The tips are informative, demonstrating their knowledge and expertise in the skincare industry.
At the same time, MD Glam subtly plugs relevant products as prime solutions.
By sharing valuable insight and offering their skincare as a solution, they're killing two birds with one caption: thought leadership and product promotion.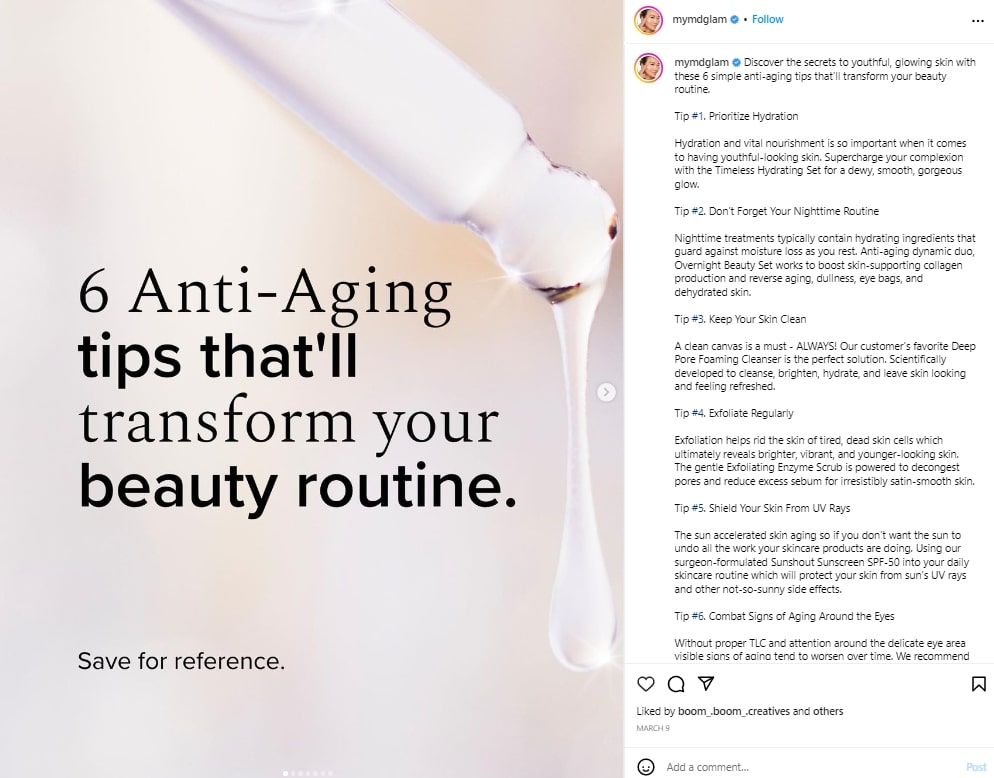 8. Spark conversation with engaging questions
One surefire way to drive engagement? Ask questions! 📢
Not only does this encourage account interaction, but it makes your followers feel like their input truly matters. This is the secret to building a cult-like following on Instagram.
By inviting your audience to join the convo, you foster a community that feels heard and valued, and that's the kind of brand loyalty that lasts a lifetime.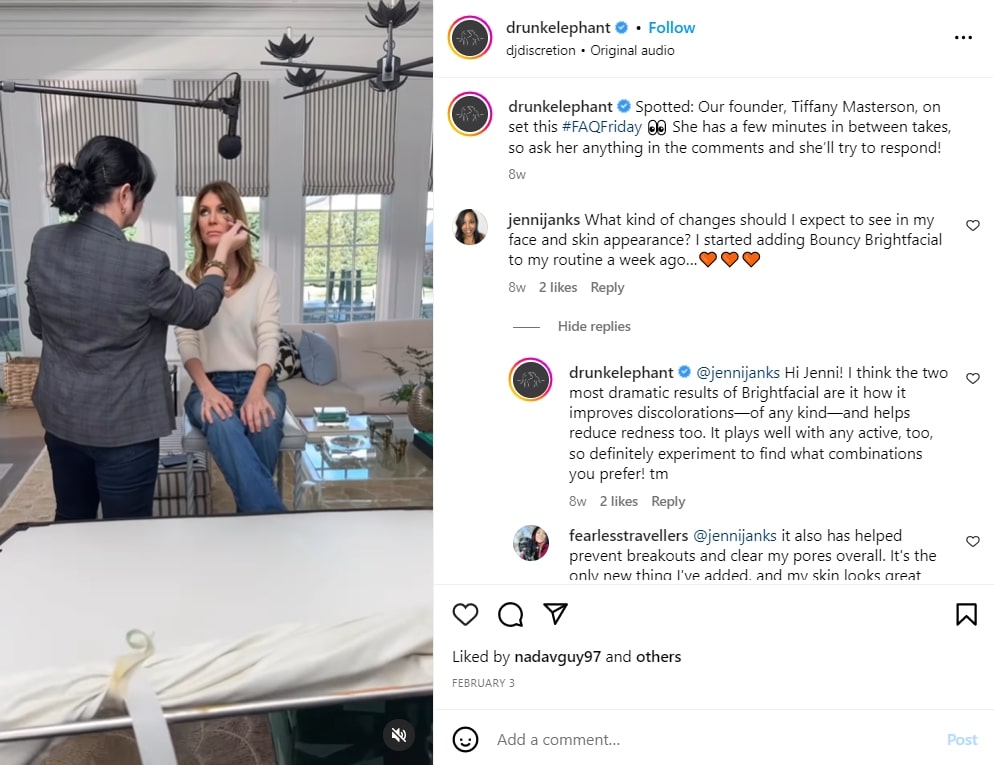 9. Showcase social proof
Some of your best Instagram captions will come from your very own customers. Social proof, like client testimonials, reviews, and tagged photos, can be incredibly powerful tools for building trust and increasing your engagement on Instagram.
Not only does this content shine the spotlight on your happiest customers, but it has the power to boost conversions. By showing potential customers that they can trust and invest in your biz, you're more likely to generate leads.
Here's one way @TresLuceBeauty lets their customers do the talkin' for them: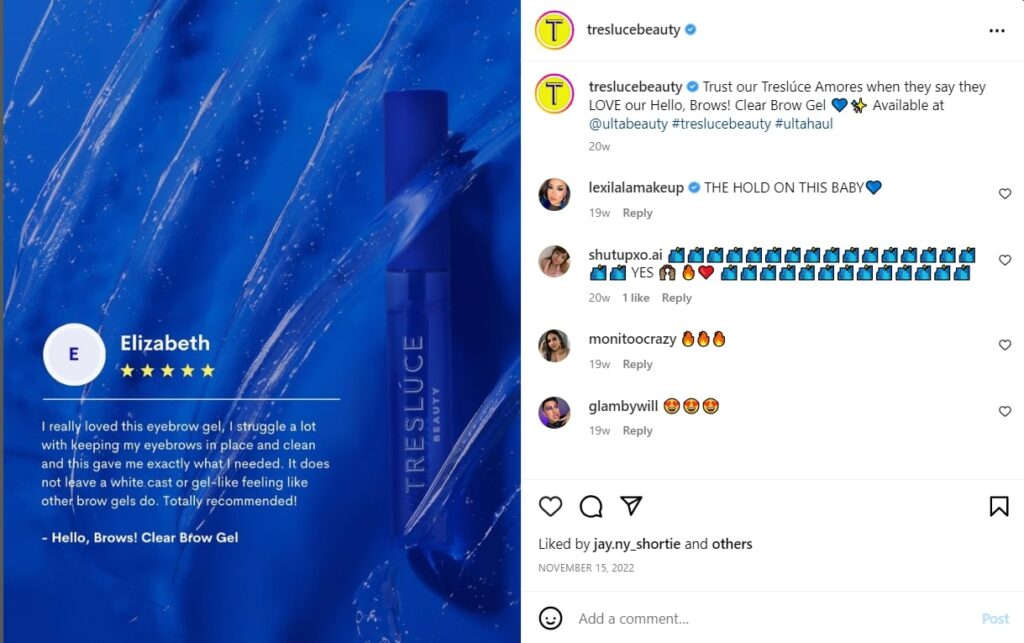 10. spill the beans on an exciting announcement
Hype up your followers for a new product or service by dropping hints and making big reveals in your Instagram captions. Sharing exciting news and updates with your audience helps stir up anticipation and buzz around your brand.
Check out how @Sephora drummed up anticipation by encouraging followers to join their coveted #SephoraSquad of content creators.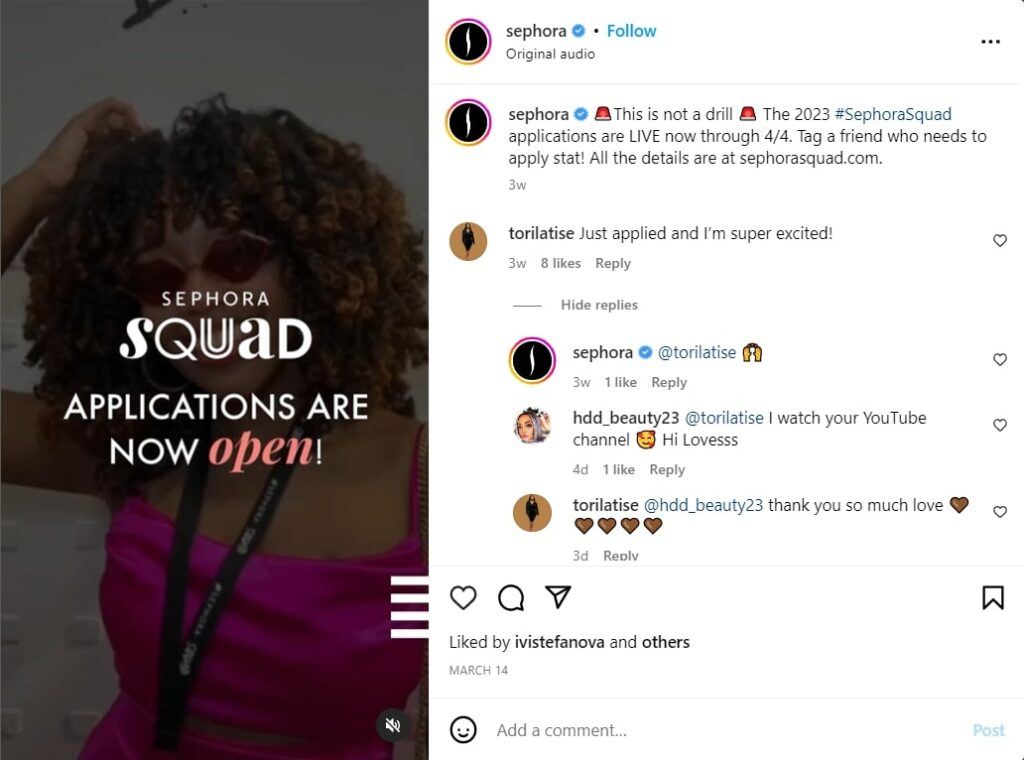 11. Showcase your work
Let your work take center stage. Whether you're a photographer, designer, or beauty brand — there's no better way to show off your skills than by giving your followers a taste of what you're capable of.
Use your Instagram caption to highlight why you did what you did, how it's different, and how it brings them value. Then seal the deal with a juicy CTA.
For instance, @InkByGrettel's human canvas captures the user's attention, but her caption directs them to the link in bio.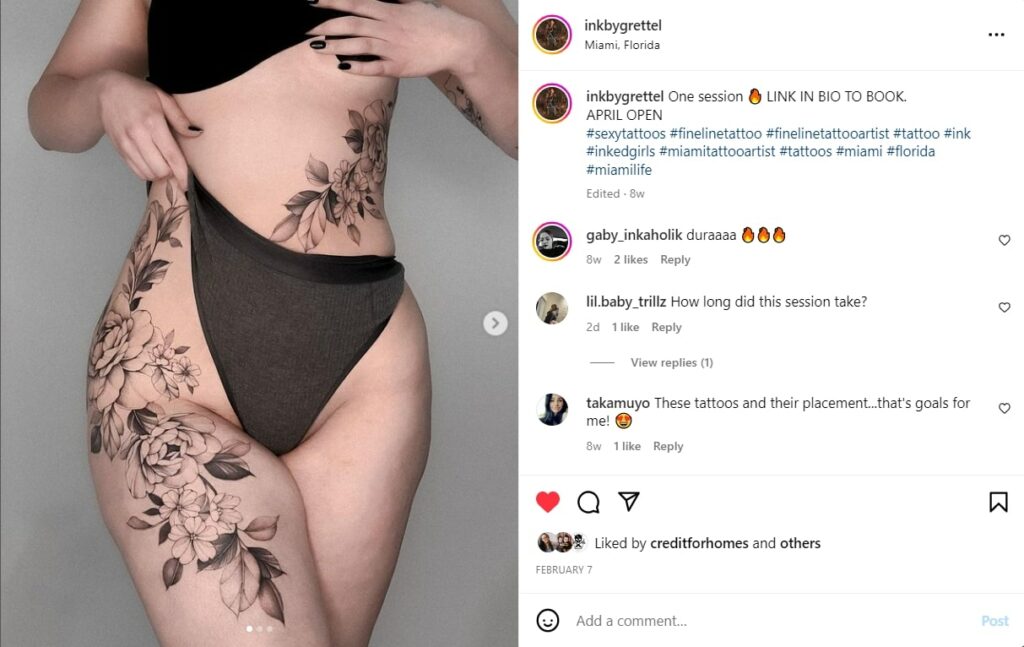 12. Generate leads with a strong CTA
Not every Instagram caption must have a CTA, but most of them should.
Cheryl Goh from @TheCopyBrew suggests playing up your CTA in your Instagram captions by adding a little razzle-dazzle. Don't just ask your followers to "click the link in bio" — make it irresistible. 🤑
Highlight an unexpected benefit, reference a previous sell-out, or create a sense of urgency, making your audience eager to take action.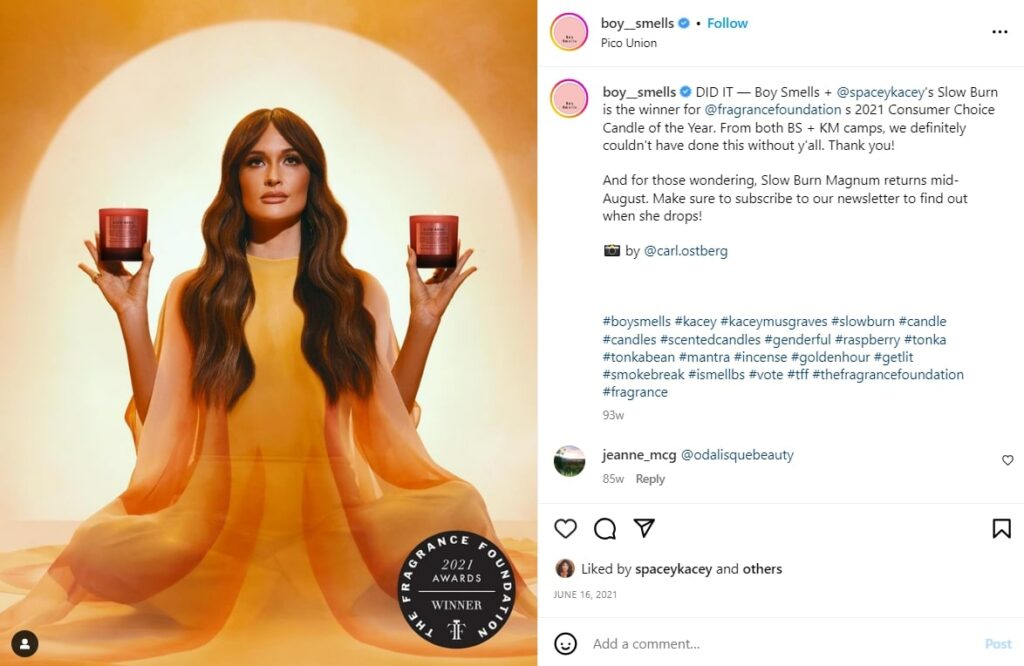 Now that we've seen some stunning examples of Instagram caption greatness, let's talk about what NOT to do when it comes to crafting the perfect caption.
Instagram caption mistakes: sidestep these social land mines
1. Not focusing on your people
In the words of Bad Bunny, "Si no quiere bailar contigo, ¿pa' qué le obligas? No la fuerce, que la cosa se prende, igualito sin ella."
Translation: "If she doesn't want to dance with you, don't force her — things'll heat up just as much without her."
Don't be afraid to create polarity. You want the people who aren't your target audience to keep it moving. This way, you can focus on connecting with the ones you can best serve.
Besides, even Benito agrees it's boring to be everyone's cup of tea.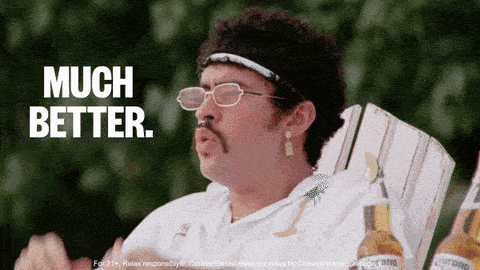 2. Being too salesy
Your audience wants to feel like you're adding value to their lives, not just pushing products. Avoid being too salesy in your Instagram captions so you don't turn them off or damage your brand's credibility and trust.
Remember to follow the 80/20 rule: 80% of your posts should be all about your audience, offering education, entertainment, and value. Then use the remaining 20% to promote your biz.
3. Relying on AI to write for you
We get the hype about brands using AI writing tools to boost their messaging. But pumping out content exclusively written by AI without any human oversight? That's a big no-no. 👎
Relying solely on robo-writers to generate your Instagram captions results in content lacking personality, creativity, and the irreplaceable human touch.
4. Overusing emojis or slang
Emojis, slang, and trendy lingo are great ways to add personality and flair to an Instagram caption. However, overusing them could age your Instagram captions real quick. So use them sparingly and wisely.
5. Sounding too preachy when advocating for a cause
Using your Instagram captions to advocate for causes you believe in can backfire if you're not strategic. You risk alienating followers if you come off as too preachy or forceful. So choose your words carefully and communicate your message with finesse.
Alex Cattoni chimes in:
"Ultimately, people look to brands for value alignment, but they follow you for the content you share. So don't stray too far from that, engage in performative allyship, or post about controversial topics just to ruffle feathers. Make your stance clear and known, and then stay focused on adding insane value as you normally do."
6. Failing to proofread and edit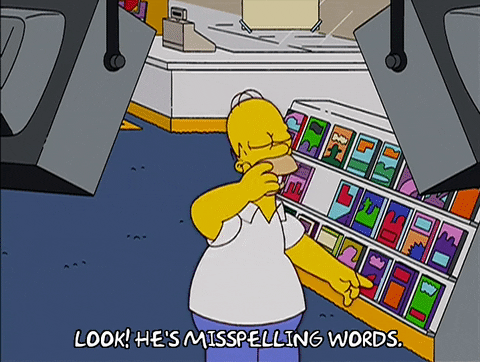 Neglecting to proofread and edit your Instagram captions is like showing up to a first date with lipstick on your teeth – it just ain't a good look.
Remember, your Instagram captions reflect your brand, so take the time to check and double-check for optimal engagement and professionalism.
That means:
Checking for misspellings and typos
Using proper grammar and punctuation
Avoiding confusing jargon or language that audiences may not understand
Verifying that your message is clear, to the point, and easy to follow
Making sure it's consistent with your brand voice and persona
Editing your captions might seem like a small thing, but it can make a big difference in how your people perceive your brand and engage with your content.
Want Instagram captions that pop? Hire a social media copywriter!
It's time to stop settling for subpar Instagram captions that do nothing but cramp your brand's style. With our expert tips and tricks, you'll be the master of crafting captions that command attention and dominate the algorithm in no time. 👑
Rather skip the learning curve and jump straight ahead to cult-sensation status? Lyon Content is ready to make your brand sizzle on social.
Let's shake sh*t up together! 💥
want Instagram captions that shine?
Our talented team can help you take your Insta captions to the next level.
FAQs
1. How do you write a catchy Instagram caption for a business?
You write a catchy Instagram caption for a business by crafting a compelling message that resonates with your audience, using strategic CTAs, showcasing social proof, adding value through tips or industry insights, and injecting personality (while staying professional).
2. What are some good Instagram captions?
Good Instagram captions are engaging, informative, and relevant to the post they accompany. An Instagram caption can be funny, inspiring, thought-provoking, or educational.
3. How do you write a social media caption for a business?
To write a social media caption for a business, consider your brand's voice and target audience. Keep it concise and attention-grabbing, use a call-to-action, showcase social proof, and avoid being too salesy or overusing emojis and slang.
4. How do you write a caption for a small business?
Like any business, keeping your brand's voice and messaging consistent in each Instagram caption is essential. Showcase your personality and values. Be creative and engaging, offer value, and include clear, compelling CTAs to encourage engagement and action.
5. How do you introduce yourself in Instagram captions?
Highlight what sets you apart from competitors. Expand on your brand story and what sets you and your offerings apart from competitors. You can also include a catchy tagline, mission statement, or a sneak peek into your personality to make a memorable impression.
6. How do I introduce my business on Instagram?
To introduce your biz on Instagram, set up a profile that includes a logo or branded image as your profile picture. Next, create a keyword-optimized bio describing who you are and what your brand's about. Then create your first post, like "Get to know our brand!" or "About Us."
7. What is the best caption for a first Instagram post?
The best caption for a first Instagram post introduces you and your biz to the world. Be authentic and engaging, while sticking to your brand's tone and style. Start with a brief tidbit about your journey, a bold statement about your mission, or a simple intro to your products or services. Whatever you choose, make sure it's attention-grabbing and leaves a lasting impression on your audience.
8. How do you say "follow me" on Instagram captions?
Here are some versatile ways to say "follow me" in your Instagram captions:
Want more of this? Follow me!
Join the inner circle! Follow me for daily updates.
Hit that follow button to stay in the loop!
Let's stay connected! Follow me for more.
Keep the good vibes going, and hit that follow button!
9. How do you announce the launch of a new business on Instagram?
To announce the launch of a new business on Instagram, create a visually appealing post featuring your brand logo or product. Write a caption that introduces your biz and highlights its unique selling points. Say something that sets you apart in your niche.

05/04/2023
Natalie is a beauty and lifestyle writer at Lyon Content, born and raised in sunny Miami, Florida. She's passionate about crafting personality-driven copy that helps brands build a ride-or-die following with their audiences! Like a true Cuban, she runs on XL cafe-con-leches and loves horror movies, houseplants, exploring new places, and snuggling up with her SO and fur babies.