Would you make a raunchy joke to someone you just met? Even if that's characteristic of your personality, you probably have enough tact to read the room and adjust when necessary. The same goes for your brand voice and tone of voice (these might sound similar, but they're distinct and equally crucial concepts).
Every facet of your marketing strategy, and every piece of content you deliver to your target audience has the power to engage, connect, persuade, entertain, and resonate—but it also has the power to confuse, alienate, or turn off your audience.
The difference in these results? A cohesive voice that reflects your brand's personality, and brand tone of voice that reflects your audience.
We chatted with Lyon Content's CEO Christina Lyon to get the lowdown on:
What brand voice means and why you need it
How it's different from tone of voice
Examples of brand tone of voice
How to find your brand tone of voice
Ready to craft a compelling brand voice your audience can't resist? Keep reading.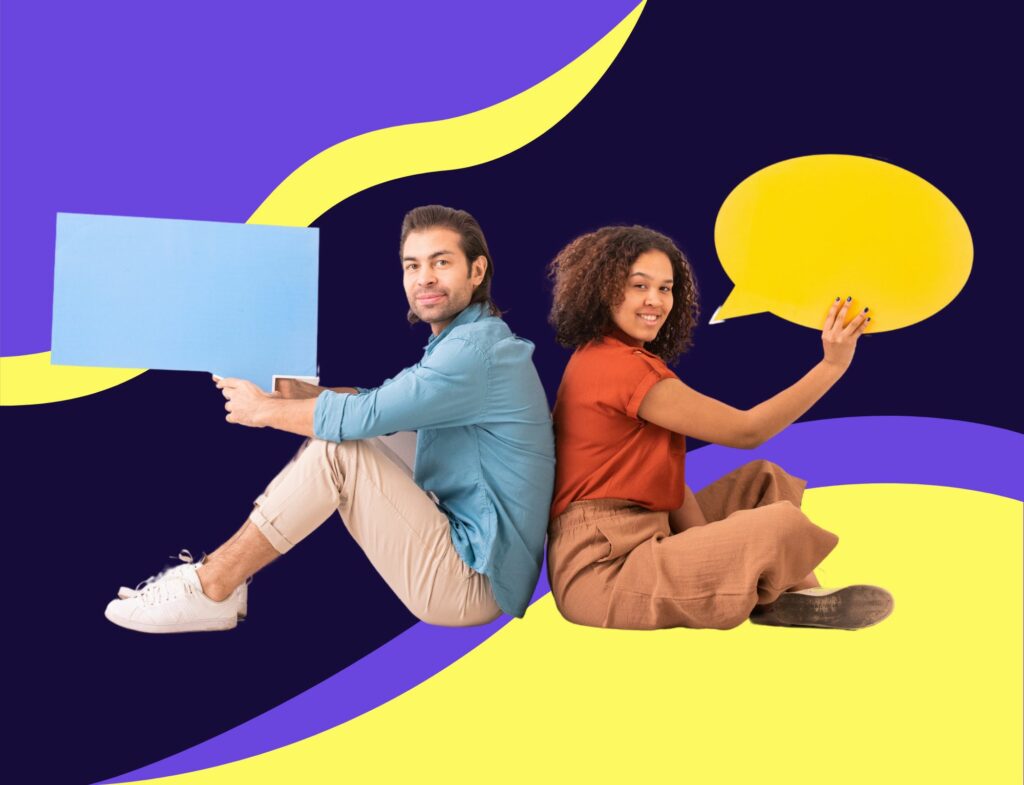 What is Brand Voice?
Brand voice involves communicating and consistently conveying your brand's unique personality, values, and vibe in every piece of content you publish to maintain a cohesive, identifiable brand identity.
The goal is to use language and a brand voice and tone that your ideal audience identifies with.
LinkedIn post? You use your brand voice. How-to blog content? Brand voice again. The same goes for email newsletters, blog articles, ad copy, and even spoken content like webinars and podcasts.
You see, a solid product or service isn't always enough to convert an audience. Why? Because they won't hand over their hard-earned dollars without knowing they can trust you. And a cohesive brand voice helps them do just that.
Look at it this way: if a guy you met on a first date shifted his voice and personality throughout the entire night, you'd probably fake a family emergency to get outta there, right?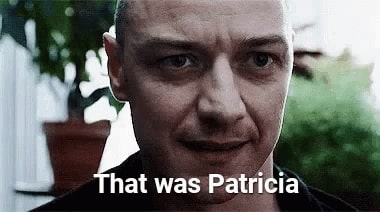 The same goes for your brand voice. If it's inconsistent, you'll weird out your audience. But you should also consider that while a person has a recognizable voice, their tone might change depending on the topic of conversation.
Brand Voice vs. Tone of Voice: What's the Difference?
While brand voice embodies your brand, tone of voice embodies your audience. It's informed by their needs, interests, and the context of the specific topic discussed in a piece of content.
Christina sees tone as a brand's ability to read the room and understand their audience:
"While our brand voice would stay the same whether we're writing about beauty trends or writing ethics, our tone will vary depending on the context. It's important to make this distinction because tone is the single-most influential force on your audience. If your tone aligns with their needs, they'll feel heard. If it misses the mark, it can rub people the wrong way."
Let's put the idea into practice. Say you visit your friend and have a glass of wine catching up. The next morning, you go to an industry conference to network. You didn't change personalities overnight—but you did change your tone for each environment.
Same goes for the way your brand communicates. You'll change your tone speaking with a dissatisfied customer via email versus writing a case study with a happy customer.
Let's see what this looks like in the content we create for our clients: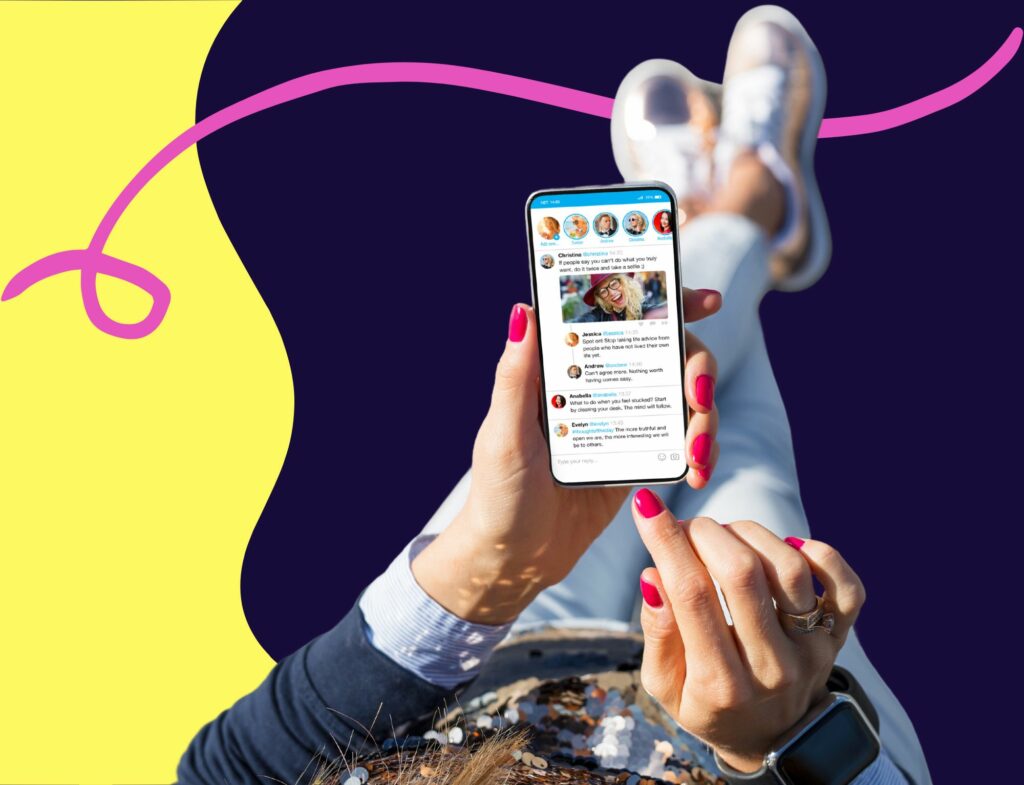 Brand Tone of Voice – 3 Examples that Slay
Here at Lyon Content, we've supported beauty and lifestyle brands, as well as more technical marketing agencies, with written content that reflects their brand voice and audience needs. Here's an example from one of our longest-standing clients in the alternative hair industry.
Brand Voice Example #1: Authoritative Yet Compassionate for Daniel Alain
Our client, Daniel Alain, is a world-leading luxury wig and innovative hair solution manufacturer.
While their brand voice is confident, authoritative, and high-class, we tailored their tone to reflect the compassion and empathy necessary to reach individuals struggling with hair loss.
Here's a solid example of Daniel Alain's brand voice in their web copy:

Notice how we maintained that confident voice while showing compassion to Daniel Alain's audience in this article about dating with hair loss:

And here in this article about the different types of alopecia: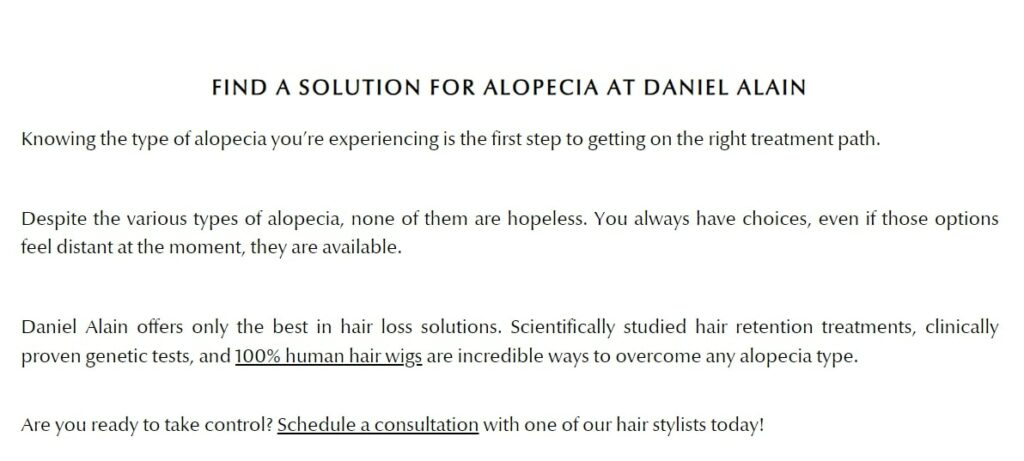 Christina shares some of the behind-the-scenes work it took to nail the confident-compassionate balance and word choices needed for Daniel Alain's content:
"We were writing about medical alopecia and sensitive cosmetic surgery issues while promoting Daniel Alain's luxury, real-hair wigs. So we did the legwork upfront to intimately understand their audience's needs and pain points, then wrote in Daniel Alain's voice and tone. We ensured that we retained the branding element in the voice, but empathetically nailed the tone so it reached the audience on a deeper, more emotional level."
Beauty Brand Tone of Voice Example #2: Millennial Flair & Relatability for Embody
Edible-skincare gummy brand embody was founded by Jenn Chung, who experienced first-hand the destructive effects of hustle culture that so often puts emotional and physical wellness at the end of your priority list.
She launched embody skincare to add some ease to the nonstop schedule for today's Millennials.
Embody's brand voice is full of flair, millennial slang, and playfulness. Above all? It's relatable and mission-driven.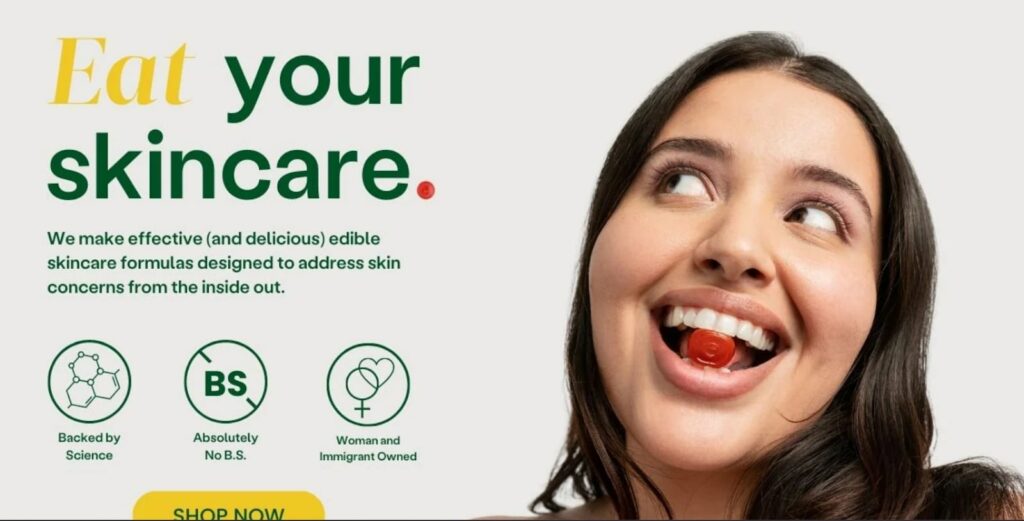 Jenn came to Lyon Content for ongoing beauty blog content writing to promote embody's skincare products in a way that channeled their offerings' efficient self-care appeal to an audience always strapped for time—without contributing to the hustle and productivity narrative.
Here's an example of the audience resonance we implemented with tone of voice in this blog article about skincare items to ditch: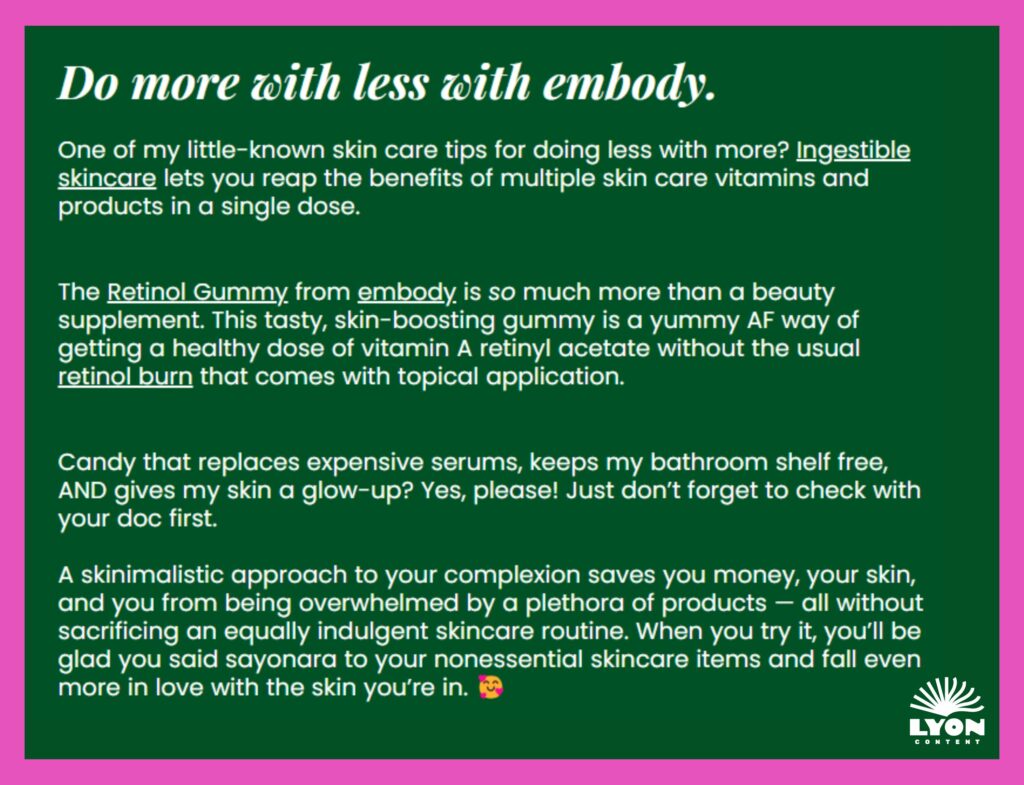 The brand tone of voice here is fun and upbeat, with a special tone that prioritizes the audience's need for quick solutions and efficient self-care.
Intercom reminds us that mirroring your audience via emojis is a sure way to engage and connect with them. We knew plugging in emojis that conveyed girl power and self-love all added to embody's unique brand tone of voice.
View the full beauty blog writing case study here.
Brand Tone of Voice Example #3: Humanizing Technical Content for HawkSEM
Imagine reading a how-to guide about Google Ads campaign structures or SaaS SEO agencies. Just the sound of these technical and often snooze-worthy topics might alienate an audience.
Search engine marketing agency HawkSEM has an impressive reputation as a PPC and SEO agency, but they didn't want to publish your run-of-the-mill, hum-drum marketing article.
While SEO and audience engagement was a priority, they wanted to ensure their technical articles were conversational, readable, digestible, and, above all, helpful.
The problem? It's easy to use the human element and slip into jargon real quick with these topics.
HawkSEM needed to ensure their accessible and approachable brand voice channeled their authority and expertise without coming off so textbook-esque. We went to work on implementing their brand voice guidelines into their blog content, like in this technical article about site migrations: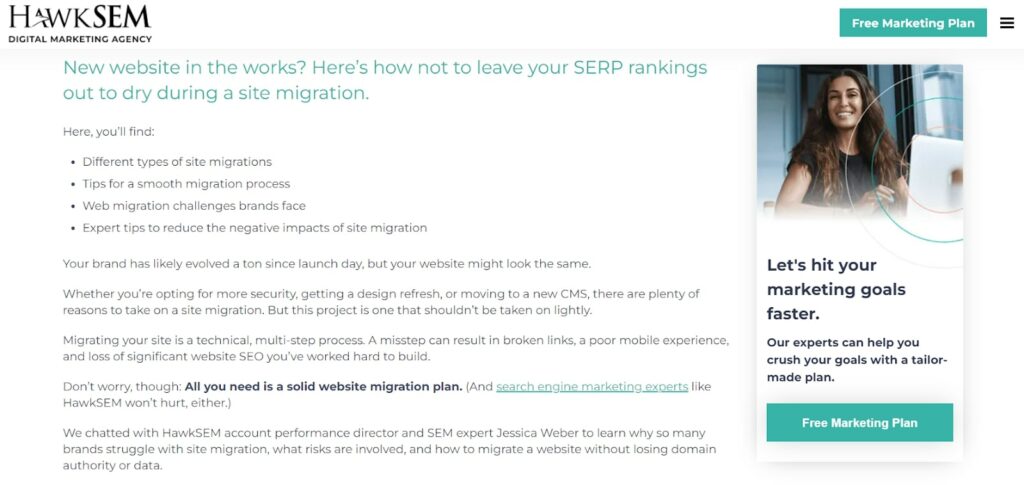 Site mapping, domain changes, and web page optimization don't feel like light topics from the jump. So we input a few pieces of casual commentary, bold lines for emphasis, and a laid-back tone that appeals to an audience who wants to digest technical marketing blog content as quickly as possible.
We also made sure to humanize content through the way we discussed the audience's clients—for example, referring to them as people (warm) over users (cold).
View the digital marketing content writing case study here.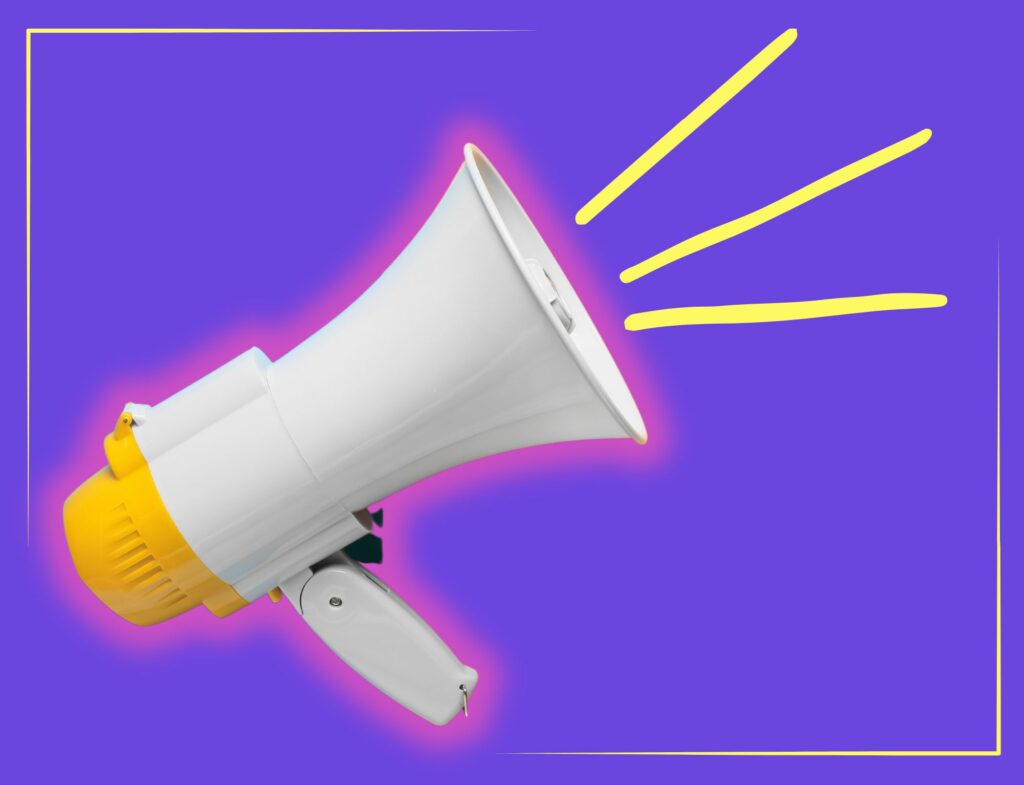 How Brand Tone of Voice Helps Build Your Brand (And Authority)
It all comes down to audience trust. You can't scale or build brand authority if people don't believe you. Christina also sees brand voice as a way to distinguish your brand identity from AI-generated content:
"Research and data alone doesn't tap into the emotional psyche of an audience. Bots can mine consumer data and create graphs and charts that point to a specific audience, but it can't connect with them emotionally."
And if you neglect brand voice as a consistent aspect in all your content, you'll jeopardize brand recognition.
Just look at Nike as an example. What if their website said "Just Do It" and their social posts said "Take the day off?" Talk about mixed signals!
You'll confuse your audience, which Christina sees as potential for lost conversions:
"Confusion equals doubt, and doubt means that they're buying from your competitors who took a more confident approach to creating a brand messaging strategy."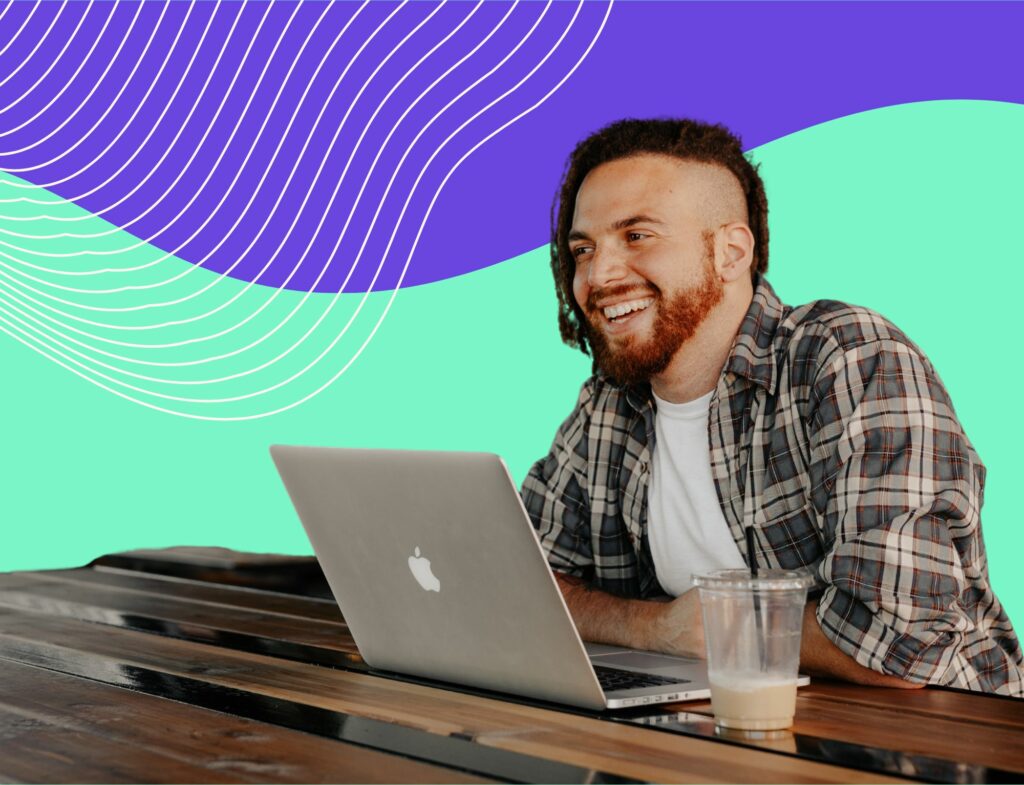 How to Find Your Brand Tone of Voice: 3 Simple Steps
As a brand founder, you may know your brand's products and services inside out. You might even have a clear picture of your brand's personality in your head. Yet you can't pinpoint a consistent brand tone of voice for your content.
We're here to help you change that.
So, let's find your unique brand tone of voice to help you stand out from your competitors and reach the right people. First order of business?
1. Define Your Core Values
Think about the reason you started your brand and how you want to portray it to your audience. You can't nail your brand voice without a documentable understanding of your brand. Why? Christina says that's a recipe for mistakenly imitating competitors:
"Most brands don't actually know the right tone to write in because they're adapting a strategy used by a competitor. The problem with that is that they're not distinguishing themselves or highlighting their audience as the unique individuals that they are."
Here are some examples of core values from Ben & Jerry's:

Christina applauds Ben & Jerry's brand voice and how it reflects these values:
"Their advocacy runs through every strain of their brand voice. They've built a strong brand voice centered around their values and mission. But their tone is upbeat, encouraging, and fun."
Speaking of tone, how can you distinguish that from your brand voice?
2. Take a Look at Your Target Audience
Ever felt a sense of comfort watching old reruns of your favorite show? That's because we're naturally attracted to the familiar. And your audience is no exception.
Meaning?
You need to speak to them in a way that sounds familiar to them—not to you. Even if you've spent years curating the perfect brand persona and vibe, you won't convert your audience if you don't consider their needs in your tone of voice.
Christina sees this as a common misconception, where a brand will exclusively channel their distinct personality without considering their audience:
"Tone is 100% influenced by your audience. And to be honest, if you inject yourself into your brand tone, that makes it about you, rather than them."
Unfortunately, brands make this mistake all the time. After spending so much time developing a unique brand voice and personality, it's easy to let it take the reins in your writing. But if you do that? You'll jeopardize the trust and credibility you've worked so hard to nurture with your audience. To avoid this, Christina recommends prioritizing the reader first:
"Take a deep dive into your audience's interests, behaviors, speech, needs, and issues to craft a customized tone that meets them exactly where they're at. Do that, and they'll feel seen and heard, and that instantly builds trust and credibility for your brand."
A great way to find this info?
Find out how your audience speaks and communicates
The best way to learn about your audience is to go straight to the source and simply listen to them. Send out surveys to newsletter subscribers and especially existing customers. Christina elaborates:
"What tone do you observe? Is it sensitive? Is there a level of urgency? Is it casual and flamboyant? These will all shape the tone you use for your content."
Don't have enough customers to survey? Don't worry—here's a list of other insightful places to look:
Keyword research (especially long-tail phrases that communicate questions and thoughts)
Discussion threads on Quora and Reddit
Competitor comment sections on social media posts
Customer live chat or email interactions
Customer reviews for your brand and competitors
Of course, you still have to gather all those insights, analyze them, and transform them into a cohesive tone that stands out from competitors for your audience. If that feels overwhelming, Christina recommends calling the big guns:
"You might want to outsource the tone crafting to the pros with years of experience writing across various tones."
We've got you covered with our comprehensive content writing services that'll infuse your brand tone into every email, blog article, and Instagram caption.
3. Create Your Brand Voice Guidelines
Equipped with rich audience insights and a solid understanding of your brand's core values, you can create a style guide that dictates how your brand voice appears in content—in other words, your brand voice framework.
You'll include phrases and word choices to use in certain types of content, as well as those that are off-limits.
For example, Lyon Content's brand voice is confident but not cocky. While we demonstrate authority in what we have to say, we never judge others in the content space to elevate ourselves.
Your brand voice guidelines should include:
Brand personality traits
Emotions conveyed by your content
Brand-aligned word choices
Non-brand-aligned word choices
Language examples used by your audience
Unique selling points and differentiators from competitors
Let's say you owned a lip balm brand with gentle, high-quality ingredients for mature women. Here's an example of what you might plug into your brand messaging guide: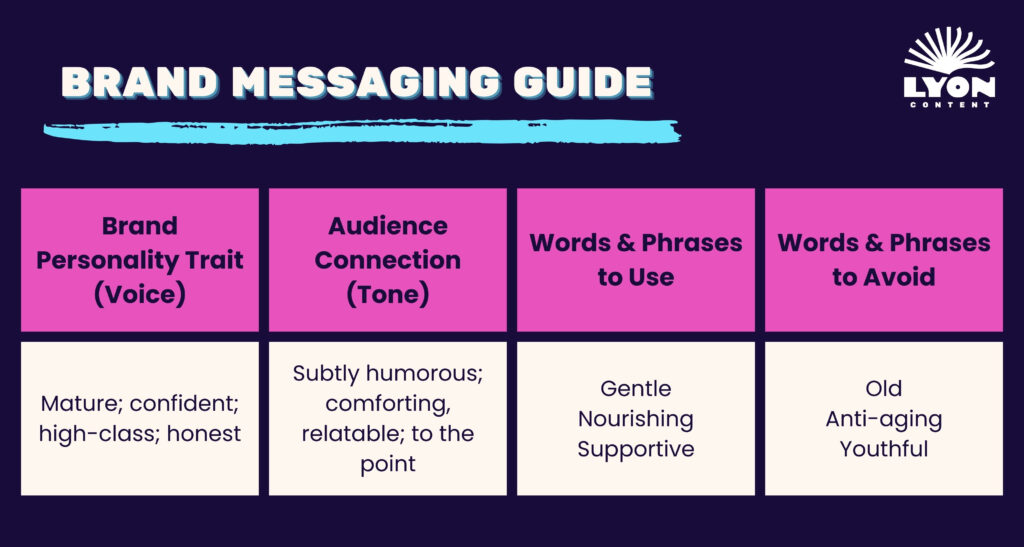 Here's a blank version of the chart for you to try out: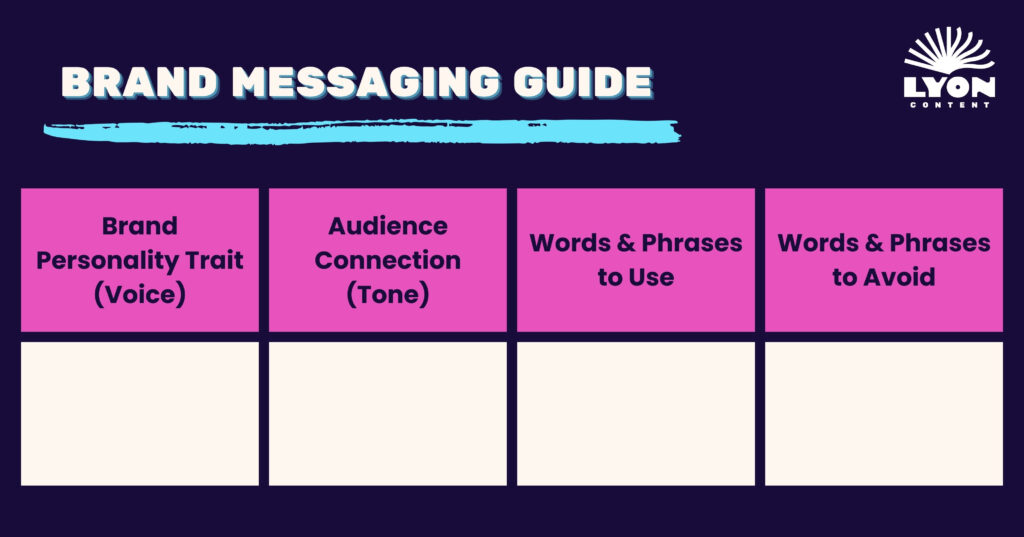 Ready to Write Words that Resonate?
Brand tone of voice drives home the solution you offer your readers and gives them a reason to believe in your brand. And that's no easy feat, considering 80% of audiences find it difficult to trust brands. Similarly, 70% of audiences interact more with brands they find more "authentic."
Meaning? They want to see human elements in brand marketing content and won't accept anything that feels regurgitated, inauthentic, or inconsistent.
Christina says brand voice is a great way to reinforce audience trust:
"Marketers and content creators must remember that people don't buy products—they buy solutions and ideas. Which means that your solution must cohesively drive home the same message, using the same seamless tone, in every facet of your marketing."
But hey, we didn't say it was easy! 😉 It could take weeks to accurately define your brand tone of voice and conduct all the brand and audience research necessary to do so. That's why the most successful brands enlist support from content experts like Lyon Content.
We have a roster of vetted, talented writers with subject-matter expertise and experience to create a tailored brand messaging strategy and uphold it with high-quality content that echoes your brand voice in every sentence.
Let's put the spotlight on your biz with an unforgettable brand voice that compels your audience to take action!

09/11/2023
Chrissy is a contributing writer at Lyon Content based in Toronto. She loves writing and editing tech, marketing, and lifestyle content. But her favorite part of writing is helping businesses express themselves. When she isn't writing, she's traveling as much as possible and eating a lot of cheese.